Kinsta is a managed WordPress hosting platform that is different from traditional hosting since its infrastructure is based on Google Cloud Platform (GCP) and Cloudflare. OVH, on the other hand, is a DIY hosting provider.
This article aims to bring out the major differences between Kinsta vs OVH (VPS). If you are in a hurry and want to know the best among the two, I'd love to share that Kinsta comes out to be the best in this comparison.
Kinsta vs OVH – Overview
Let us compare the pros and cons offered by Kinsta and OVH here while throwing some light on each of these hosting providers:
Kinsta introduction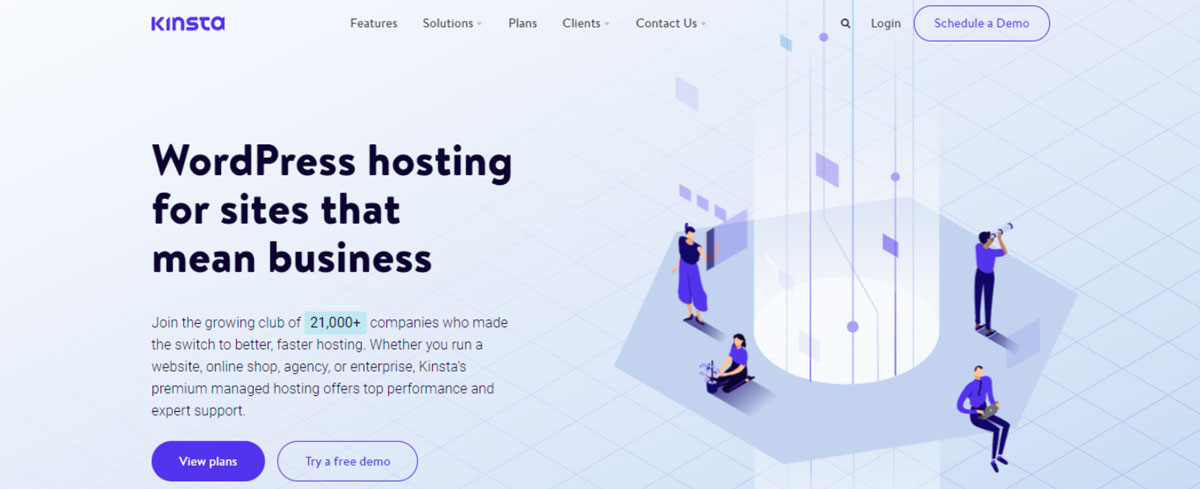 Kinsta is a beginner-friendly platform that offers advanced features for developers as well. It focuses completely on WordPress and offers a managed WordPress hosting solution.
So Kinsta users do not have to perform any maintenance tasks like creating backups, optimizing performance, or updating the CMS.
Pros of Kinsta
Kinsta delivers faster performance because of the use of the Google Cloud Platform. Your website will load faster, no matter where your visitors are located.
Kinsta has its presence on all the continents and offers 29 server locations across the world.
The host offers excellent uptime and security with the use of Cloud infrastructure.
You will receive expert customer support from Kinsta around the clock. It has the best technical support in the hosting industry.
Kinsta is well-optimized for high-traffic websites and eCommerce stores. Whether you want to install WooCommerce for your online store or utilize any other WordPress tool or plugin, Kinsta makes it easy for you.
The WordPress host provides you with a one-click staging environment with all its plans. You can use it for testing purposes and also restore backups to staging or production, as and when needed.
Cons of Kinsta
Kinsta can be a pricey solution for some users.
It does not offer domain registrations or email hosting with its plans.
Since Kinsta offers only WordPress hosting, you are restricted to using only the WordPress plugins.
The host does not offer any phone support to its existing customers, you can contact the Kinsta customer care executives only via online chat.
Visit Kinsta

OVH introduction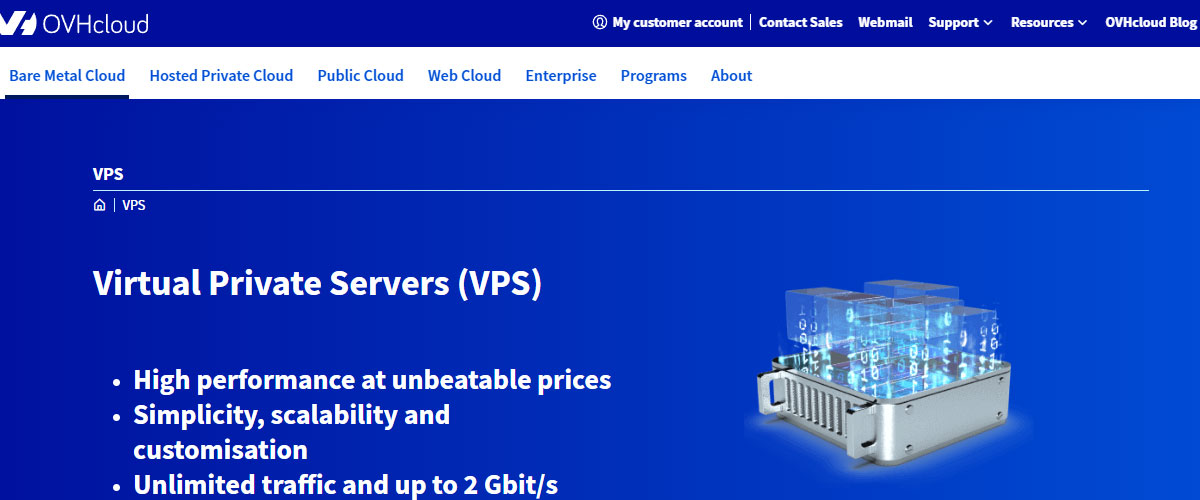 OVH offers a broader range of hosting plans than Kinsta and it doesn't provide optimized hosting solutions for WordPress users. Also, it leaves the job of server management in your hands, unlike Kinsta.
Pros of OVH
OVH offers affordable VPS solutions that can fit well in everyone's budget.
All OVH VPS plans come with unlimited monthly traffic.
The host gives you an option to choose between cPanel or Plesk as your control panel.
All OVH VPS plans are capable of supporting both Linux and Windows operating systems.
The host offers good DDoS protection with all its servers.
OVH has over two decades of experience in the hosting industry while Kinsta hasn't even finished a decade yet.
Cons of OVH
OVH is a European host and offers excellent speed in the continent but outside of it, you might experience slower speeds.
The host does not offer any live chat support.
The server deployment process might be slow with OVH because of the identity verification process.
OVH provides you with a confusing user interface that wastes a lot of your productive time.
The host has a slow refund process, so you might have to wait for a long time in case the need for a refund arises.
Many hosting features on the OVH VPS plans are available for an additional fee.
OVH support executives are quite slow and can take anywhere between several hours to multiple days to respond to your query.
Kinsta vs OVH: Features comparison
| | | |
| --- | --- | --- |
| Basis | Kinsta | OVH |
| Premium 24×7 Support | Multilingual premium 24/7 support is available for all customers. | Premium support is available only for Business and Enterprise level customers. |
| Free automatic daily backups | Available | Unavailable |
| Site migrations | Free, automatic, and unlimited site migrations are available. | You will have to perform manual site migration since the automatic process isn't supported by the host. |
| SSL certificates | Available with all plans. | Available with all plans. |
| Cloudflare Integration | Automatic Cloudflare integration with a built-in firewall. | Cloudflare integration is not available. |
| Global Data Centers | Present at 29 global locations. | Present at 24 global locations. |
| Staging Environment | Available with all hosting plans. | Unavailable |
| Premium DNS | Available free with all plans. | Available as a paid add-on. |
| Inodes/files limit | Unlimited | Limited |
| Multilingual Dashboard | Available | Available |
Kinsta vs OVH: Standout features
Now that you have an overview of Kinsta and OVH features, let's look at their standout features:
Kinsta standout features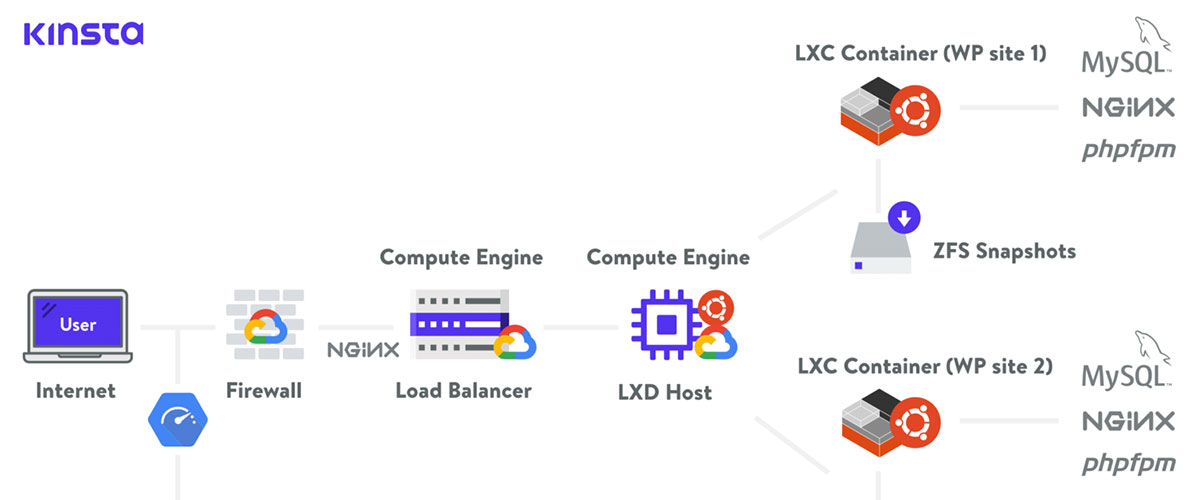 Kinsta utilizes the ZFS storage system to offer you a powerful disk space that is not limited by inodes. This allows you to generate as many files as you want without any fear of breaching the inode limit.
All Kinsta plans come with self-healing PHP, automatic MySQL database optimizations, and a Google Cloud Platform (GCP) Firewall to enhance the stability and performance of your website.
OVH standout features

OVH allows you to purchase email hosting and domains with its VPS plans, unlike Kinsta where you'll have to buy them from a third party.
Winner: Kinsta. The absence of an inode limit is enough to declare Kinsta as the winner since it is the most beneficial feature for any website owner.
Kinsta vs OVH: Ease of Use
Let's throw some light on the user interfaces offered by these hosts and the convenience they offer:
Kinsta interface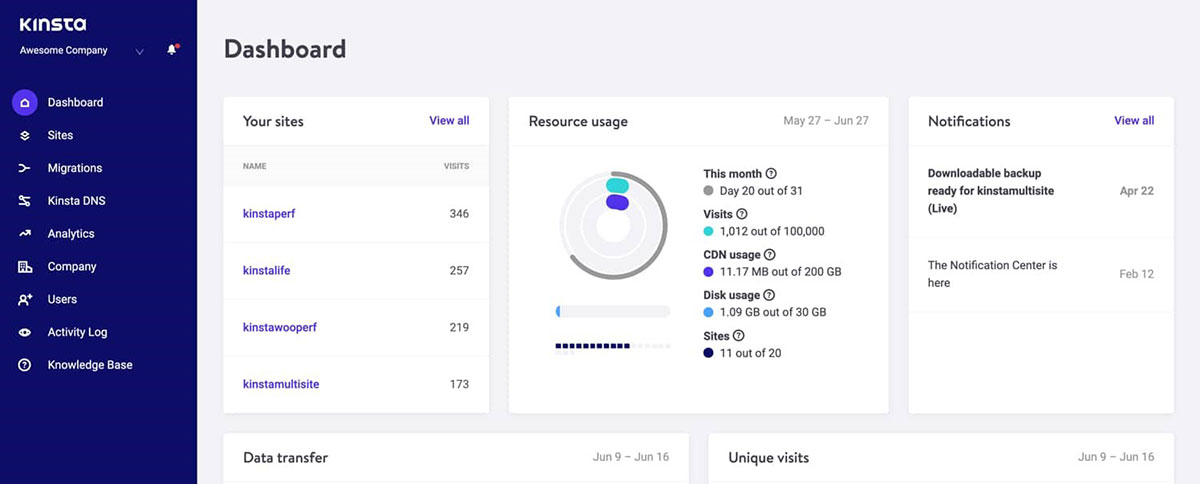 Kinsta has a cleanly-built interface that is simple to understand and easy to use.
The host's intuitive user interface is beginner-friendly since all the features are well arranged.
Above all, it loads pretty fast, making it a treat to use for Kinsta users.
OVH interface
OVH does not provide a cleanly-built interface which makes it confusing to use.
The messy arrangement and absence of intuitiveness make the OVH interface complicated for beginners.
It also loads slowly due to poor administration and you might have to refresh the page sometimes because of the lag.
Winner: Kinsta. The OVH interface requires a radical improvement, while Kinsta's interface is already well built.
Kinsta vs OVH: Performance
Let's compare the performance delivered by OVH and Kinsta:
Kinsta Performance
Kinsta runs your website in an isolated container that carries all the necessary resources and software like PHP, Linux, MySQL, NGINX, etc. to run the website.
So the software running each website remains 100% private since it is not shared between different websites, even if you own multiple sites
Kinsta has also utilized Google Cloud and Linux containers in building its infrastructure, helping it deliver excellent performance.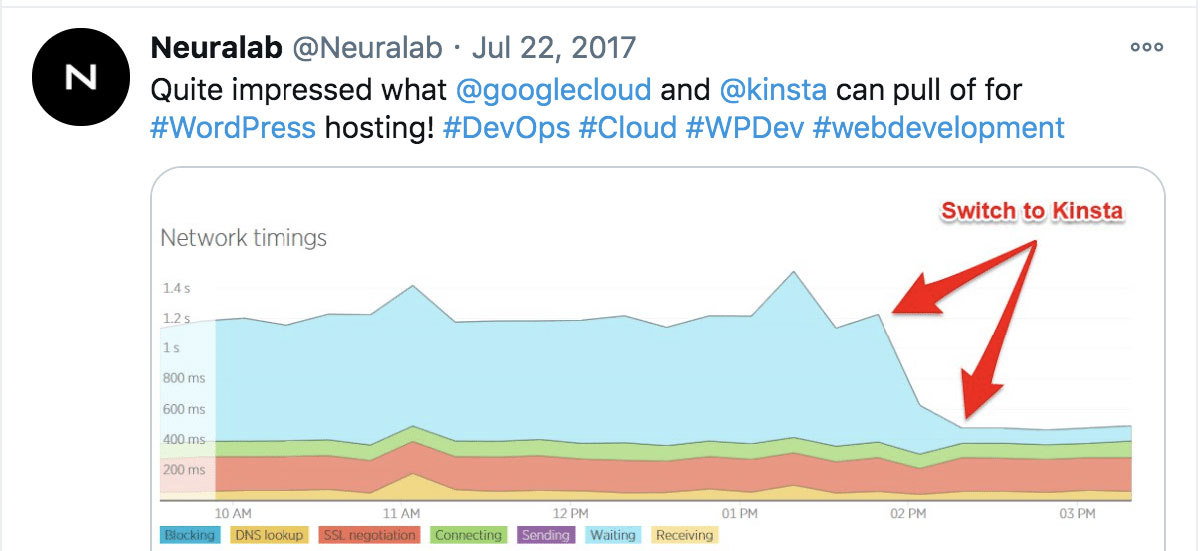 The host allows you to achieve a page load time below 500 ms with proper settings.
OVH Performance
OVH offers you an unmanaged solution unlike Kinsta, so you will have to configure your VPS and optimize it to get the best possible performance. Such configuration and optimization along with server maintenance will consume a lot of your productive time.

The above picture shows a loading time of over 2 seconds for a website built on fully-optimized OVH VPS.
Winner: Kinsta wins as it offers much better speed and privacy than OVH.
Kinsta Vs OVH: Support
Here is a comparison of the customer support offered by Kinsta and OVH:
Kinsta Support
The technical support offered by Kinsta is the best in the industry with WordPress experts answering your queries.
You can contact a Kinsta executive via live chat or email. The sales support team is available via phone as well to guide the prospective customers.
You will receive a reply from Kinsta live chat within 1 minute or less.
All Kinsta experts are quite friendly and eager to help you, whether you are facing an issue at the site level or the server level.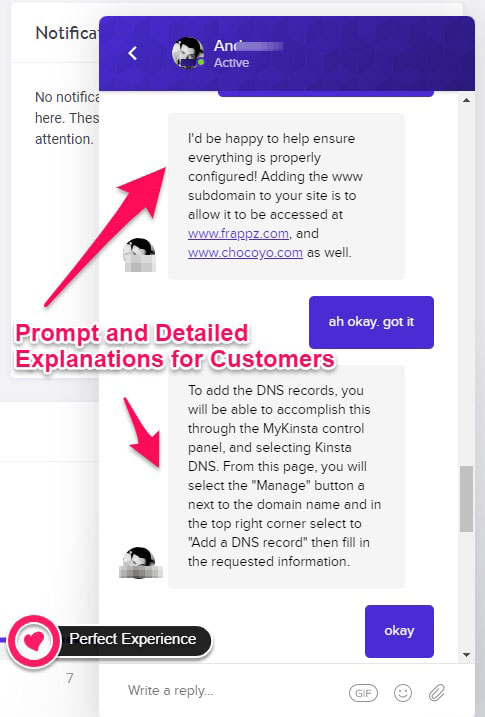 OVH Support
OVH support staff is not at all friendly and quite reluctant to help. Sometimes it takes several days to receive a reply to the support ticket you raise.
You can contact the host via email, phone, or support ticket. Additionally, the host offers premium support at an extra cost to its customers.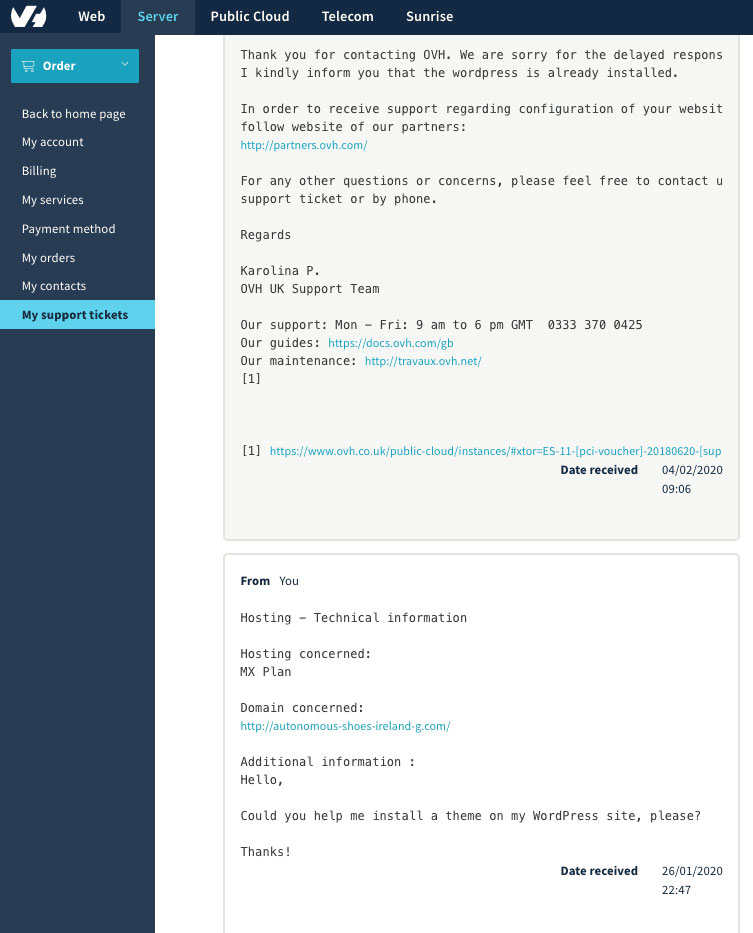 It is clear from the above pic that you won't receive much help from the OVH support team and will have to find a solution on your own.
Winner: Kinsta is the clear winner with excellent support offered by the host as opposed to a pathetic one provided by OVH.
Kinsta Vs OVH – Pricing comparison
Let's have a look at the hosting prices offered by these two companies:
Kinsta pricing
The managed WordPress hosting plans from Kinsta starts at $30 per month but you can receive 2 months of free hosting if you pay for a year upfront.
The host accepts major credit and debit cards. You can also choose to pay via ACH or wire transfer when purchasing an annual subscription for which you will have to contact a Kinsta support executive.
Kinsta offers a 30-day money-back guarantee to new customers. It also offers an option of a partial refund for existing customers. So if you cancel your annual Kinsta subscription after 6 months, you will be eligible for a 50% refund for the unused period.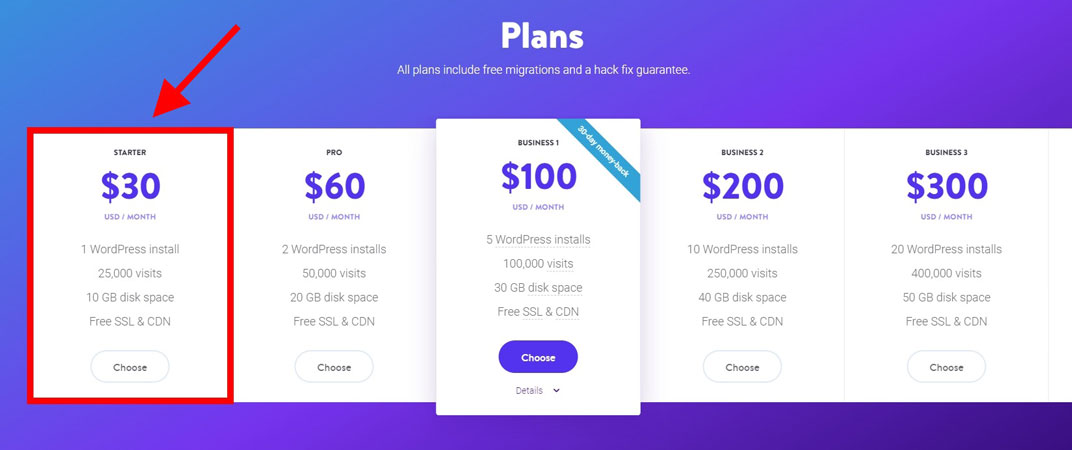 The host offers a seamless refund process and the support executives are happy to process a refund if it is initiated within the period allowed.
OVH pricing
OVH offers an unmanaged VPS for as low as $6 per month. You can save 8% and 15% respectively on choosing a 1-year and a 2-year hosting subscription upfront.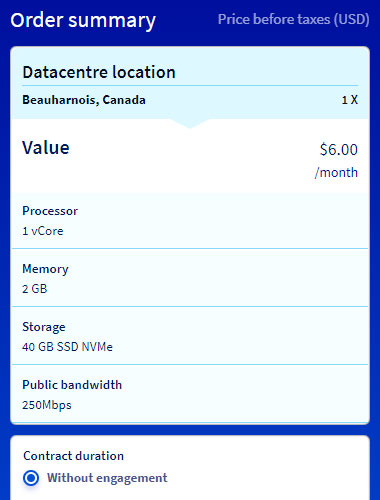 The host accepts payments via major debit and credit cards, and PayPal.
OVH does not offer any money-back guarantee but might allow a partial refund on cancelling a hosting subscription. It is important to mention here that the host's refund process is quite shady and usually the refund requests are rejected for random reasons.
Winner: Tie. OVH is a cheaper solution but Kinsta offers value for money with its seamless experience.
Conclusion
Kinsta is a fully-managed WordPress hosting solution while OVH offers unmanaged hosting services for all users. It is truly said that you get what you pay for and this OVH vs Kinsta comparison proves this fact.
Let's look at the use-cases of these two hosts:
Use Kinsta when:
You do not want to handle the technical aspect of managing your server.
You are serious about your online venture and want to run one or more money-making businesses.
Server reliability and speed are the most critical aspects of your website.
You are planning to host high-traffic, medium to large websites, like an eCommerce store.
Try Kinsta

Use OVH when:
You have the technical skill to manage your web server.
You want to create apps or websites for yourself, friends, or family inside the European continent only.
You are planning to build an application outside of the WordPress environment.
You cannot afford a fully-managed hosting solution because of financial constraints.
FAQ (Frequently Asked Questions)
Why is OVH so cheap?
OVH offers unmanaged hosting services with limited bandwidth and does not even invest in hiring good and sufficient support staff. Moreover, the French government provides subsidies to OVH, so it can offer hosting services at cheap prices.
Is managed WordPress hosting worth it?
Yes, a managed WordPress solution takes away all your worries related to the technical aspects of your website. Your website is managed by professionals and you receive the most stable and best performance out of your WordPress applications.
Both WordPress and shared hosting solutions are capable of supporting your WordPress projects, so you can go for any of them. But when your WordPress project is highly intensive, choose WordPress hosting over the shared one.
Should I choose Premium Managed WordPress or Managed VPS?
Both these hosting services are managed so all the technical aspects are taken care of by the experts. You can choose any of these for running your online store or hosting a money-making website.
However, when you are planning to use WordPress for your website or app, go for the Premium Managed WordPress solution since it is well-optimized for WordPress.
What is the difference between regular WordPress and managed WordPress?
A WordPress hosting solution is optimized for WordPress but the responsibility of managing the technical aspects lies on the website owner.
On the other hand, a managed WordPress hosting solution takes this burden of technical management away from the user and passes it on to the experts. The host that offers you this service handles all the technical aspects.
We are sorry that this post was not useful for you!
Let us improve this post!
Tell us how we can improve this post?