Pros
Multiple server locations. Five datacenters in three continents and you can choose the one you want
Fantastic response times from most locations
Excellent uptime
Automatic daily backups
Fast responsive live chat and ticket support
Migration of your sites unlimited and free!
Easy to use interface
Cons
The pricing is somewhat on the high side, but it's still worth it because of the amazing features
No phone support (but live chat is very fast)
No unlimited storage space
Final Verdict
WPX Hosting deals mainly with WordPress web hosting and has 24/7/365 fast response via live chat and ticket support channels.

As it turns out that WPX Hosting does live up to its bold claims, unlike other webhosts and to add up to that, their page load times are impressive
A fast website is essential to your online success in 2019. Whatever the purpose of your website, from blogging to the pleasure of selling products online, your site and your visitors will benefit from benefiting from fast loading times.
Improving the speed of your website can help you get more visitors through increased search engine visibility. The fastest sites also have higher conversion rates!
Running fast loading websites on WordPress managed shared plans is exactly what WPX Hosting offers with its London-based data centers for the French market and its excellent infrastructure.
Data sheet of the host
WPX Hosting is owned by Terry Kyle. Formerly known as Traffic Planet Hosting, this web host offers the simplest managed WP solution for anyone who runs a website. Basically, you only get 3 options or plans for their hosting. Business, Professional or Elite. The main differences are the number of websites you can host, the amount of storage space you get and the bandwidth.
Chicago (USA)

London, Amsterdam (Europe)

Sydney (Autralia)
About WPX Hosting
A fast website is vital to your online success. Whatever the purpose of your website, from blogging to the pleasure of selling products online, your site will greatly benefit from fast loading times. Improving site speed can help you get more visitors through increased search engine visibility and better conversion rates on your offers and / or products.
One of the fastest and easiest ways to speed up your WordPress website is to choose a high performance web hosting specialist in the field. Therefore, if you want to enjoy the benefits of a fast loading website, this WPX Hosting presentation and test should be of great interest to you.
We will begin this review of WPX hosting by exploring the best features and some of the benefits you can enjoy by signing up for their services.
Optimized WordPress Hosting
We will review the installation process of WordPress and the configuration of your website in the test video of this evaluation of WPX hosting. However, the WPX Hosting client dashboard is very clean and easy to use.
With the WPX Hosting dashboard, you can view details about your account and services, check the support tickets you have opened, and manage your emails and websites. You can also monitor disk space and bandwidth usage. Many options are available here and accessible via a clear interface.

If you are interested in WordPress hosting services, you are probably focusing on site speed and loading times. A well managed WordPress host has a lot to offer. However, performance is usually the main reason why website owners are willing to pay an extra fee.
Daily backups of the WordPress website
As part of their service, WPX hosting will create backups of your website on a daily basis. For added protection, the backup files are stored on a separate server and are kept for 14 days. There is no backup recovery fee in case of a problem. A simple click will allow you to restore the backup of your choice.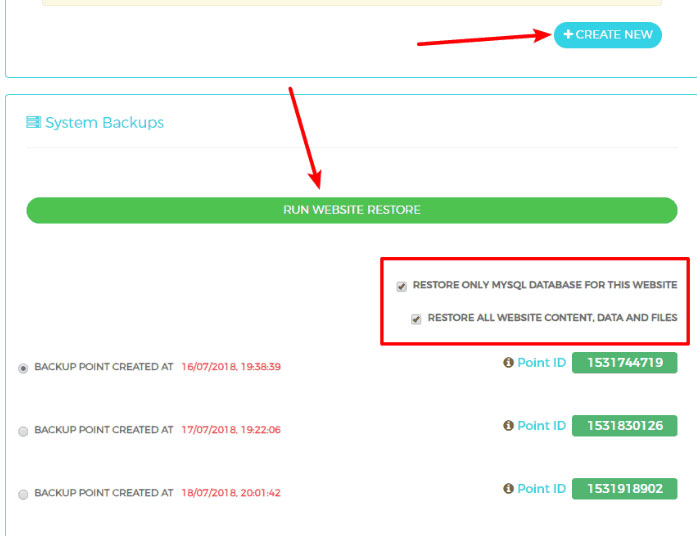 You can also use your own backup solution, including plugins like BackupBuddy or BackupWPup, and back up the files yourself.
How the backup system works:
Free WordPress Website Migration Service
If you already have a WordPress website, you may be wondering if switching to a faster web host is worth it. There are plugins and tools that can help you migrate a WordPress website. However, the process is not always simple.
Fortunately, WPX Hosting offers a free site migration service. The migration service would be completed in 24 hours. The team will move all of your WordPress website (s) from your current host to your new WPX hosting account. Email migration associated with this website is also included in the service.
This is a service that few competitors offer and WPX will move an unlimited number of websites for you!
Email service
All WPX hosting plans include free email accounts, which is not always the case with other managed WP hosts. This allows you to send and receive e-mails using the address associated with the domain name of your website. When setting up email, you can choose to have email forward to another address, such as your Gmail account.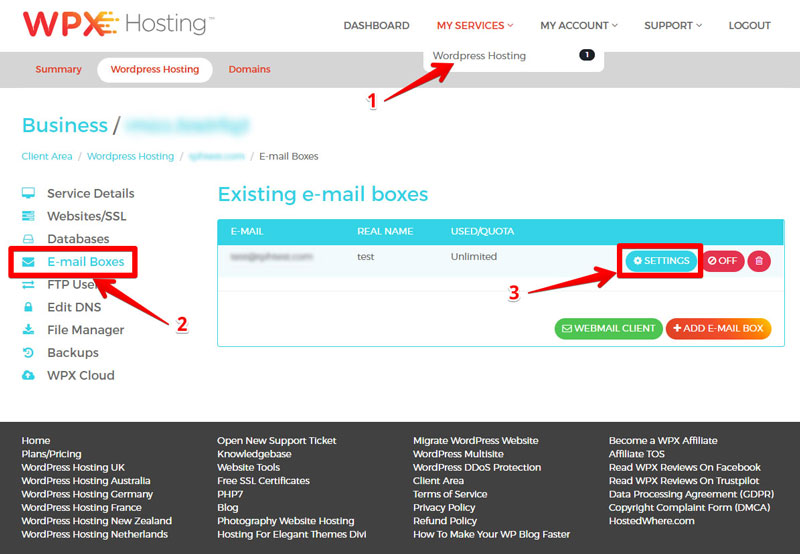 Alternatively, you can access emails via webmail, a client like Outlook, or on a smartphone. Google Apps is also supported.
FTP / SFTP / PhpMyAdmin Access
Although WordPress is installed via the dashboard of the WPX Hosting client area, you can also access your server space via FTP and SFTP. This gives you the ability to securely download theme and plugin files via FTP client like FileZilla. You can also use FTP to download other files to your server space.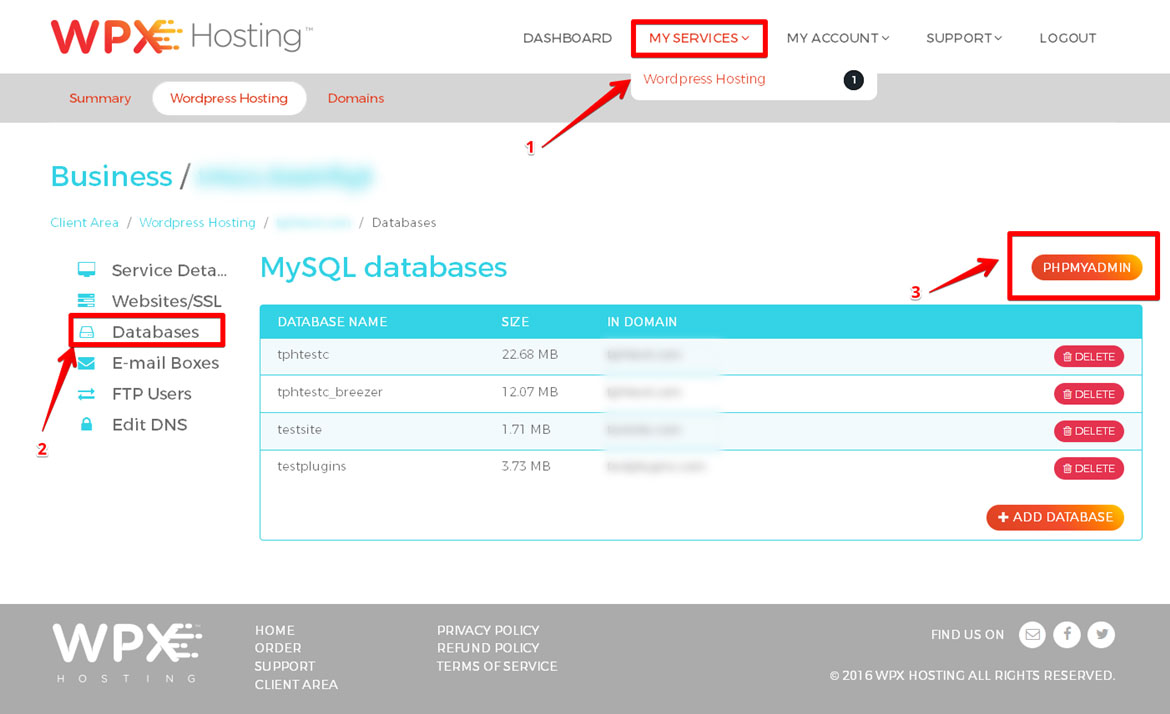 Attention WPX does not use Cpanel for security reasons! You will still have access to PhpMyAdmin and your databases and can access WP files via FTP here.
Super fast 24/7/365 support
WPX Hosting offers a 24/7/365 live chat service and an email support system. I have never used the live chat service because, to be honest, they are so responsive in terms of support by email that it is almost live chat support in real time! From afar, the best email client service we have been able to test at specialized WordPress hosting companies. You will receive a first response most often in less than 1 minute!
There is also an online knowledge base that should answer your questions and help you solve any problems you encounter.
Here are some of the other features you get with WPX Hosting:
File Manager Server Access Browser
No list of prohibited plugins
WordPress Multisite Support
Free SSL Certificates
DDOS protection
Data center located in London for Europe
SSD storage
Staging to work on your offline sites
WPX Hosting Uptime Guarantee & Speed Test Reports
We performed comparative tests to determine which is the best hosting service for WordPress. For the performance test, WPXHosting has overall excellent results, often taking one of the top 3 positions. He finished first in tests 1 and 3. He had more difficulties with the Load Impact test where he finished second to last.
WPX Hosting guarantees has 99.95% uptime rate, which is a bit lower than the standard of 99.99%. Throughout our test over the last 8 months, our site was up and running 100% of the time. So you should be confident in its stability and uptime.
We installed a theme on our website and gave it a test on different platforms. Since you get CDN with every plan, we should see great speed in most places on Earth.
And it actually delivers that speed. The server response time in 6 locations was below the 10-second mark, and that is insane. Your site will be available all around the world with virtually no delay. The only slowdowns were Bangalore and Sao Paulo, but even then the response time was just 193ms.

WPX Hosting use their own servers. They have 3 main data centers in the world. One in Chicago (USA), the other one in London, Amsterdam (Europe), and another one in Singapor (Asia).
SSD Servers
There is evidence that SSDs make Web sites faster by 200% and not only that, query response time and TTFB ("time to first byte") are greatly increased with WPX SSD servers.
Servers are not only fast, they are reliable and built to scale so your website never breaks down. You can expect a maximum of 1 to 2 downtime over a period of a month or two, but it's pretty much the same here for all the shared hosts around the world. Overall, they give you a 99.90% uptime guarantee.
Caching
Servers are cached from the root via pre-built cache systems that are much more efficient than our normal cache plugins.
The system includes all the usual optimizations like browser cache, minification, CDN integration, just to name a few … The best thing here is that you do not have to worry about it.
WPX Hosting recommends the use of W3 Total Cache and will even provide you with a configuration file already optimized for this plugin if you ask nicely for customer support!
Update Oct 2019: WPX Hosting now offers access to its own WPX Cloud CDN caching solution!
WPX Cloud is their own high-speed content distribution network (CDN), developed by them, with over 20 locations in the world today. The service is of course free for all WPX Hosting customers.

Security
Security is a more than important feature when it comes to choosing web hosting.
WPX hosting does not fail here with its enterprise-level DDoS protection and malware detector and cleaner that scans your entire site to eliminate any potential vulnerabilities.
They also offer free unlimited SSL certificates (Let's Encrypt type) with each plan so you can secure your visitors' information. These certificates are installed in one click which is really simple and will save you valuable time!
From the dashboard, you can view your billing details and set up your account and the services you use.
If you want to move an existing WordPress website to your WPX hosting account, you can submit a free migration request and let the support team do it for you. For those who are starting a new website, you can install WordPress on your server space to get started.
If you are new to WordPress, you do not have to worry. WPX Hosting has made the installation process of WordPress incredibly easy. Just click on the Install WP button, then on the Install WordPress link, enter an email address such as your home address and click on Install.
In seconds, your new WordPress installation will be ready for use. To complete the work and complete the installation of your new website, you will need to enter some details on your site. This includes the language, site title, username, and password to log in to your new WordPress website.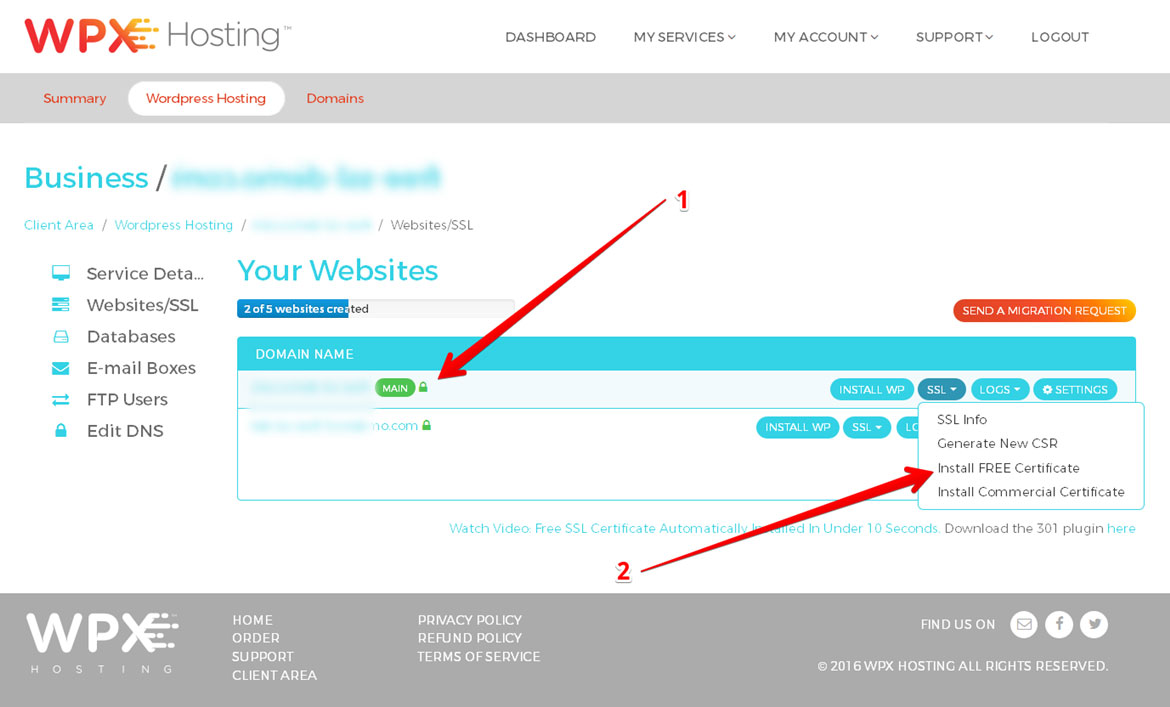 You can also install an SSL certificate with one click!
WPX Hosting performs a clean installation of WordPress. Unlike other web hosts, no additional plugins or themes will be installed. Only the default "Hello Dolly" and "Akismet" plugins are included, as well as the latest versions of the default WordPress themes. It's great because it simplifies things and minimizes the clutter of your WordPress dashboard.
As mentioned above, all WPX hosting plans include email support. Creating email addresses for the domain associated with your website is easy. Just click on the "Add an Email Box" button and enter the required details.
As you can see, starting a new WordPress website with WPX Hosting is extremely easy. With the free migration service, moving an existing WordPress site is also stress-free.
Deploy a WP site in just a few clicks!
SSL certificate installation in a few clicks!
WPX Hosting does its best here with its hosting plans and pricing.
There are only three plans to choose from. The key differences between WPX hosting plans are the number of sites you can host on your account, the amount of storage you have access to, and the amount of bandwidth you can use.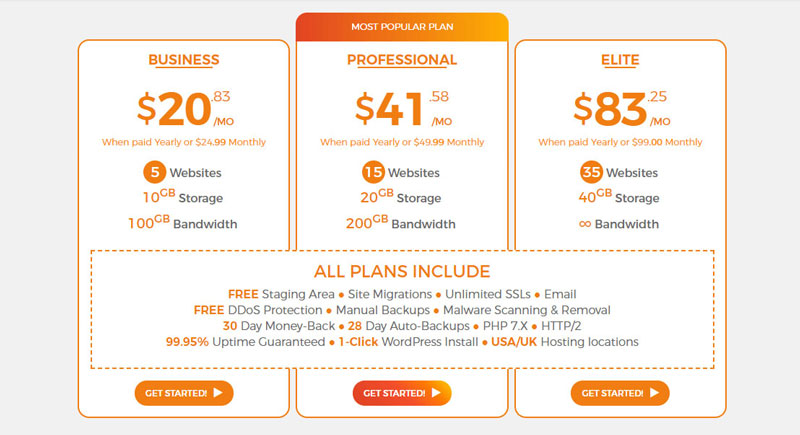 The prices are slightly higher than the prices charged by the traditional shared hosts but are in the middle of the prices practiced by the specialized and managed hosts WordPress.
The three plans offered keep things simple and make the launch of a new WordPress website easier. The free migration service will be very useful for anyone who already has a WordPress website hosted elsewhere.
Compared to entry-level shared web hosting, WPX hosting and WordPress managed hosting in general are not cheap. However, with prices starting at $24.99 per month, and plans offering the ability to host up to 5 WordPress websites, if you're ready to upgrade, WPX hosting is one of the options the most affordable.
Remember to select the closest data center to your audiences location among the 3 (USA, UK, Australia) so you can enjoy better loading speeds for your actual market!

With a 99.90% uptime guarantee, WPX hosting offers a quality service and an excellent guarantee of availability.
Customer support is what makes the web hosting service offered by WPX Hosting high quality.
Their response time is really impressive! You will not even need to use the live chat here as their email support is fast. After opening a ticket, you will receive an email in the minute (often less), and, except big problem of course, a WordPress expert should quickly take care of it for you!
The support team is very enthusiastic and really proactive. A real pleasure to know you are surrounded when you need it!
They hurry to work on your problem for you rather than direct you to an article to find a solution for yourself.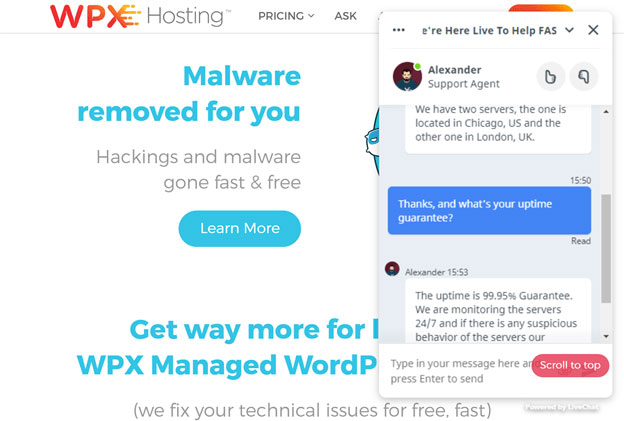 Conclusion: Is WPX Hosting Right for You?
WPX Hosting is a fast web host, very easy to use and high quality customer support. If you start a new project or start with WordPress and want more than just a shared hosting plan for WP, then WPX Hosting is a great option for us.
The three available packages make things simple and launching a new WordPress website could not be easier. The free migration service will be very useful for anyone who already has a WordPress website hosted elsewhere.
Compared to entry-level shared web hosting, managed WordPress hosting does not always represent a good investment for everyone. However, with prices starting at $24.99 per month, including the ability to host up to five WordPress websites, if you're ready to upgrade, WPX hosting is one of the options the most affordable in 2019!
Pros
Multiple server locations. Five datacenters in three continents and you can choose the one you want
Fantastic response times from most locations
Excellent uptime
Automatic daily backups
Fast responsive live chat and ticket support
Migration of your sites unlimited and free!
Easy to use interface
Cons
The pricing is somewhat on the high side, but it's still worth it because of the amazing features
No phone support (but live chat is very fast)
No unlimited storage space
Final Verdict
WPX Hosting deals mainly with WordPress web hosting and has 24/7/365 fast response via live chat and ticket support channels.

As it turns out that WPX Hosting does live up to its bold claims, unlike other webhosts and to add up to that, their page load times are impressive
Related posts
Recent Reviews
There are no reviews yet. Be the first one to write one.
User Reviews of WPX Hosting