Pros
Unlimited plan. No limits on email addresses, bandwidth or disk space
Fast servers (PHP7, SSD & built-in caching)
Excellent uptime (99.99%)
Free domain name for the first year
Free SSL & CloudFlare CDN
97-day money-back guarantee
Cons
Don't offer cPanel control panel
No free migration service
No phone support
Datacenters only in USA
Final Verdict
Dreamhost is a hosting site for individuals or businesses. It offers high quality services for attractive rates. Its major asset is the speed of its servers.

If you want to know more, we advise you to consult the offers.
Dreamhost is a US hosting provider born in 1997 from a joint project of four students who chose to develop a web hosting provider based on open source technology to offer web hosting services, domain name registration, and cloud services. Since then, the host Dreamhost has evolved and became an American and global reference.
About Dreamhost
Experience counts in assessing the expertise and livelihood of a company and DreamHost has a good deal in that regard. Established almost at the same time as bands like HostGator and JustHost in 1997, DreamHost was able to maintain its position despite such intense competition. With nearly 100 employees, DreamHost hosts more than 1 million domains with 1500 servers worldwide.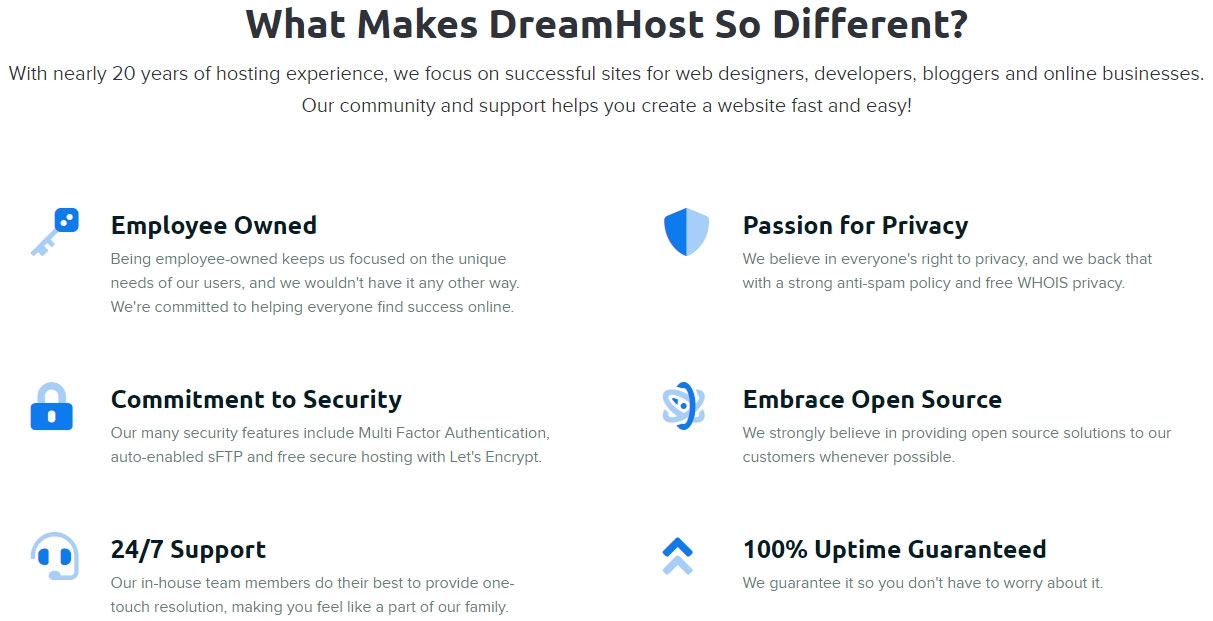 DreamHost Website Builder
Coding a website from scratch is not a walk in the park. Even experienced developers find it difficult to write custom code for a fully functional online store.
So for you to avoid all this headache, DreamHost comes with its own website builder called Remixer. It is designed to help you create and customize an entire website without touching a single line of code.
You can start the design process by selecting an ideal theme for your site. There are many predefined themes for different categories of online stores, with standard features expected on a typical e-commerce site.
Fortunately, DreamHost has developed them to seamlessly adjust their layouts based on your visitors' devices. In the end, you can bet that buyers will not give up their baskets because of a bad mobile experience.
Speaking of which, the DreamHost website builder gives you the initiative you need to attract traffic. Its integrated SEO capabilities are the foundation for optimizing your site accordingly.
However, the bulk of the customization process is tweaking the layout elements on each page. And the DreamHost website builder is flexible enough in this regard. You can organize various components and define the corresponding attributes such as color, size, font, etc.
Domain name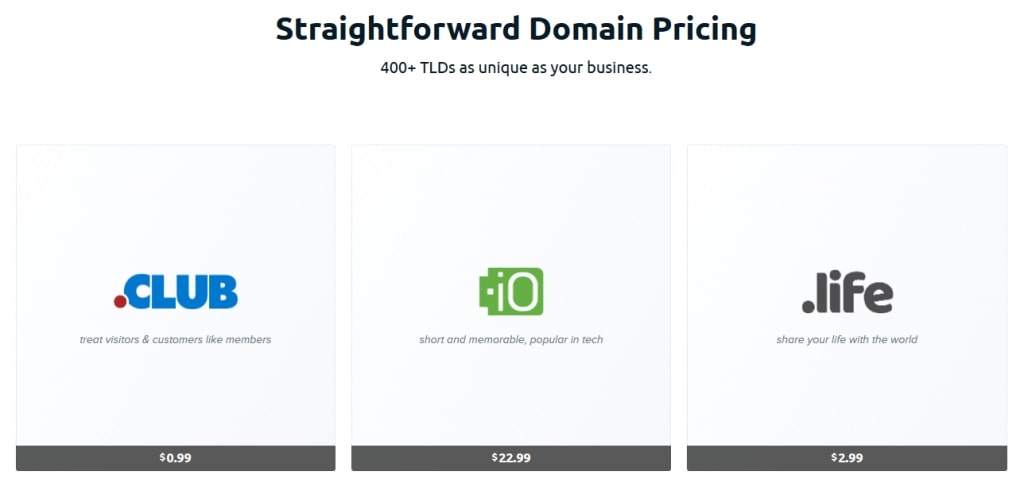 By registering for a shared annual plan or DreamPress, the company gives you a free domain name. This free credit is not available in other hosting packages (VPS, Dedicated and Cloud).
In our opinion, this sounds more like a marketing gadget than a useful feature. In fact, this free domain name is only valid for the first month.
While at the same time, Hostinger is offering a free domain name for the first year and PlanetHoster includes a free domain for life in its shared hosting plan. However, you have the option of obtaining domains when needed. Starting at $13.3/year, you can get a .com or .net domain name.
Disk space
The storage space offered by the provider depends on the formula and / or the hosting offer you choose. Shared hosting entitles you to unlimited storage while for DreamPress plans, it ranges from 30 GB to 120 GB.
Get more with VPS Professional (120 GB) and VPS Enterprise (240 GB). However, other providers like PlanetHoster offer even better.
For dedicated servers, DreamHost offers several offers classified into 3 categories. First, there are standard plans that offer a disk space of 1 TB.
Then, the Enchanted HDD packages that include 2TB of storage, then the Enchanted SSDs delivered with 240GB. Further, DreamObjects offers up to 480GB and DreamCompute plans come with 100GB of storage.
E-mail addresses
Most hosting plans are eligible for unlimited email addresses. But, it is not possible to have e-mails without a hosting plan.
So if you want to create email addresses and host e-mails at this provider, for your domain, you must also subscribe to hosting. Let's continue our review of DreamHost in 2019 by checking the available databases.
Databases
The provider does not impose a limit on the number of databases. But in general, you will have one for each site that requires a database. Then, the company uses MySQL, one of the most used open-source database systems. It is compatible with a multitude of web applications and the majority of web developers use it.
MySQL shared hosting and VPS offerings run on specialized hardware for more optimization. Dedicated servers are linked to MySQL, which is optimized for other use cases. DreamHost also offers SQLite on VPS and dedicated servers.
The webhost does not use third-party control panels like cpanel, but rather its own panel. It is provided free of charge with each hosting package.
However, the company does not offer the ability to import data from other panels. This implies that you need to learn a little more before using the DreamHost control panel.
If you need to transfer from cPanel, you will have to do it manually. Also, you can not import from cPanel or another provider.
Compared to Hostinger or PlanetHoster, migrating a site from a cPanel host can be tricky at DreamHost. This is an important point to consider before subscribing to an offer.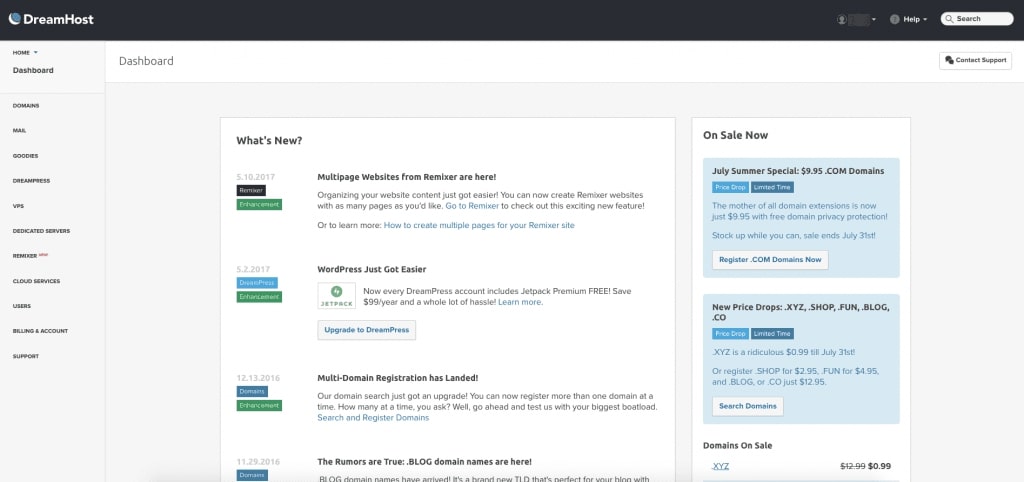 The custom panel doesn't lack intuitiveness, but users who are used to the comfort of cPanel might find this a bit more tricky to use.
But although that WebPanel is slightly confusing, the 'search' function works perfectly and I was able to do most basic tasks I wanted.
Because the company has such a variety of hosting options, there are a number of different DreamHost hosting plans. Starting at $3.95 per month for basic shared hosting and up to $379 per month for some dedicated server options, there is a hosting plan for each budget.
The hype led to believe that the company is rated 3.9 out of 5 stars with excellent customer support.
In verifying, we realized that customer service is not really available 24/7 as you can see in the screenshot above. Nevertheless, the supplier has a fairly dynamic staff. Customers can open a ticket and a form is also available on the website.
You also have a live chat service, but for which you have to be a customer first before benefiting from it. Also, there is no phone line.
The management of the electronic mail through the servers still remains perfectible. We were not totally satisfied on point. In our opinion, the company is still far from Hostinger on this aspect.
Conclusion: Is Dreamhost Right for You?
DreamHost is without doubt an excellent host. If you have a reasonable budget, it's your choice.
But if you're an absolute beginner with a very small budget and you're sure you do not need hosting for more than one domain in the near future, there are other hosts like Hostgator that offers quality service equal and offer cheaper hosting via single-domain plans

Visit DreamHost
Hosting plans from just $2.59/month
Get 30% OFF + FREE Domain!
All DreamHost plans come with 97-day money-back guaranteed
Pros
Unlimited plan. No limits on email addresses, bandwidth or disk space
Fast servers (PHP7, SSD & built-in caching)
Excellent uptime (99.99%)
Free domain name for the first year
Free SSL & CloudFlare CDN
97-day money-back guarantee
Cons
Don't offer cPanel control panel
No free migration service
No phone support
Datacenters only in USA
Final Verdict
Dreamhost is a hosting site for individuals or businesses. It offers high quality services for attractive rates. Its major asset is the speed of its servers.

If you want to know more, we advise you to consult the offers.
Related posts
Recent Reviews
There are no reviews yet. Be the first one to write one.
User Reviews of DreamHost

Visit DreamHost
Hosting plans from just $2.59/month
Get 30% OFF + FREE Domain!
All DreamHost plans come with 97-day money-back guaranteed