Pros
Excellent Uptime
Free Domain name - forever free
Free Site Migration and Free daily & weekly Backups
Free SSL and Cloudflare CDN, NGINX and HTTP/2
Built-in firewall, brute-force protection and free malware scan
Fast, Great Support
45-Days Money-Back Guarantee
Cons
$19.95 setup fee only if you choose to pay monthly
Does not offer an IP address dedicated to shared hosting users (you can't buy one)
Final Verdict
FastComet is recommended for website owners who are looking for a fast reliable web host with a host of useful features.

If you want to know more, we advise you to consult the offers.
About FastComet
FastComet is one of the best Internet hosting services with a solid reputation based on fast and efficient hosting. With flattering user ratings, we evaluated FastComet for several months to see if its features hold up when we take a closer look.
Our tests revealed that FastComet offers intuitive features and support with reduced prices and server-side benefits to provide a superior hosting experience. The company also ranked well in terms of reliability and availability, and ultra-fast charging times. With regular speeds and a wide variety of development tools, FastComet is a very good choice of web host to build your website.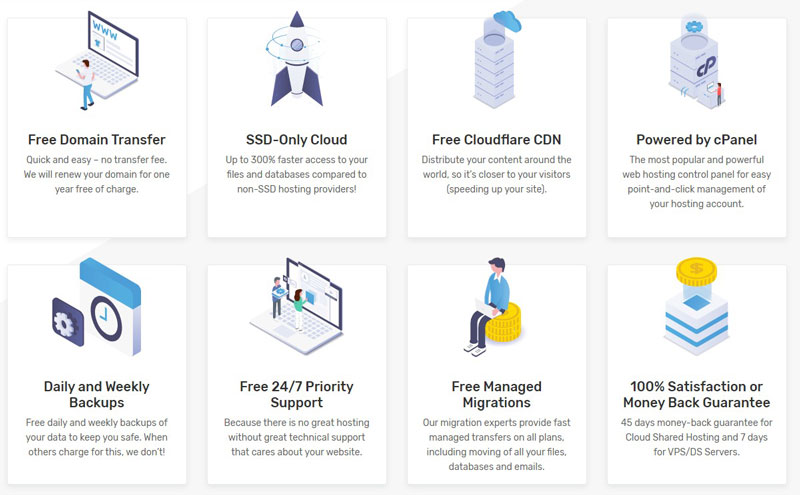 Free domain registration for life
A feature that makes FastComet a real steal is the fact that they offer a free domain, forever. That's right, you do not need to pay for your domain name as long as you sign up with their plans.
When you sign up with their plans, you can transfer or register your domain name for free and that's it. FastComet will handle the renewal process and fees.
All shared hosting users have a free domain for life at FastComet.
7-Free site migration for novice users
FastComet offers free site migration services when you sign up for one of their plans. Considering that some hosting companies charge a fee to their users for the transfer of a site, it is good that FastComet gives it free of charge, which makes it possible to change hosting companies into a less arduous task.
Internal site builder with 40 + ready-made widget and 300+ themes
With the FastComet website builder, you can easily create a professional-quality website; it's a powerful drag-and-drop tool that almost anyone can use even without any technical skills.
There are more than 300+ models and 40+ widgets that you can choose to kick off your creativity.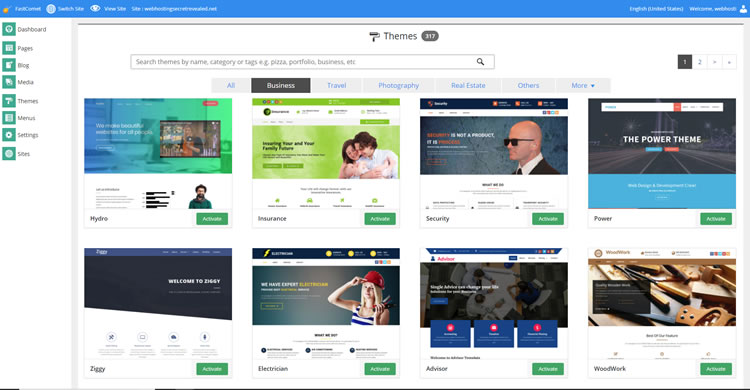 Free site surveillance and monitoring
Heard about Murphy's law? That "everything that can go wrong goes wrong"? Do not let this happen to your website.
They provide daily backups kept off site and you will have backups from the last days 7 to 30 (depending on the package you use). You have complete and unlimited access to your backups via the 1-click Restore Manager software in cPanel.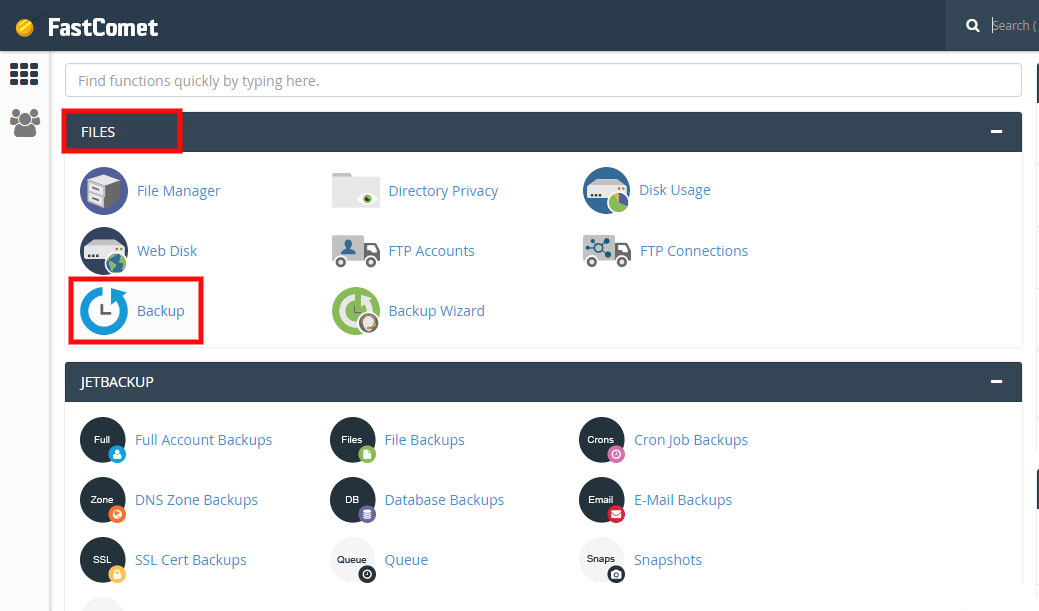 If you need assistance, 24/7 Technical Support is ready to help you if you need help restoring your website at no additional cost.
Free Cloudflare CDN
Cloudflare has a distributed server infrastructure around the world. It has more than 100 data centers in different countries. So, even if your customers come from another continent, they will benefit from the maximum performance and speed of your online store or blog page.
You will not have to buy an additional subscription as it is available by default in all hosting packages. CDN is an abbreviated form of content delivery network. It uses different services around the world to store all your static files such as images, JavaScript files or CSS style sheets.
RocketBooster
RocketBooster is their custom internal caching system which is based on Varnish, PHP7, APC with OPcache and memcached.
BitNinja
BitNinja is their all-in-one worldwide distributed security system with the machine-learning algorithm that protects servers from malicious traffic around the world and saves hosting account resources at the same time.
Varnish
The SpeedUp plan comes with Varnish Cache, which is really, really fast and Varnish usually speeds up TTF (time to first byte) and page load times by a factor of 3 – 10x, depending on your website.
PHP7 with APC & OPcache
Their servers use PHP7 with APC and OPcache will dramatically improve the performance of your website to handle more simultaneous visitors with exceptional page loading time.
Memcached
Memcached is a distributed cache system that increases the performance of database-based Web sites by caching data and objects in RAM to reduce the amount of resources allocated to running a process.
Managing your account on FastComet is surprisingly easy because their dashboard is designed to be intuitive and easy to use. You can manage all your essential tasks, such as installing applications or managing your invoices, with its unique user dashboard.
For those who are concerned about the speed of the site, FastComet supports server technologies such as NGINX, HTTP/2 and PHP7+, so you have all the tools you need to keep your site up and running fast.
You will notice that it is not expensive at all but these prices are only available when you buy the hosting plan for 3 years in advance. If you choose the shortest period, it will cost you a little more. Below, you can compare the evolution of the price according to the chosen subscription period.
FastComet StartSmart
FastComet ScaleRight
FastComet SpeedUp
Conclusion: Is FastComet Right for You?
FastComet is a force in the world of hosting, offering plans with great features and resources.
It also offers many types of plans that meet almost any requirement. Whether you want to create a small website or site that will receive millions of visitors a month, you have options that will give you the computing power you need. Better still, the prices are very advantageous and advantageous. The support and availability of applications are just the icing on a very sweet cake.
But I say that ultimately, the best way to use a service is to test it and FastComet offers a risk-free trial within 45 hours to help you decide if you are the right partner. No harm in giving them a try.

Visit FastComet
Plans from just $2.59/month
FREE Domain + FREE CDN!
All FastComet plans come with 45-day money-back guaranteed
Pros
Excellent Uptime
Free Domain name - forever free
Free Site Migration and Free daily & weekly Backups
Free SSL and Cloudflare CDN, NGINX and HTTP/2
Built-in firewall, brute-force protection and free malware scan
Fast, Great Support
45-Days Money-Back Guarantee
Cons
$19.95 setup fee only if you choose to pay monthly
Does not offer an IP address dedicated to shared hosting users (you can't buy one)
Final Verdict
FastComet is recommended for website owners who are looking for a fast reliable web host with a host of useful features.

If you want to know more, we advise you to consult the offers.
Related posts
Recent Reviews
There are no reviews yet. Be the first one to write one.
User Reviews of FastComet

Visit FastComet
Plans from just $2.59/month
FREE Domain + FREE CDN!
All FastComet plans come with 45-day money-back guaranteed