The majority of people believe in freedom of speech and want to publish the truth without fearing any large entity. If that's the case, you can host your website in bulletproof hosting companies. These are the hosting companies that are secure, safe, and privacy-focused.
Therefore, you can host almost any type of content here. Let's begin the guide with an overview of the bulletproof hosting companies and then we will get into the list of best bulletproof hosting companies that you can go with. We will cover all the information that you will need to choose a good hosting company. So, there is nothing to worry about.
7 Best bulletproof hosting companies
We will now have a look at some of the best bulletproof web hosting companies. We have also mentioned the data center locations and the payment methods they accept.
So, you can even see which of these companies provides anonymous payment options.
#1 Black.host

The promise of the Black. host makes it the top bulletproof hosting company you can go with. It will protect your website from all types of threats including false DMCA takedowns, and government dictatorships, as well as from any type of hazards such as earthquakes and even bombing.
So, we can ensure that the hosting is safe. Along with security hardening, they are constantly monitoring their servers to prevent them from going down.
You will get 99.9% uptime with blazing speed. Therefore, it's hosting with better speed and you can post the truth on your website without fearing anyone. The price is affordable which makes it a great choice for small journalists and for people who are running tight on budget.
Datacenter locations of Black.host
Amsterdam
Chicago
London
Vienna
Payment Methods of Black.host
Features of Black.host
"No matter what" guarantee. This will ensure that your data will is safe no matter what happens whether it's a natural disaster or any other things like false DMCA claims and government dictatorship.
They have a high level of physical security at the data center.
Military-grade storage and encryption.
Virtual data backups to keep your data safe.
You can even get your secure email address that is safe from all the threats.
Point-to-point encryption in email communication.
Start with Black.host

#2 Flokinet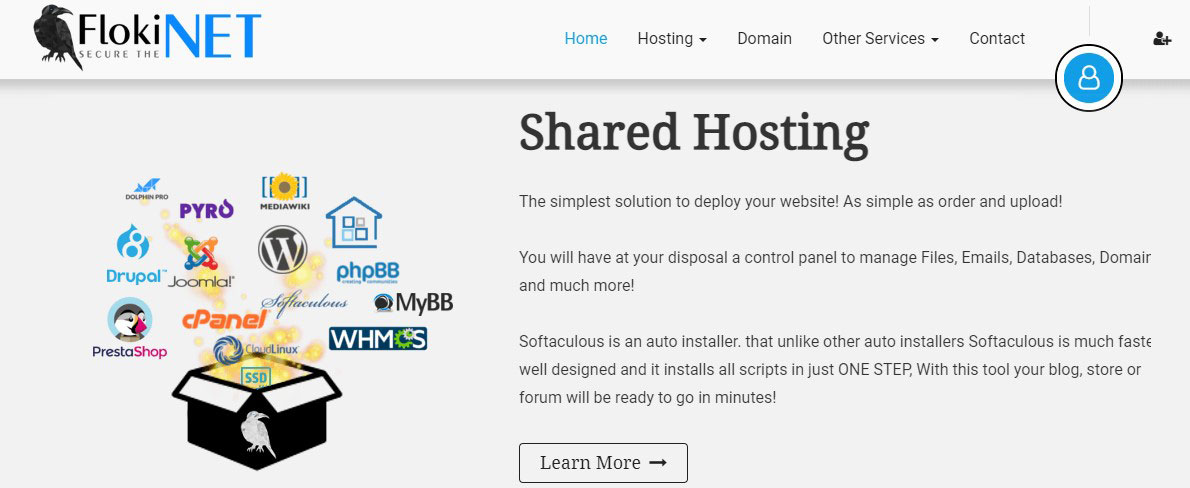 Flokinet is considered a bulletproof hosting company because of the Tor network it provides. You can get the Tor hosting here if you want. The best thing about Flokinet is the pricing.
Flokinet is affordable as compared to others. However, the resources are a bit low. For instance, in the basic plan, you will only get 5 GB SSD storage. It's good for small websites. The good thing is that you can always upgrade whenever you want.
They care a lot about security. Therefore, the security of this hosting company is outstanding. They also provide cPanel for easy control. Even a complete beginner can handle a website easily here. There are only three locations but they are completely secure here.  It's extremely easy to use and affordable.
Data Center Locations of Flokinet
Bucharest, Romania
Reykjavik, Iceland
Helsinki, Finland
Payment Methods of Flokinet
Dash
Bitcoin
Litecoin
Perfectmoney
OkPay
Paysafecard
PayPal
Bank transfer
Cash payment by Post
Monero
Moneygram
Features of Flokinet
It's affordable bulletproof hosting with great security.
DDoS protection
It's an anonymous hosting that allows complete freedom of speech.
There are all the basic features like domain lock system, whois protection, etc.
100% secure hosting.
Pentesting and consulting with SLA monitoring to ensure performance.
You will get full root access here.
Visit Flokinet

#3 Impreza.host

Are you looking for a great Windows VPS where freedom of hosting is encouraged? Impreza is one of the best bulletproof hosting companies where you can get your server with complete anonymity.
Not to mention, you can even go with the Linux or Windows hosting in various locations if you want. They have a no-log policy. It means that there will be no logs stored and no monitoring of your server activity, so you will get full privacy on their servers.
The amount of offshore locations is abundant. Something that no other competitor can beat them at.
Datacenter locations of Impreza
Russia
Ukraine
Romania
Iceland
Switzerland
Netherlands
Payment Methods of Impreza
Cryptocurrency (over 10+ supported currencies)
PayPal
Perfect money
Features of Impreza
No documents are requested.
There is 100% privacy maintained as there are no logs saved.
Servers are Tor compatible.
The server security is excellent. You don't have to worry about online attacks either.
The server speed is fast.
You will get a 99.9% monthly SLA which is great in this space.
They allow any sort of activity on their servers. So, it's a very good choice for most people.
Visit Impreza

#4 TheOnionHost

As the name says, the hosting company focuses on the Tor network. Therefore, it's safe to call it a bulletproof hosting company. It's known due to the customizations and hosting plans. You can choose from any hosting plan. If you want to go with the VPS, they allow you to customize it as per your needs. They also use premium hardware for the servers.
If you also want to get more security, you can also get their VPS service. The DMCA security is great. So, if you are getting various takedown notices, you can surely ignore them as per your need. If you don't like their services, you can ask for a money-back guarantee. They have got various payment methods including crypto payments.
Datacenter locations of OnionHost
Payment Methods of OnionHost
Bitcoin
Ethereum
PayPal
IDeal
PerfectMoney
Visa
Mastercard
Sofort
Features of OnionHost
It uses the Tor network. This will make sure that the network is safe.
You will also get VPN services here if you want to grab it too.
They ignore DMCA takedown notices completely.
You will get 99.99% uptime.
The features are good even in shared hosting. The price is also affordable.
Their store has a lot more products that you can check out related to security and anonymity.
Signup for TheOnionHost

#5 Shinjiru
Shinjiru is a popular offshore bulletproof hosting. They provide Strongbolt web hosting solutions to ensure running your website anonymously.
Further, the hosting company also offers identity protection. They will display the least amount of information about the customers to ensure the proper safety of your website. Shinjiru has been on the internet for many years now. They have over a decade of providing such hosting services. Therefore, you can trust the service.

Thereafter, you might want to have a look at the security features too. Here, you will get the highest security. They also use standard hardware for their servers. So, there is almost no chance of server failure. Their anti-hacking protection is yet another best thing about the company. Therefore, you can have peace of mind if you have hosted your website here.
Datacenter Locations of Shinjiru
Malaysia
Singapore
Hong Kong
Russia
Luxemburg
Lithuania
The Netherlands
Bulgaria
Payment Methods of Shinjiru
Bitcoin
Ethereum
Card payments
PayPal
Perfect money
Wiretransfer
Features of Shinjiru
Enterprise-grade hardware from all the well-known brands.
High network performance.
Strongbolt for domains. This means that the domain doesn't fall under ICANN.
They are certified domain providers.
Offshore servers with anonymous payment.
Stay safe from DMCA and censorship.
99.9% SLA uptime.
Impenetrable security features for your website's safety.
Try Shinjiru

Cheap Bulletproof VPS hosting companies
Want to host a bigger website and want to get it at a reasonable price?
You can check out the cheap bulletproof VPS hosting companies. These are the companies that provide VPS hosting at an affordable price. Some of them even offered shared hosting.
So, if you want to save money, you can also check out their shared hosting. However, VPS is recommended here.
#6 Bpserv.host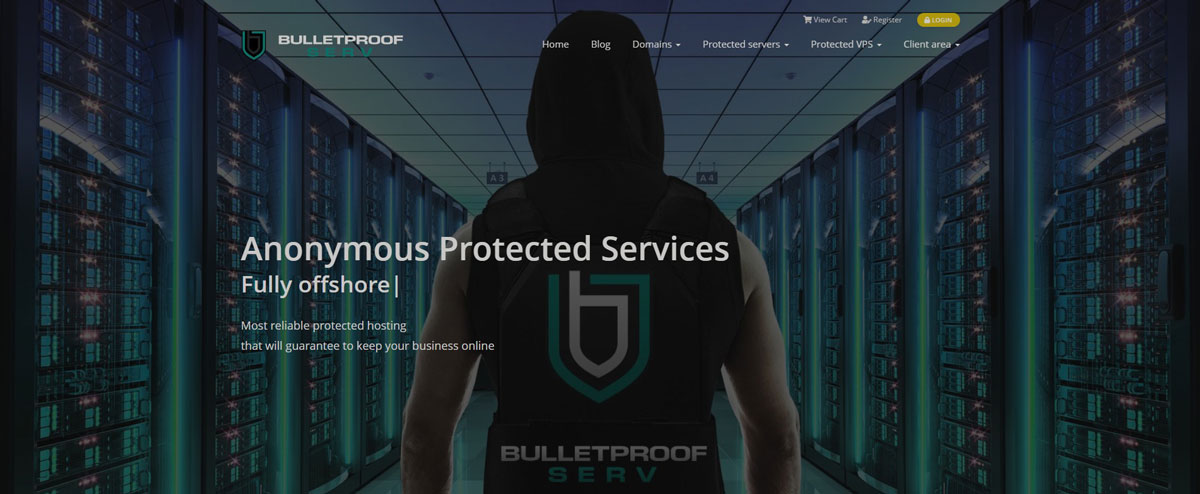 If you are looking for a reliable KVM VPS for your bulletproof hosting, Bpserv should be your first choice. It's great for people who want to host movies, copyrighted apps, or any other website where freedom of content is necessary. The servers are located offshore. So, there won't be any issues such as DMCA strikes or takedowns.
Coming to their VPS services, you will get complete root access to the hosting company. They monitor your website 24/7 without any holidays. This will also ensure that you will get 99.9% uptime. So, there is no chance that your website will go offline.
NOTE: The following activities are prohibited in their servers: spamming, phishing, scanning, brute-force, and malware.
Data Center locations of Bpserv
Netherlands
Russia
Ukraine
Moldova
Romania
Malaysia
Payment Options of Bpserv
Bitcoin
Litecoin
Altcoins
Features of Bpserv
They keep no logs or contracts on their servers, for the complete anonymity of their users.
Both anonymous server hosting and domain registration are available.
They have unlimited bandwidth with 100mbps guaranteed speed for their VPS.
No need to worry about DMCA takedowns, if necessary, they'll transfer your app to another offshore location.
Visit Bpserv

#7 Alexhost

Alex host is a great VPS service you can go with. There are many hosting services they offer. However, the VPS is safe and DMCA-free. They support freedom of speech and will not entertain DMCA claims.
There are many VPS plans with various virtualization techniques. You can choose any of them as per your requirements and budget. As there are more plans, you can save some money here by selecting the plan that has limited resources.
Talking about security, your website will be running with anonymity. They only have one data center at a safe place where most of the US laws don't apply. It's a bomb shelter of a former military plant.
Datacenter locations of Alexhost
Payment methods of Alexhost
Bitcoin
PayPal
Webmoney
Card payments
Features of Alexhost
The data center is fully secure as it is at a bomb shelter of a former military plant.
They monitor the data 24/7.
There are cooling systems that will make sure that the servers run smoothly.
The data center is guarded by 2 independent security agencies.
DDoS attacks are taken care of here.
The network speed and uptime are also great.
Most importantly, they ignore DMCA.
Visit Alexhost

What is Bulletproof hosting and how does it work?
We will begin by discovering what bulletproof hosting is. A bullet-proof hosting service (Sometimes called BPHS) is a hosting service that allows almost every type of content. Usually, if you want to host malicious content such as a web-scrapping tool or SEO tool, normal hosts won't allow it. You can use a bulletproof hosting service to host it.
This was a pretty mainstream usage. People even use it to save their websites from DMCA takedowns, government dictatorships, and many others. Some people even host stolen/pirated content here. Some hosting companies have certain rules on that.
Now, you surely are wondering how is this possible, right? Well, they have their data centers at a place where the government respects privacy (outside of the US). As DMCA is a US-based act, they can ignore the takedown notices. Therefore, many journalists use them. Not to mention, there are a few conditions stated by the hosting company that you will have to follow.
For instance, some of these bulletproof hosting companies only ignore FALSE DMCA claims and not all of them. So, you can keep that in mind and then proceed. We have mentioned such things in the hosting description.
So, if you want to host content that falls under any of the above-mentioned things, you should have a look at the best bulletproof servers and choose one from the list.
Conclusion
To conclude, these were some of the best bulletproof hosting companies that offer offshore hosting to protect you from the majority of legal actions such as DMCA.
If you are creating such a website, you can always buy the domain from the same website. It might cost you a bit more but your domain will be safe. If you have your domain name taken from other providers, there is a good chance that they might suspend your domain name and your hard work will vanish.
So, it's always better to buy the domain and the hosting from these bulletproof hosting companies.
We are sorry that this post was not useful for you!
Let us improve this post!
Tell us how we can improve this post?