In today's technology-driven business environment, the importance of email as an effective mode of communication continues to increase among organizations. However, hosting email servers is a complex and expensive process. It also requires different mail servers and software applications like spam blockers and email filtering. This can be extremely expensive for a company. Instead of setting up and managing their own servers, most organizations choose to have an email hosting provider such as Bluehost Office 365 email hosting.
Email hosting allows businesses to create and manage multiple email accounts, and send or receive and store emails on a server. Choosing the right email hosting provider plays an integral role in improving brand consistency, ensuring security and providing increased uptime. Email hosting allows you to include your domain in the email address, which works as a powerful tool for brand positioning.
Opting for the free or paid email hosting is your choice but it is essential to get a clear insight into the features provided by the email hosting you choose.
One such popular email hosting provider is Bluehost. This article provides in depth understanding of whether it is worth using Bluehost Office 365 email hosting. So, let's get started.
What Is Bluehost Office 365 Email Hosting?
Bluehost, a leading web hosting provider, has partnered with Microsoft to offer Microsoft 365 email hosting services to its managed web hosting clients. This provides businesses with a comprehensive suite of applications that aids in seamless email creation, collaboration and streamlined operations.
If you have a domain name with Bluehost, Microsoft 365 will let you connect the same to your email and use Outlook as your business email or any other email provider you prefer. It allows you to access your emails at any time, from wherever and from a variety of devices. Furthermore, you can create multiple domain-based email addresses.
Here is an insight into the key features of Bluehost Microsoft Office 365 Mailbox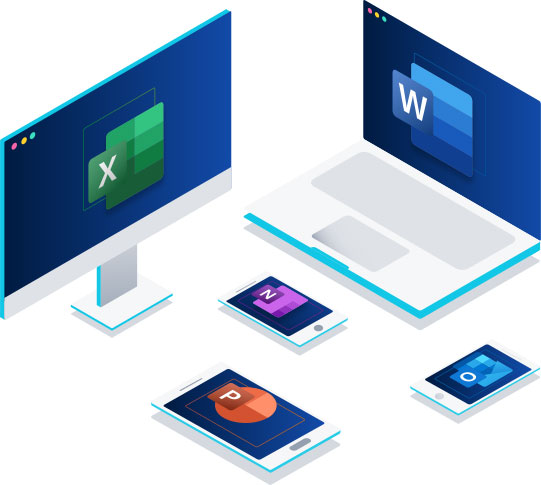 Use Microsoft 365 on any device: It can be installed on up to five devices per user and accessed on laptops or desktops or via browsers and apps on tablets and smartphones.
Access to a full suite of Microsoft Office applications: With Microsoft 365 Mailbox, you can also use a comprehensive suite of applications like Word, Outlook, Excel, PowerPoint and more.
Improved collaboration: With Bluehost Microsoft Office 365, you get 50 GB exchange mailboxes that aid in improved collaboration via email, video conference or instant message. With shared tasks and calendars on Microsoft Outlook and Exchange, you can stay updated with your team. 1 TB OneDrive storage further ensures seamless collaboration and document sharing.
Mailbox security: High-end SSL/TLS encryption provides improved security for all your emails. Furthermore, all business-critical information is stored in data centers powered by the highest standards of data security.
Work from anywhere: Bluehost Microsoft 365 allows you to fully synchronize all your files and emails so that you can work from anywhere and anytime, on different devices.
Secure business email: To maintain the confidentiality of business communication, ensure it is secure from data breaches. Microsoft's business-class email comprises of antivirus and anti-spam protection ensuring that all the business correspondence remains private and safe.
Automatic updates: With Bluehost Email Microsoft 365, you do not need to worry about application or software updates. Get automatic Microsoft updates and keep your business email running as always.
Intuitive and smart management dashboard: You can easily manage your Microsoft 365 email account from a user-friendly and intuitive dashboard. No need to login multiple times.
99% uptime guarantee: Microsoft 99.9% uptime guarantee ensures you can use your emails and tools whenever you need them.
Dedicated IT support: With Bluehost Microsoft 365 experts, you do not need to face the hassle of managing your business email. They can assist you in setting up and guiding you through the entire process, helping in case of any problem that may arise.
These are some features you can access with Microsoft Office 365 Mailbox with Bluehost hosting.
Bluehost Office 365 Pricing, Plans and Renewal Cost
Bluehost provides FREE Microsoft 365 email hosting service with all the web hosting packages. However, the features are limited. If required, you can switch to the paid alternative that provides all essential features you need to have a secure and high-performance business email.
The table given below shows the Bluehost Microsoft 365 Mailbox pricing plans and features:
Email Essentials
Business Plus
Business Pro
1-month Term Price $4.99 per license/month or $59.88/year
1-month Term Price $9.99 per license/month or $119.88/year
1-month Term Price $14.99 per license/month or $179.88/year
12-month Term Price $2.99 per license/month or $35.88/year
12-month Term Price $5.99 per license/month or $71.88/year
12-month Term Price $9.99 per license/month or $119.88/year
Select
Select
Select
ONE Business class email and calendar (Exchange Online)
15 GB
50 GB
50 GB
Email set up with your business domain name
Yes
Yes
Yes
Outlook Web Access
Yes
Yes
Yes
24/7 Technical Support
Yes
Yes
Yes
World-Class security and disaster recovery protection
Yes
Yes
Yes
Cloud storage and file sharing: OneDrive for Business
___
1 TB
1 TB
Microsoft 365 (online only)
No
Excel, Word, PowerPoint
Excel, Word, PowerPoint
Microsoft Teams
No
Yes
Yes
SharePoint
No
Yes
Yes
Full Microsoft 365 (online and desktop)
No
No
Excel, Word, PowerPoint, OneNote
Access, Publisher (desktop version)
No
No
Microsoft Access, Microsoft Publisher
Multiple device access per user
No
No
Yes
Bookings, Invoicing
No
No
Yes
Outlook Customer Manager, MileIQ
No
No
Yes
The table given above will help you to make an informed decision by comparing the features and cost.
How To Get FREE Bluehost Microsoft Office 365 Mailbox?
The Microsoft Office 365 Mailbox is available for free by default with all Bluehost shared hosting plans. However, the service is available only for a 1 month time period and with limited features. This is essential for businesses looking for a comprehensive email suite with a custom domain name.
Here's how you can set up the free version: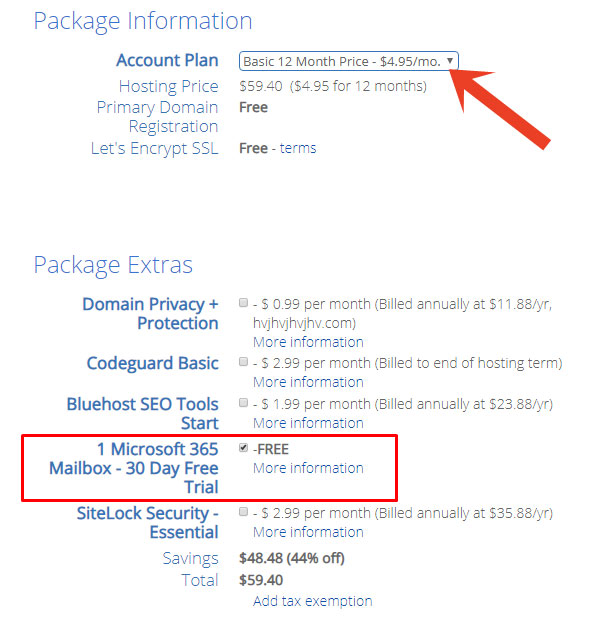 Get Started with BlueHost (67% OFF)

Step 1: If you want to buy the paid Bluehost Microsoft Office 365 Email Hosting add-on service, select the right plan from the drop-down menu against the "Account Plan" option.
On buying the package, the add-on will automatically get downloaded on your system and you can follow the necessary steps to set up your business email.
Step 2: Bluehost now offers the add-on service with all its shared web hosting plans. When you buy and sign up for a hosting plan, you will be offered a wide range of add-on services, including 1 Microsoft 365 Mailbox – 30-day free trial. If you want to benefit from the free version, click the box as shown in the image above.
Along with the hosting plan, it will be downloaded automatically and you can set up your business email easily.
With Bluehost Business Plus and Business Pro web hosting plans, you may not benefit from their free email hosting add-on but also access a full suite of Microsoft apps – all on a single and intuitive dashboard. The apps are available for use anywhere, anytime and on any device.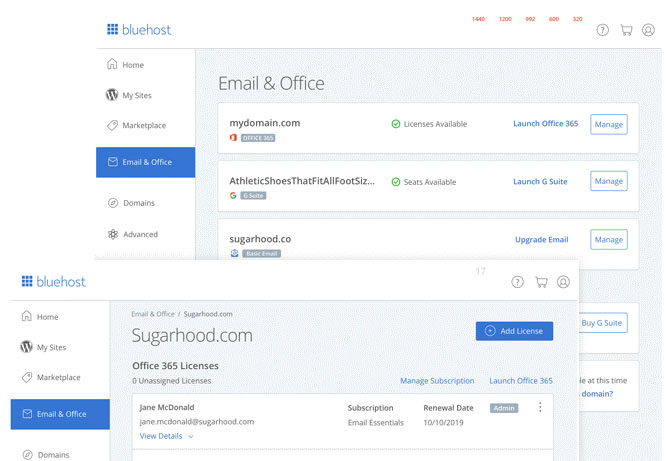 What Other Benefits Can You Enjoy with Bluehost Microsoft Office 365 Mailbox?
The other benefits remain somewhat similar to having your Microsoft Office 365 Mailbox.
If you already own a domain, Microsoft Office 365 allows you to easily add it to your Bluehost subscription through the smart and intuitive Office 365 management dashboard located in the control panel. This facilitates seamless migration of your domain to Bluehost Microsoft Office 365.
On the other hand, you can also consider upgrading your plan to another Office 365 package at any time you want. For example, you can easily upgrade from your Office 365 Business Essentials plan with limited features to Bluehost Office 365 Business Premium Plan. To do this, you need to find the Office 365 section from your user control panel and choose the plan you want to upgrade to. Next, you have to follow the simple instructions as shown on the screen to complete the checkout process.
On upgrading your account, the domain name will be automatically transferred to the new account. The domain name is transferred regardless of whether you have migrated your own domain name to the Microsoft Office 365 account or you had set up a new domain name with your Office 365 subscription. The new plan will get downloaded and set up on your account.

It is important to note that desktop versions of Microsoft Office applications such as Word, PowerPoint, Excel, Publisher, Access, etc. are available with Bluehost Business Premium plan only. However, you can have online access to applications like Microsoft Word, SharePoint, PowerPoint and Excel with Business Essentials plan too.
Similarly, OneDrive cloud storage feature is available only with Business Essentials and Business Premium plans. This will work best with the latest versions of Microsoft Office, Office 2013, Office 2010, and Office 2011 and 2016 for Mac. If you have the above-mentioned versions of Microsoft Office, you can easily select the files that are stored in the cloud and edit them via your desktop applications rather than Microsoft 365 Online.
When you purchase Bluehost Microsoft Office 365 email hosting plan, you will also receive enterprise-class calendars and emails. These come with high-end security features like antivirus, anti-spam and anti-malware, ensuring your business correspondence is highly secured.
Another question that intimidates the users is – what will happen to their business email data if they cancel the subscription at any point in time. Bluehost ensures that the data will remain with you until you download the data and save it to another location. For instance, if you want to cancel the Microsoft 365 Mailbox subscription, you can download your emails and other documents on team sites and save them to another location for instant access even after you have unsubscribed from the plan.
After cancelling the subscription, all data in your Microsoft 365 account will only be available to the administrators through a limited function account for 30 days.
Conclusion: Is Bluehost Office 365 worth it?

Now the question arises – Is Bluehost Microsoft Office 365 Mailbox worth it? Should you pay an additional amount to purchase the email hosting plan? Our verdict is NO.
The add-on service is undoubtedly more feature-rich, user-friendly and reliable. But the point is why would you spend extra cost to purchase a plan that Bluehost already provides for free with all its shared hosting plans? It is a great purchase if your business needs bulk space to store emails and if you also need access to other Microsoft Office applications for easy and quick email access.
Otherwise, the default FREE email hosting plan is enough to meet the email needs of most businesses. With the default email hosting, you can enjoy most of the benefits of Microsoft Office 365 email hosting such as:
(a) Improved brand positioning with a custom domain.
(b) Multiple Webmail clients that you can use, for example: Roundcube, Horde.
(c) High levels of security and data protection.
(d) 24/7 customer support by Bluehost experts.
So, it is obvious that the free email hosting plan works best to enjoy all the features at no additional cost. And you always have the option to upgrade to a paid plan whenever you want.
Activate BlueHost Discount (67% OFF)

If you have any suggestions or questions about the Bluehost Email with Microsoft 360 email services, you can post your comments. We would be happy to know your opinions about this service.
We are sorry that this post was not useful for you!
Let us improve this post!
Tell us how we can improve this post?