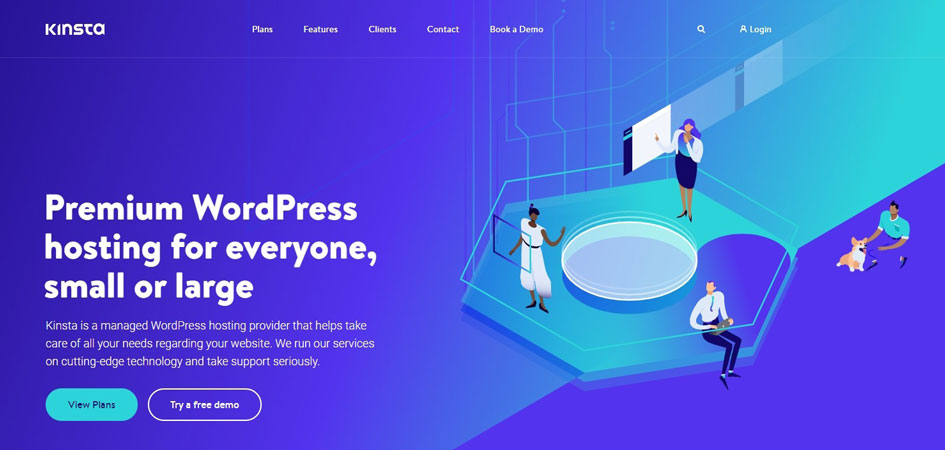 A web hosting provider is greatly essential for the success of a website and is needed to build a solid online presence for your business. These services allow organizations or individuals to host a website usually one that is accessible through a web browser. These providers securely store your files such as pictures or HTML etc. and ensure your website's live running on the internet. When choosing a web hosting provider, you need to be careful to select one that meets your requirements. Kinsta is one such hosting provider for businesses that offers amazing services with great value. How is Kinsta a good option for a web hosting company? What does it offer? How is it different from other web hosting services?  Let's find out!
What is Kinsta?
Kinsta is a reputable hosting company for businesses, usually those that have a decent revenue. This hosting service offers a premium service with superior value and performance. While Kinsta does not offer a trial version, it does offer a free demo account for users to try it out before buying.
Features of Kinsta free trial
While Kinsta does not offer a free trial for users, it does offer a demo account for new users, and it does offer a list of features that users can test before buying this product. Here are some of the unique features offered by Kinsta.
1. Full-featured demo account
Kinsta offers a free demo of the MyKinsta dashboard that comes with complete features. Once you have registered yourself for a demo account, you can easily test different features such as backup management, site creation, one-click staging area, and many others. You can test these features for free.
2. 30-day money-back guarantee
Kinsta also provides a money-back guarantee of 30 days for all their plans inclusive of the add ons. If you decide upon canceling your Kinsta hosting account within the first 30 days of the service, you will get a full refund. Hence, you easily try out Kinsta without any risk for 30 days. On canceling your subscription after the first 30 days, you will get a refund of the unused part of your subscription plan. This works with both, annual and monthly plans.
3. No long-term contracts
Kinsta does not bound you with a long-term web hosting plan. There is no need for any long-term contract. You are free to cancel your web hosting subscription whenever you want.
With these features offered by Kinsta, you can easily test the hosting company to see whether it is suited to your needs or not. Moreover, you can also review and check the features that are offered in the paid version before making your payment. Moreover, you get a fair return for your money whether you cancel your plan before or after making the payment for your Kinsta account. In any case, you can get a proper idea beforehand, whether the company is suited for your needs or not.
Kinsta: what is it used for?
Kinsta is usually used for WordPress-based Professional-scale websites where you can keep your website safe and secure, always virtually online, and also deliver satisfactory speeds for users. It is a reliable option for SEO and hosting big eCommerce websites.
The pros of using Kinsta
With multiple web hosting companies out there, certain pros of Kinsta sets it apart from the others. What are the pros of Kinsta?
Kinsta offers a solid loading speed that is perfect for a good user experience and SEO. It also supports a free SSL, powerful CDN, and last-gen PHP.
Kinsta runs with a great uptime of 100%, with some money return the rate falls below 99.9%.
Kinsta offers a great customer support service through chat.
It offers a pleasant experience for the user with its straightforward navigation system. Hence it is easy to use.
Kinsta allows unlimited users, with the option of easily defining roles and permissions at the site and company level.
This hosting company is designed for WordPress meaning that it supports all the architecture required for this platform. It also supports useful plugins, resources, and other such WordPress-specific tools.
On lower plans, Kinsta offers a 14-day auto backup. You can get more days. Also, cloud and manual backups are offered. Backups can easily be downloaded as needed.
Finally, Kinsta supports a WordPress plugin that you can use to migrate automatically a site into the Kinsta platform. Not many web providers offer this. Usually, all plans of Kinsta will come with some type of professional migrations that are performed by the team.
Kinsta is a great choice for those who want to avoid managing the technical hosting side. Because Kinsta offers a managed hosting service, you wouldn't have to handle most things on your own.
Kinsta is an amazing software that covers all your business's needs in one place.
With an uptime of 100% and secure, flexible and, and scalable nature, Kinsta has served as an efficient web hosting service for more than 20,000 companies around the world. Moreover, its WooCommerce and WordPress hosting plans are efficiently managed, secure, scalable, and reliable, thereby making Kinsta one of the best options for a web hosting company for your online business promotion.
The final verdict
Unlike other web hosting companies, Kinsta does not offer a free trial for users. This can be a problem because people often consider a free trial before investing. Nevertheless, Kinsta does offer a 30-day money-back guarantee for its users, which comes as a relief to many who were thinking about using Kinsta for their web hosting. This offer by Kinsta is much similar to any free trial offered by any web hosting company because it allows users to try out the features of this platform.
Moreover, Kinsta has a very professional and responsive team. While it does not support email hosting, and the costs may seem a little high, the benefits offered by Kinsta tend to outweigh the downsides of this web hosting company. The amazing services and features offered by Kinsta, hence make it a great web hosting company to sign up with.
Try Kinsta Demo