If you have been thinking of creating a website, you might have heard about HostGator. The buzz is all around the internet. We will be seeing what is HostGator and what is HostGator used for? Some of the common questions also include "Should we use HostGator?". We will be answering all those questions here.
What is HostGator used for?

HostGator is one of the best hosting companies which also offers domain names, website builder, SSL certificates, and much more.
If you are planning to create a website, you will need some space where you can host/store your website. HostGator offers web hosting services for that.
You will need a domain name and hosting if you want to make your website live. HostGator offers both of them at the same place. You can buy a domain name (the name of the website), and you can also buy HostGator web hosting services (space to keep your website).
Further, if you are planning to create an eCommerce website or a website that involves transactions, you will also need an SSL certificate. This will add HTTPS to your domain name instead of HTTP. HostGator provides it too.
Lastly, if you don't know to code, you can install WordPress on your website. If you don't want to use WordPress, HostGator offers drag and drop website builder to build amazing websites.
Types of HostGator web Hosting Offered
The first thing that you will need is a domain name. But you don't need to worry about it. As when you buy HostGator web hosting, you will be asked whether you want to buy a domain along with it or not.
So, let's discuss the hosting types offered by HostGator.
There are various types of HostGator web hosting you can get.
Shared Hosting: Shared Hosting is the best hosting for beginners. In just one server, there are many websites hosted. It is best for all beginners whether you want to run an eCommerce website or a regular website.
WordPress Hosting: HostGator also offers managed WordPress hosting. Here, all the backend stuff is managed by HostGator. WordPress can be installed on shared hosting also. However, if you want better performance, you can go with WordPress hosting.
VPS Hosting: VPS stands for Virtual Private Server. It is like owning your server but with fewer expenses. It is NOT recommended for beginners. This is suitable for websites with a huge number of visitors and data.
Dedicated Hosting: Dedicated hosting or dedicated server is the most expensive hosting you can go with. Here, you will get your server. You can host unlimited websites here. Again, even a dedicated server is not recommended for beginners.
As a beginner, you can go with either shared hosting or WordPress hosting.
Hosting Plans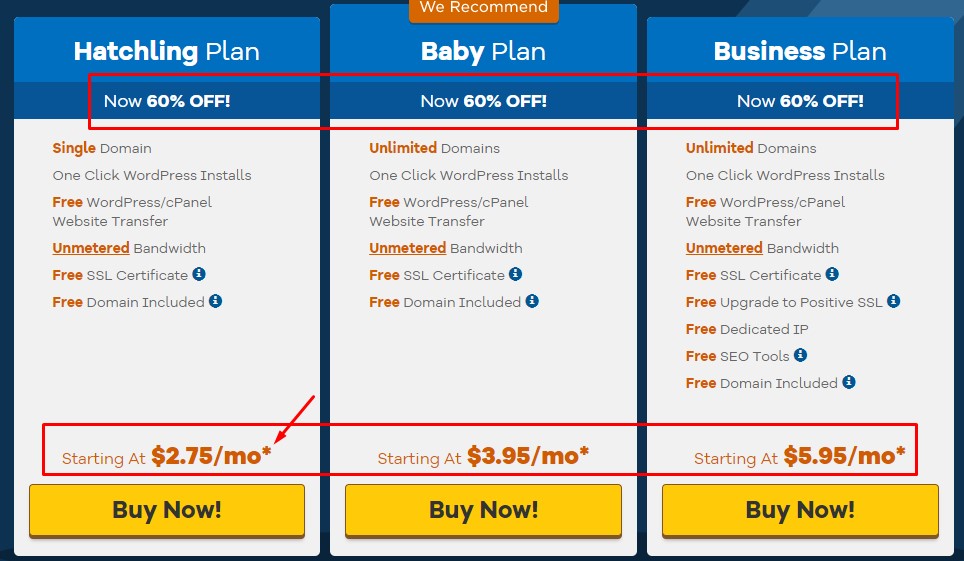 Now, let's talk about HostGator web hosting plans. Once you select the type of hosting you want, your next job is to select a plan. HostGator offers many plans to choose from. We will be seeing plans for Shared hosting and WordPress hosting.
There are three plans in shared hosting.
Hatchling plan
Baby plan
Business plan
The hatchling starter plan is where you are allowed to host only one website. There is an unmetered bandwidth given in all the plans, so you no longer have to worry about limited bandwidth. Also, you will get $100 Bing and Google ads credits. You can use it to advertise your website. You are allowed to add unlimited subdomains here. The major limitation is that you can only host one website. Moreover, you can't add private SSL to this plan (for eCommerce).
Baby plan is almost the same as the hatching plan. The only difference here is that you can host unlimited websites. So, if you have more than one website or you are planning to make more websites in the coming months, you can go with the baby plan. Here, you can add private SSL too. Also, you are allowed to add a dedicated IP address (extra charges for IP).
A business plan is not recommended for beginners. It is for the people who own an agency or are freelancers. Things like free positive SSL, anonymous FTP, etc are included in this plan.
You can go with either Hatching plan if you have one website and if you have more than one, you should prefer a Hatching plan.
WordPress Hosting
People often get confused between shared hosting and WordPress hosting.
You CAN install and use WordPress in shared hosting too. The only difference here is that in Managed WordPress hosting, the hosting service manages the performance, speed, and security of the website. In simpler words, you will get better performance and security in WordPress hosting. In the same way, it will cost you more.
Should you go with WordPress hosting or Managed hosting? For beginners, the answer is NO. You can use shared hosting as it will cost you less and you can also try out other scripts along with WordPress.
HostGator offers 3 plans in WordPress hosting
Starter plan
Standard plan
Business plan
Here, most of the things are limited. However, you will get a free domain and SSL in all the plans.
In the starter plan, you can only host one WordPress website with at most 100k visits per month. If you want to add one more website, you will have to go with a standard plan which offers 2 websites with a visit limit of 200k. Unfortunately, the third plan (business plan) doesn't offer unlimited websites. In the third plan, you can host up to 3 websites with a total visit limit of 300k.
For confused people, a visit means a single browsing session. If a person visits your website and surfs 3 pages, it is considered as a single visit. The limit here is the monthly limit, it will renew every month. You will also get free migration, automatic backups, better security, and automatic malware removal in all the WordPress hosting plans. The website will load 2.5x faster than shared hosting. You will also get Google credits with all the plans.
Advantages and Disadvantages of HostGator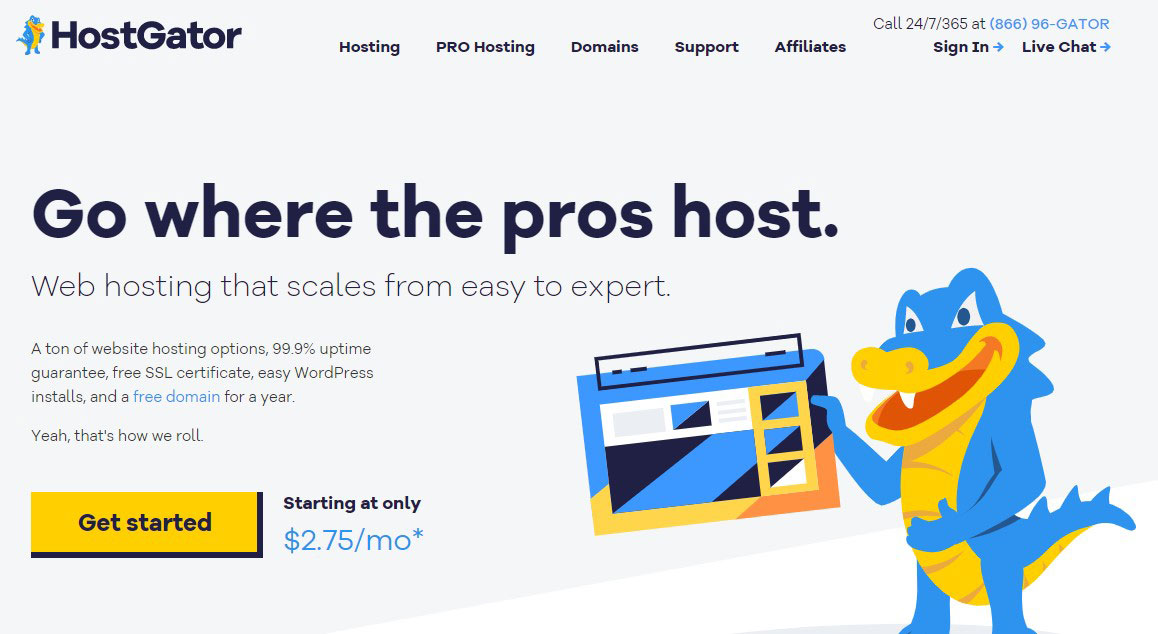 Till now, we have seen what is HostGator and what is Hostgator used for. Now, we will see whether you should be using it or not.
Performance: The server response time is roughly 37ms when it comes to loading speed. HostGator also offers an uptime of 99.9% which is awesome. The performance is quite good in shared hosting.
Reliability: HostGator has been in the industry for the past many years. It is surely a reliable web hosting provider you can go with. Also, they offer all the hosting needs in one platform. They also have 45 days money-back guarantee with an easy cancellation process.
Support: They offer phone support, ticket support, email, and live chat support. Overall, the response time is pretty good. However, sometimes you will have to wait in live chat. You can surely open a ticket if it takes more time. Some people also complain that support staff is not solving their problem. So, the support quality is moderate and not so good.
Pricing: Now, let's talk about pricing. HostGator offers many plans and many types of hosting including a free trial. We are mainly going to talk about shared hosting. The pricing is affordable and is value for money. You will get many things at the price you are paying.
Technology: It supports all the technologies including Python, PHP, Ruby on Rails, MySQL, Curl, Cron, SSH, CGI, etc. They have one-click installation for WordPress, Magento, Joomla, and many other scripts. You can manage all these things from the cPanel hosting panel.
Overall, HostGator is quite good. To know it better, now that we know what is HostGator used for, let's see the pros and cons of the web hosting provider to know more about it.
Pros of HostGator


We will first see the advantages of HostGator
You can select from various available plans.
Shared hosting plan offers unmetered storage which is quite good.
The uptime is 99.9% and the loading time is less.
You will get 45 days money-back guarantee.
HostGator also has a free website builder.
It supports various technology including WordPress, Python, Ruby on Rails, SSH, etc.
The user interface is easy to use. As a beginner, you won't face any issues navigating the website.
There is a huge knowledge base where you will find answers to most of your questions. You will also find video tutorials.
Cons of HostGator
No web hosting companies are perfect. The same goes for HostGator. There are some of the disadvantages that you might face. Here are a couple of cons to keep in mind.
Their support is moderate. If you are facing some critical issues, the response will take time and sometimes the answers are not up to the mark. Although, you will find most of the answers in their knowledge base.
Website speed is not always the best.
There are many places where they are doing upselling. In simpler words, they will ask for money at various points. For example, you will have to pay for backups, site migration (on some plans), etc.
Not all people will face the same cons. These are the common complaints that some people have against HostGator.
Things to Keep in Mind
Now, let's talk about a couple of things that you should keep in mind if you are planning to go with HostGator.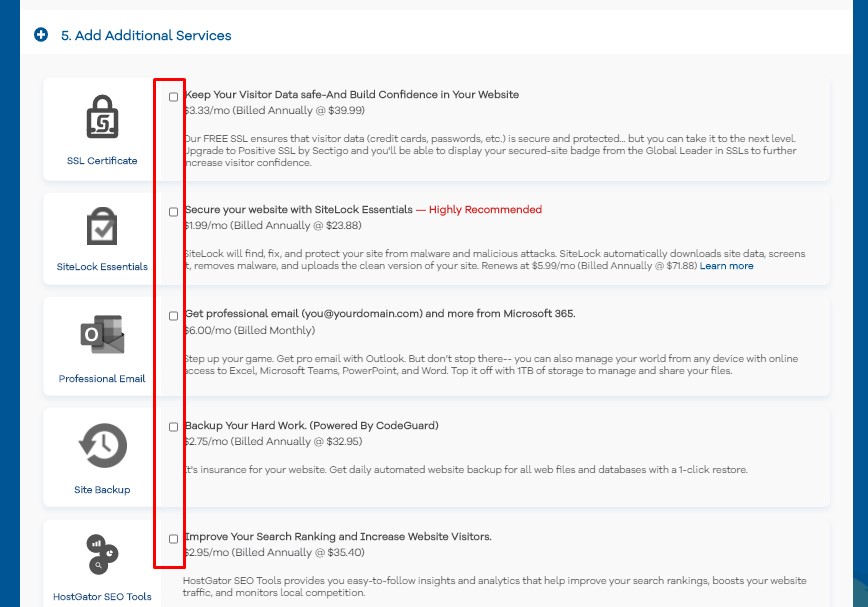 You will be asked to purchase many add-ons during the billing process. You can always skip the backup and security options and do it by yourself especially if you are planning to use WordPress. There are plugins available that will cost you way less (some are also free). Therefore, the aggressive upselling in HostGator is something to be aware of.
HostGator has many country domains, the HostGator review that we saw here was for hostgator.com. The services of other similar websites may vary.
The last thing that you should keep in mind is tenure. This is not just the deal with HostGator but with all the hosting companies. The pricing stated on the homepage will be for 3 years. If you plan to go with an annual payment option or monthly payment option, the price will slightly increase. It is always recommended that you try with an annual plan (1 year). If you like hosting, you can renew it thereafter.
However, if you are sure about HostGator, you can also choose a 36 monthly payment option as it will cost you less. For most people, you should go with multi-domain hosting (baby plan in shared hosting) as you will surely make more than one website in the future. So, if you are choosing 2 years or 3 years plan, you can go with multi-domain hosting. However, it is always your call.
Final Verdict: Should you Use HostGator?
Of course, you all will be looking for a final verdict. Whether you should go with HostGator or not.
If you are a complete beginner and you are looking for some great shared hosting, HostGator is surely a service you can try. They have affordable pricing. If you don't purchase any addons like SEO Tools, CodeGuard, or SiteLock, you will save some extra money. You will get a video tutorial and if you don't want to invest some time in videos, you can surely read their knowledge base.
To conclude, HostGator's shared hosting is a good choice for beginners. You can check out the pricing and more features on the official website.
We are sorry that this post was not useful for you!
Let us improve this post!
Tell us how we can improve this post?