SiteGround has earned a reputation for various reasons like excellent uptime, reliability, remarkable page load times, quality customer support, and dedicated service for WordPress Users. Siteground offers three plans: StartUp, GrowBig, and GoGeek.
The StartUp plan is a decent choice for small websites and blogs. If you have a small website that uses lightweight plugins and if you are not looking for a lot of premium features, then the Siteground StartUp plan is the ideal choice.
This review will help you to understand the SiteGround StartUp plan in detail.
What Is The Siteground StartUp Plan?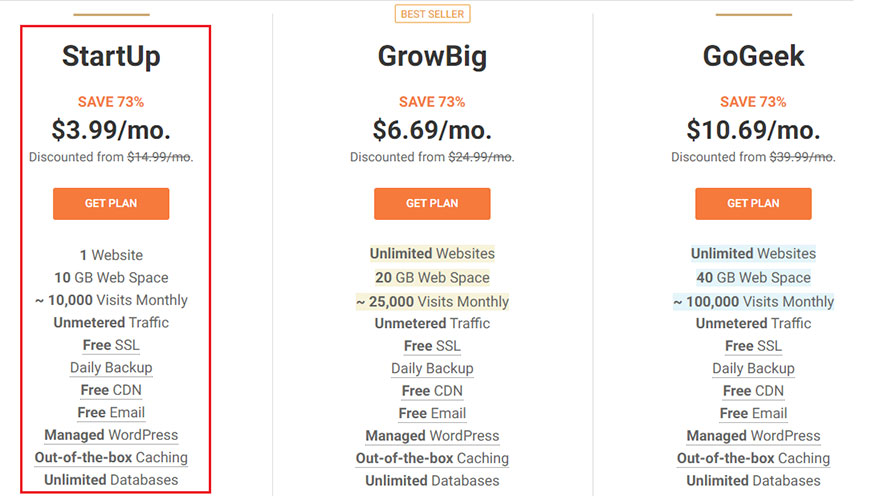 SiteGround StartUp is a comprehensive shared hosting plan. It offers a free SSL certificate, free CDN, free email, and managed WordPress.
Plan Highlights
This plan is the most affordable one among all the SiteGround hosting plans.
The StartUp plan is priced at $3.99/month for the first invoice if you opt for a 12-month term.
SiteGround StartUp plan offers 10 GB web space, almost 10,000 monthly visits, and unmetered traffic.
This plan has the advantage of caching technology, unlimited databases, automatic daily backups, free WordPress, shopping cart installation, and 24/7 customer support.
You get 99.9% uptime and a user-friendly control panel.
Siteground offers a 30 days money-back guarantee for this plan that allows you to opt out of it within 30 days. This is an ideal plan for hosting one low or moderate traffic website or blog.
Among all the hosting plans offered by Siteground, people are inclined towards the StartUp plan considering its price. Here is an insight on the pros and cons of the StartUp plan for helping you to make an informed decision.
Pros Of StartUp Hosting Plan

Affordable
The StartUp plan is priced at $3.99/month. This discounted price is applicable for the first invoice and helps you in setting up your website or blog at a low price.
Web Space
10 GB web space is offered in the StartUp plan, it is best for entry-level and first-time websites and blogs.
Free SSL Certificate
This is a great feature to start with. The StartUp plan offers a free Let's Encrypt SSL certificate that ensures complete website security.
Support For WordPress
SiteGround is listed as a recommended WordPress hosting provider on WordPress.org. Every plan from SiteGround offers managed WordPress support that makes it easier for you to create a website or blog.

Use Of Caching Technology
All hosting plans at Siteground use the 'SuperCacher' technology including the StartUp plan. Siteground provides static and dynamic caching technology based on NGINX and Memcached. The caching technology stores website content and helps in reducing page load times.
Unlimited Databases
StartUp plan from SiteGround provides unlimited databases; you can use as many as you want to run your website within the limits of its webspace.
30 Days Money Back Guarantee
You get a 30 days money-back guarantee. If you don't like the service or if you are not satisfied with the hosting, you can get a full refund of your hosting charges excluding the new domain registration charges.
Easy Website Migration
If you have a WordPress website, you can easily migrate your website with the help of the 'WordPress Migrator' plugin. You can also opt for professional migration for free.
Free Shopping Cart
You can install a shopping cart of your preference if you are planning to set up an online store. You can choose from WooCommerce, Prestashop, or OpenCart. You also get the benefit of daily backups for your websites and online stores.
Add Collaborators
The StartUp plan enables you to add collaborators to your website. These collaborators get their own Siteground accounts and they can build and maintain your website for you. They have access to SiteGround support from their accounts. This is a good feature if you are working with web developer/s for creating and modifying your website.
Cons Of StartUp Plan
The StartUp plan is not the best web hosting plan among the hosting options you have because of the following reasons:
One Website
The biggest shortcoming of the StartUp plan is that you can host only 1 website. If you are planning to host multiple websites or blogs, this is not the ideal hosting plan for you.
Database Size
SiteGround's StartUp plan contains 10 GB of web space, this size is good for beginners but it can be an issue for large sites.
No Ultrafast PHP
Applications on PHP are much faster than other languages. The PHP implementation is missing in this StartUp plan, so page loading time can be an issue.
No Staging
Building, testing, and backing up websites are part of successful web development. With the staging tool, you can test the changes made to your website without making it live. However, the staging tool is only offered with the GrowBig and GoGeek plans.
No Git
The Git feature enables you to create repositories of your website that can be accessed, downloaded, and edited at a later point in time on multiple local systems. This feature is not available with the StartUp plan; it is only available with the GoGeek plan.
Pricing
The discounted price is applicable only for the first invoice and then you will have to pay the standard price for the renewal. The StartUp plan is not the most affordable web hosting plan in terms of the features it offers and as compared to the other web hosting plans available.
Low Server Resources
If your website experiences medium or high traffic, then there are possibilities of CPU overages if you have hosted your website on the StartUp plan.
Lacks Priority Support
You do get the standard support with the StartUp plan but the priority support is offered only with the GoGeek plan. Priority support enables faster resolution of hosting issues.
SiteGround StartUp Pricing
The cheapest among all the plans from SiteGround is the StartUp plan. The price starts from $3.99/month if you opt for an annual subscription. The special price for the StartUp plan of SiteGround is applicable for first-time billing only. For the next renewals, regular prices apply.
You can either register a new domain name or host the existing one. When you mention the domain details, you will be directed to the checkout page where all the applicable hosting prices will be mentioned.


On the checkout page, you will find that there are different prices for different plan terms, and the renewal prices are mentioned as well.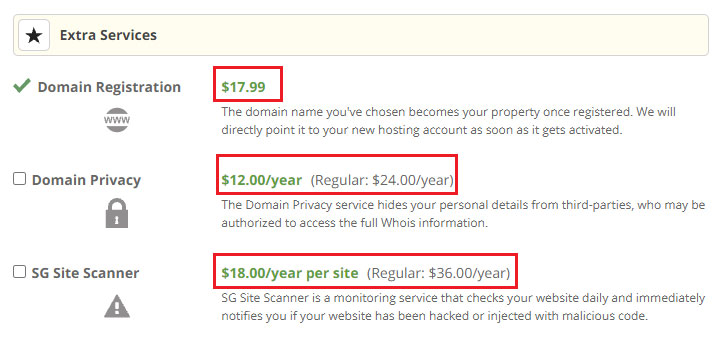 The prices of the extra services are also mentioned. You can select the additional services you want. The price of your hosting plan is determined according to the services you select.
In case if you are not registering a new domain name and if you select a hosting term of 1 month, the billing price will be $19.99.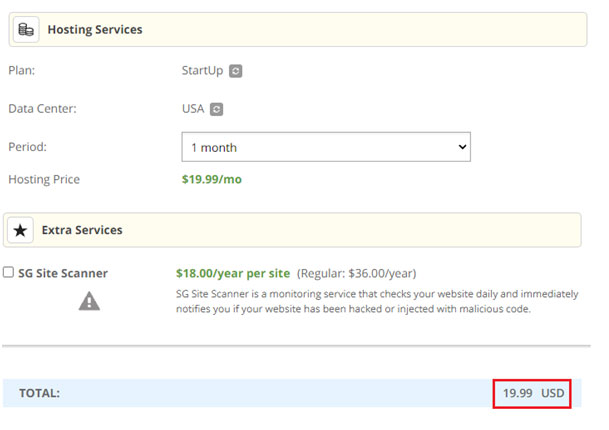 NOTE: Monthly payments are also available, which can be a great way to test their hosting services without making any long-term commitments.
Who Is SiteGround StartUp Plan For? (review)
SiteGround StartUp plan is the perfect plan for you if you want to set up your website with a limited budget. This plan offers good features at a lower price range. If you want to run only a static or HTML basic site, SiteGround's StartUp hosting plan is perfect for you.
You can consider using the Siteground Startup plan if:
You intend to host only one website with low or moderate traffic as the plan allows you to host only 1 website with 10,000 monthly visits.
You have a startup and need low web space, the web space offered with the startup plan is 10 GB.
You don't intend to use any resource-intensive plugins as this plan offers a limited number of server resources.
You are not looking for immediate priority support as the StartUp plan offers only the standard support. Your hosting queries will be in a queue and they might take longer to get resolved.
You have a small website and you need a limited number of email accounts. Although the StartUp plan enables you to create any number of emails accounts, the email accounts are limited to the web space allotted to your account – 10 GB.
You have a limited budget for your website services. The StartUp plan is available at a discounted price for the first invoice and helps you to get started with your website.
You need a website builder. The StartUp plan offers an easy-to-use drag-and-drop website builder that enables you to create responsive websites or online stores without the need for technical skills.
You have a basic website with just a few web pages. With the StartUp plan, you can create databases only up to 1000 MB.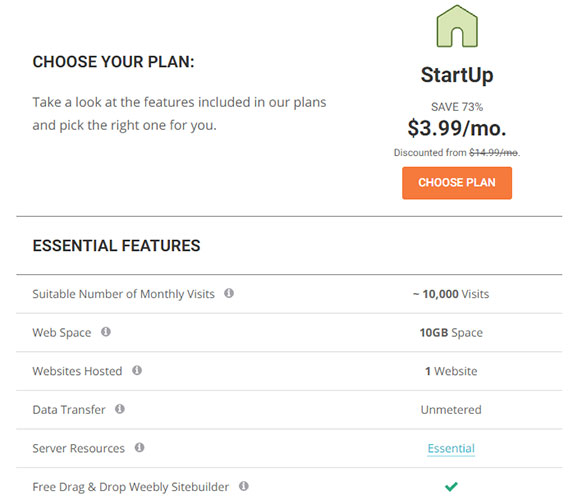 When Should You Upgrade From StartUp To GrowBig plan?
There comes a time when:
You need to host two or more websites
Your website looks too basic and you want to add more complex, and dynamic pages
Your website is crashing due to heavy traffic
You need more disk space
In the situations mentioned above, you can consider the GrowBig plan. Here is a clear comparison of the SiteGround StartUp and GrowBig plan that will give you an insight on when it is right for you to upgrade to the GrowBig plan:
Number Of Websites
StartUp: The StartUp plan allows only 1 website to be hosted.
GrowBig: GrowBig plan allows hosting unlimited websites. If you want to host more than one website, you must upgrade to the GrowBig plan.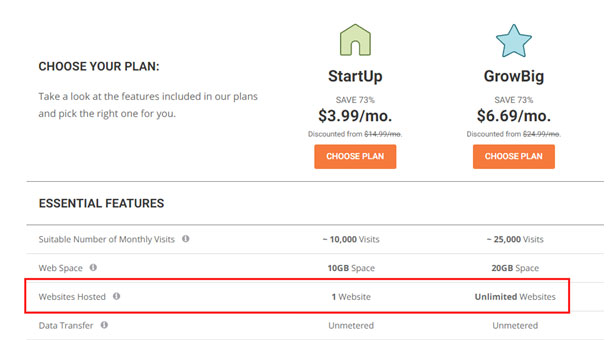 Disk Space
StartUp: Offers 10 GB Web Space.
GrowBig: Offers 20 GB Web Space. All the plans by SiteGround are based on the SSD servers. However, if you need higher storage space, you should opt for the GrowBig plan.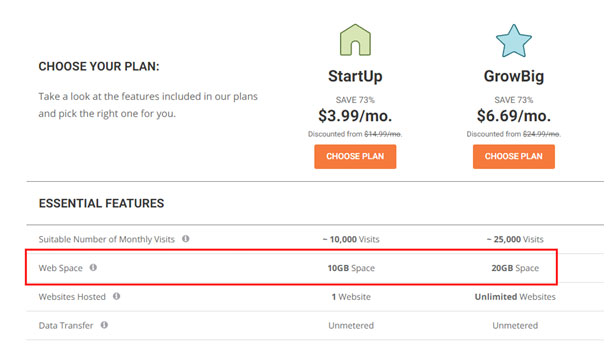 Monthly Visits
StartUp: Supports 10,000 visitors per month.
GrowBig: Supports 25,000 visitors per month. If your website receives moderate or heavy traffic, then you must consider the GrowBig plan.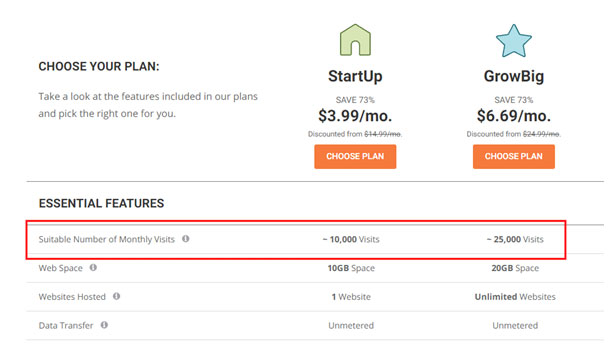 Free Backups On-Demand
StartUp: Does not offer any free backup on demand.
GrowBig: Offers free backup on demand. If you need backups anytime, then consider the GrowBig plan.

Website Staging
StartUp: Does not offer a staging feature; so, it is difficult to test any change or new features or to fix the bug before making the website live.
GrowBig: Offers the staging feature; a boon for the web developers. If you need to test some features or functionalities on your website before making it live, go with the GrowBig plan.

Apart from the clear differences discussed above, you should upgrade to the GrowBig plan in the following conditions:
When you outgrow the StartUp plan and you need a higher amount of server resources. The resources offered by the GrowBig plan are CPU Seconds/Program and Script Executions 2000/hour, 20000/day, and 600000/month. Index node is 400,000.
You need Ultrafast PHP to help to load your web pages faster.
If you need more server resources, if you are going to expect more than average monthly traffic and you need faster customer support, you must upgrade to the GrowBig plan.
How To Get A Special Price Discount From SiteGround?
You need to follow these steps for getting a special price discount from Siteground: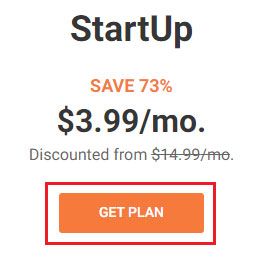 In the next section, you can either register a new domain or if you already have a domain, you can mention the domain name. After choosing the appropriate option, click on 'Proceed'. If you choose to register a new domain name, the domain price will also be applicable to the hosting price.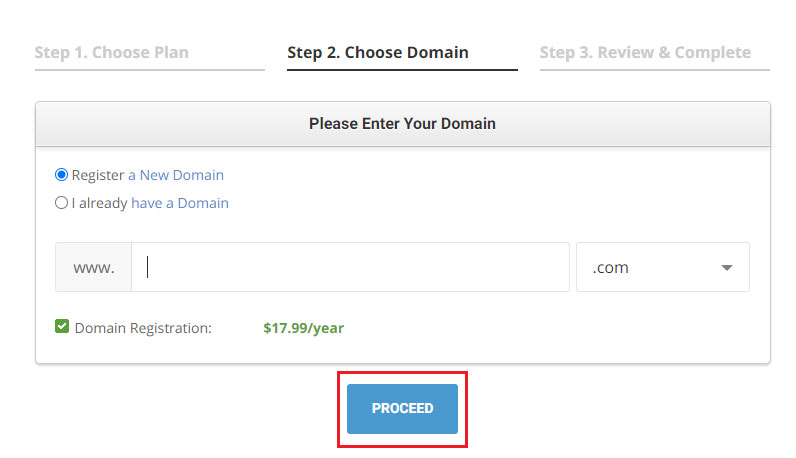 In the last step, you need to enter your information and the payment information.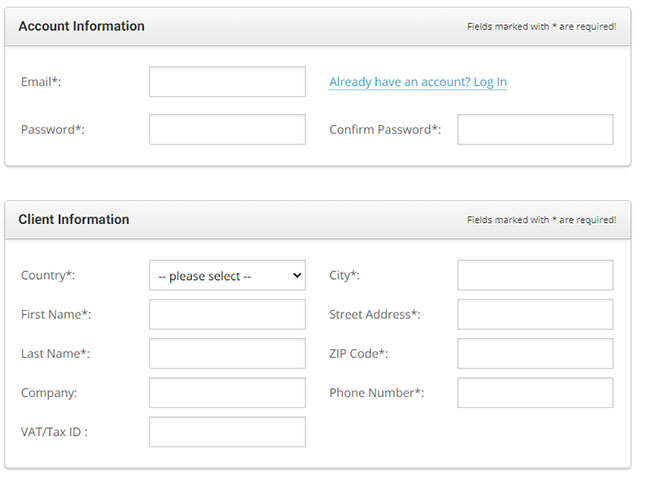 You have to make the annual payment in advance for the special discounted price to apply. If you select a period of 12 months, you get the price of $3.99/month and the total bill amount is $47.88.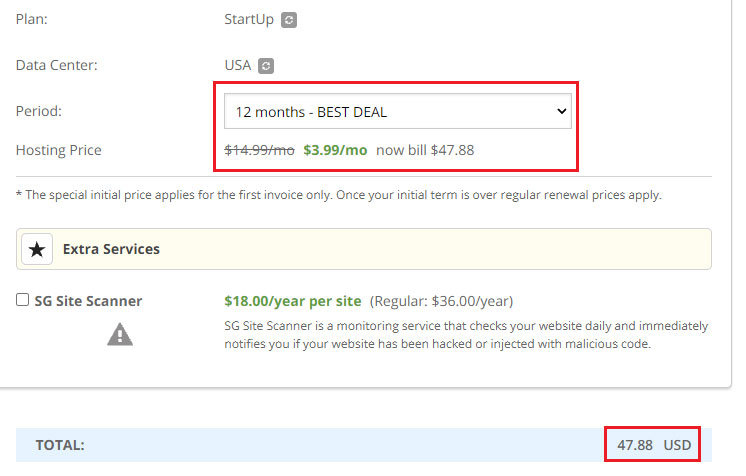 Note that this price is applicable only if you have not chosen to register a new domain name.
When you click on 'Pay Now', the discounted price will be applied and your hosting account will be set up.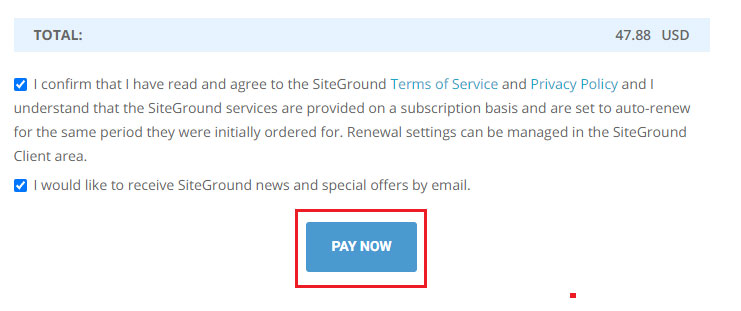 It is important to note that the special price is only applicable for your first invoice and for all the subsequent renewals, the regular prices apply. When you renew this plan, for the next invoice you will be charged $14.99/month.

Free Website Migration
When you register for a domain name, you can easily migrate your website to SiteGround.
For initiating the website transfer process, you need to click on 'Select' under 'Migrate Website'.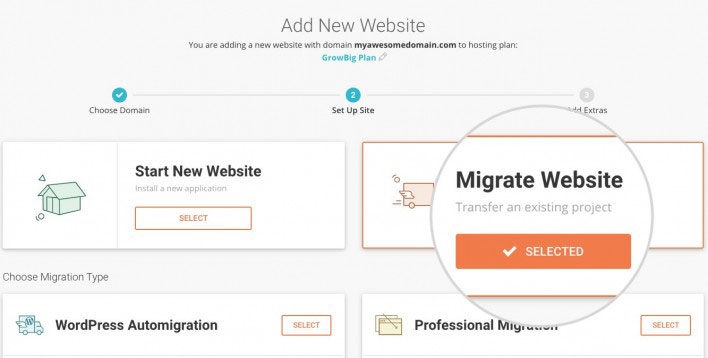 You can choose between automatic migration for WordPress website through the 'Migrator' plugin or you can opt for the professional migration service by the SiteGround team.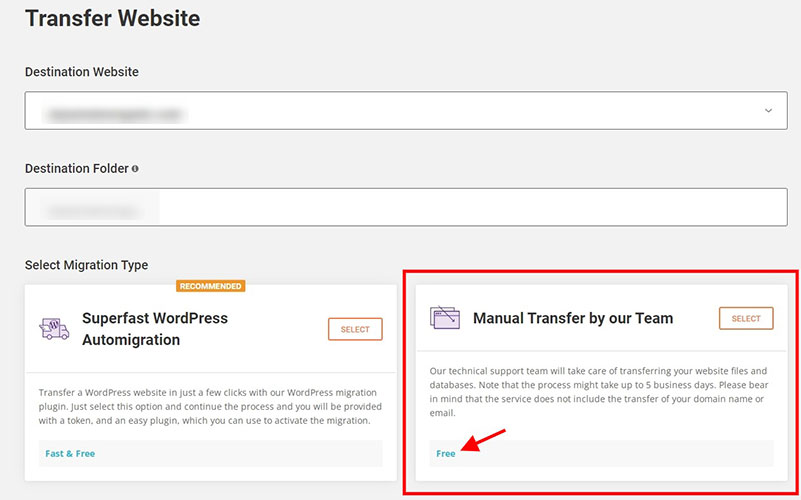 Transferring A Website Through WordPress Auto-migration plugin
If you wish to go with automatic migration, you have to select 'WordPress Automigration' and click on 'Continue'.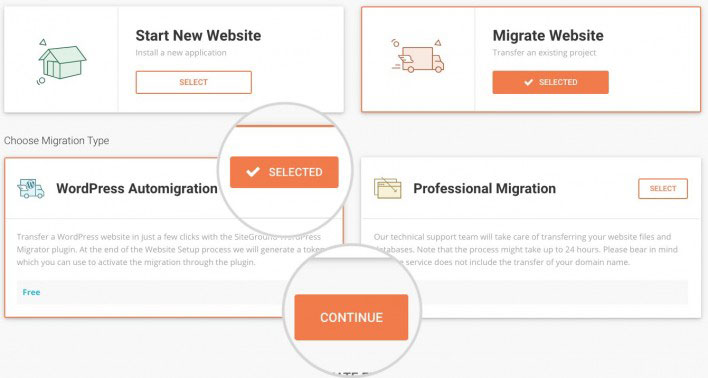 At the last step of the process, a link will be shown for downloading the Migrator plugin and a token that you can use for initiating the migration process from your WordPress admin account.
Professional Migration By The Experts
If you select the professional migration service, the technical support team at SiteGround will perform the website transfer process for you. You will be asked for access information like the URL of your control panel or FTP host information and the login credentials so that the support team can access your website and complete the transfer process.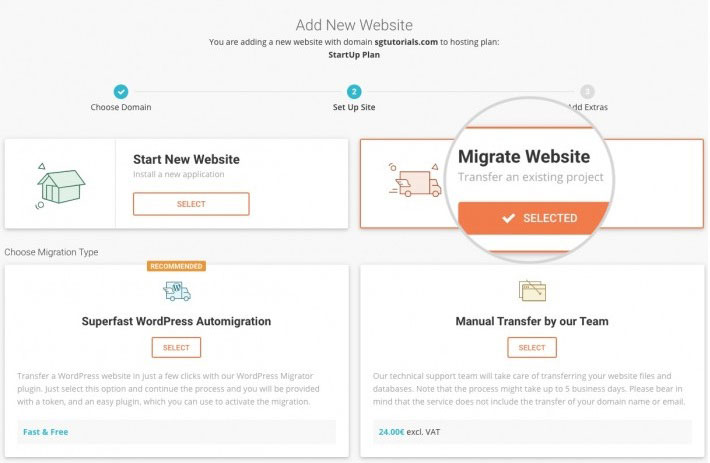 You will have to enter the details and you have to pay a charge of $30 for the migration service. When you make the payment, a ticket will be posted to the support team on your behalf.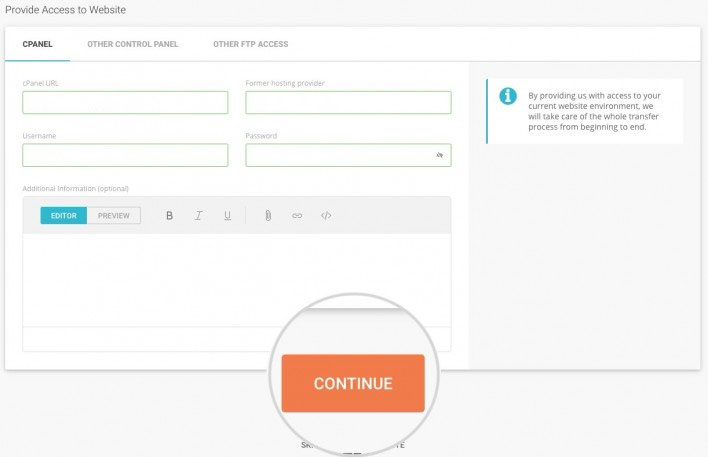 It is important to note that the website transfer process might take up to 5 business days and it depends upon your website size, the restrictions set by the old web host, and other factors.
If you are not sure about the type of website you want to create or if you are not ready to migrate the existing websites, you still have to finish the 'Setup Wizard' process by clicking on 'Skip & Create Empty Site'. This option will set up an empty website along with a control panel. You can use this control panel for understanding all the features and tools that you have.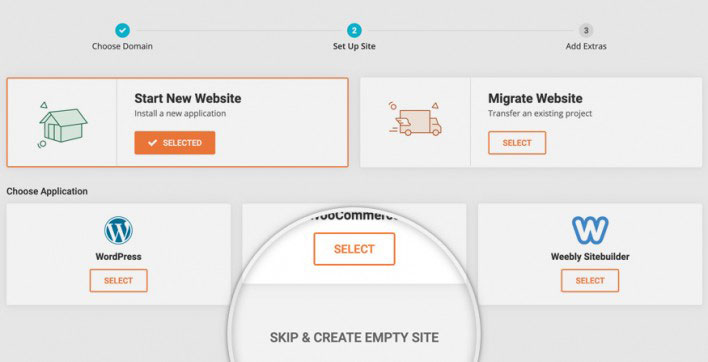 Conclusion: Is Siteground StartUp Plan Worth It?
Based on the review, the Siteground StartUp plan is an ideal hosting solution for people who are hosting their first website or blog for the first time or for start-ups who need limited resources. However, you can work with the StartUp plan for a limited period. As the traffic to your website increases and you need more server resources and priority services, you will have to upgrade to the GrowBig or GoGeek plan. You can consider using the StartUp plan just to get a hold of your hosting account but this is not a plan that you can consider for long-term use.
The StartUp plan is good if you only have 1 low or moderate traffic website. If you get a decent amount of traffic or if you are running resource-intensive CPU plugins, then you must consider the GrowBig plan or the GoGeek plan, these plans are priced slightly higher than the StartUp plan.
Have you used SiteGround's StartUp plan? Mention your experiences and suggestions in the comments section.
We are sorry that this post was not useful for you!
Let us improve this post!
Tell us how we can improve this post?