Running a Magento store with heavy traffic can consume a lot of hosting resources.
However, if you choose a specialized Magento hosting, it can have a direct impact on the functioning of your website and revenue as well.
Due to its features, Magento requires a powerful hosting service. The Best Magento VPS hosting providers ranked in this review are the best choices for Magento hosting but each of them excels in individual areas.
10 Best Magento VPS Hosting
If you are not technical or if you are a beginner, managed VPS is the best hosting option. We present to you the best managed VPS hosting providers:
1. Cloudways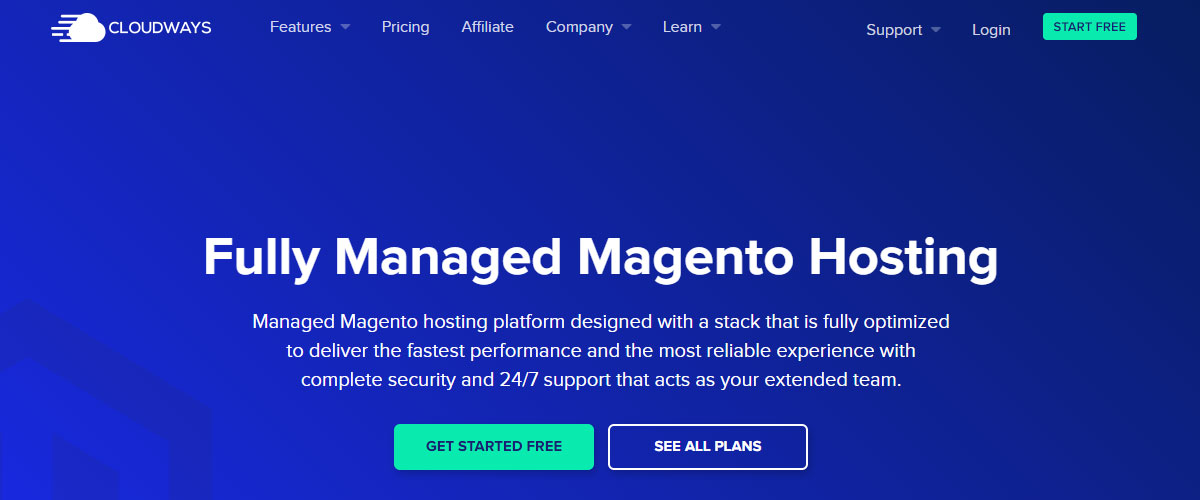 Cloudways is one of the best managed Magento hosting providers. It is a fully optimized platform based on the cloud that delivers faster performance, scalability, excellent security, and 24/7 support.
Daily Automated backups
Enterprise-grade security
Regular security patching
Free SSL certificates
99% uptime guarantee
Deploy in minutes
Dedicated firewalls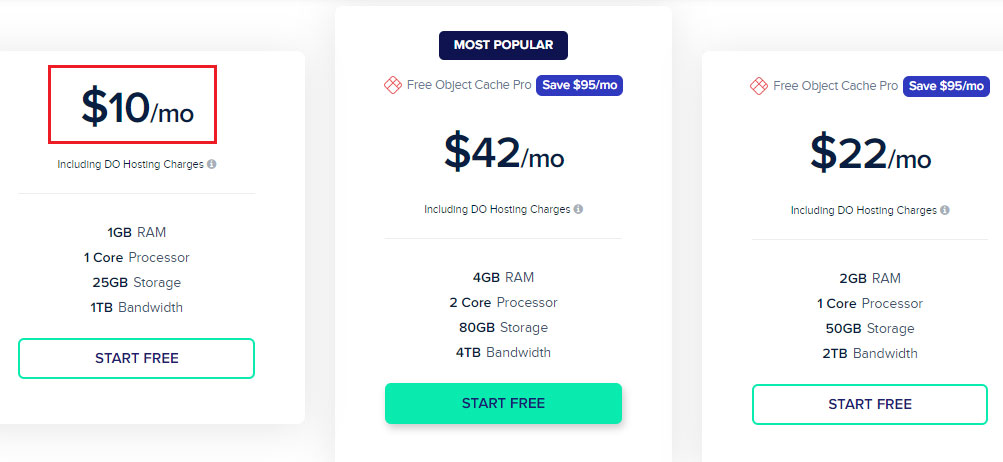 The price of the basic managed VPS plan starts from $10/month (Standard). No money-back guarantee is offered by Cloudways, they offer a 3-day trial instead and during this trial, you are only charged for the resources you use.
Try Cloudways (3-Days)

2. Nexcess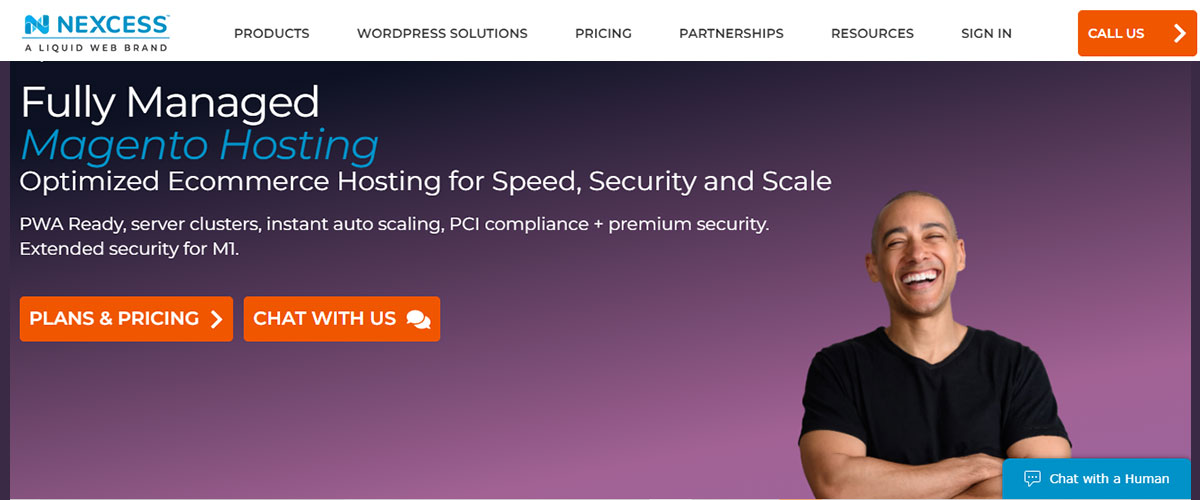 Nexcess provides fully managed Magento server and is known for its high stability, fast website loading speed, and premium security. Enriched with several features, higher capacity, and Magento expertise, this is a managed Magento hosting solution that is a true value for money.
Instant Scaling
Advanced caching for ultra-fast speed
24/7 security monitoring
Free SSL certificate
Daily backups
Dedicated IP addresses
Progressive Web Apps (PWA) built-in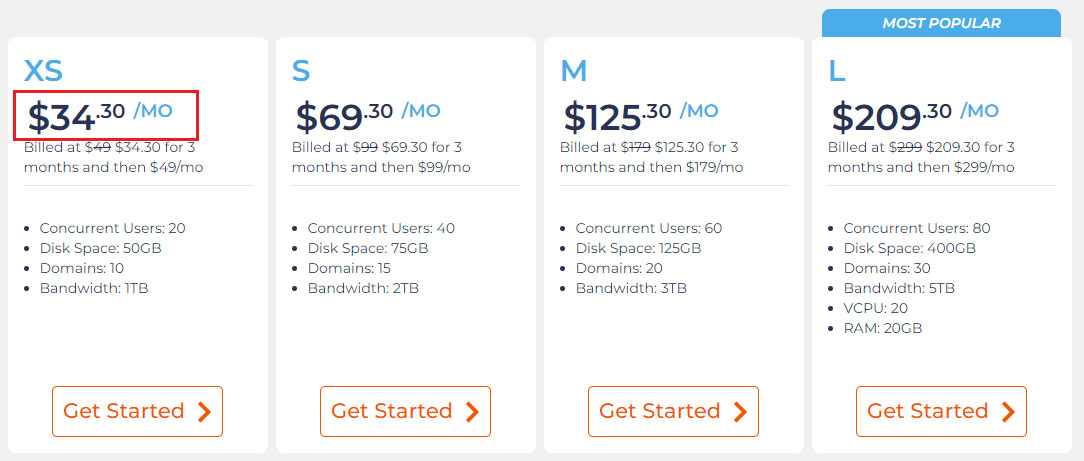 The price starts at $34.30/month. A 30-day money back guarantee is offered. 100% money back guarantee is offered for the first 100 days of your investment.
Visit Nexcess

3. Krystal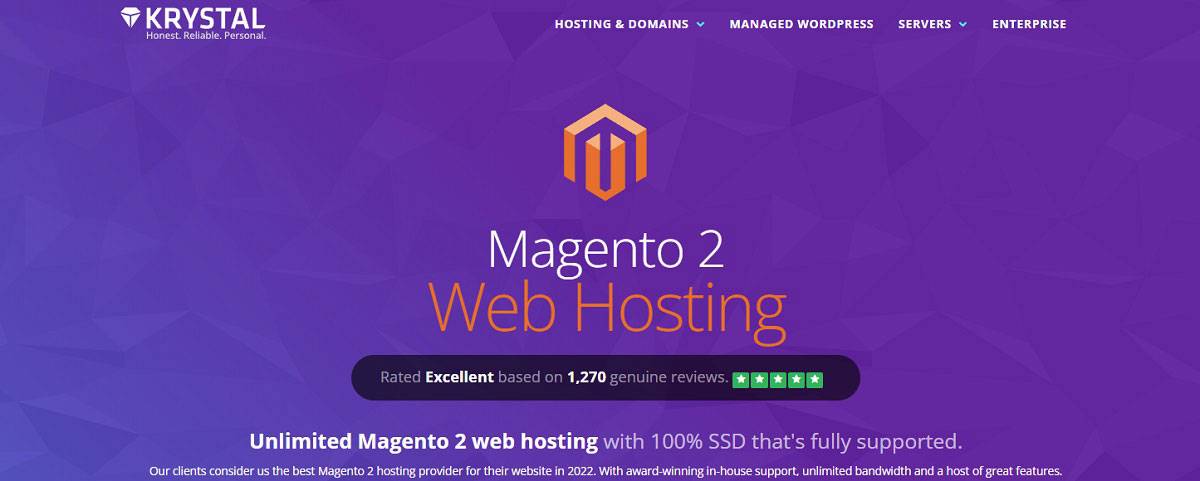 Krystal provides managed VPS hosting with LiteSpeed to deliver efficient hosting solutions. With blazing fast servers, feature-rich hosting plans, and support, Krystal is a good unlimited hosting option for the UK.
Free 1-click installation
Free 256-bit SSL certificates
99.99% uptime guarantee
Free migrations
Comprehensive firewall & encryption
LiteSpeed Caching
Free daily backups
24/7 datacenter security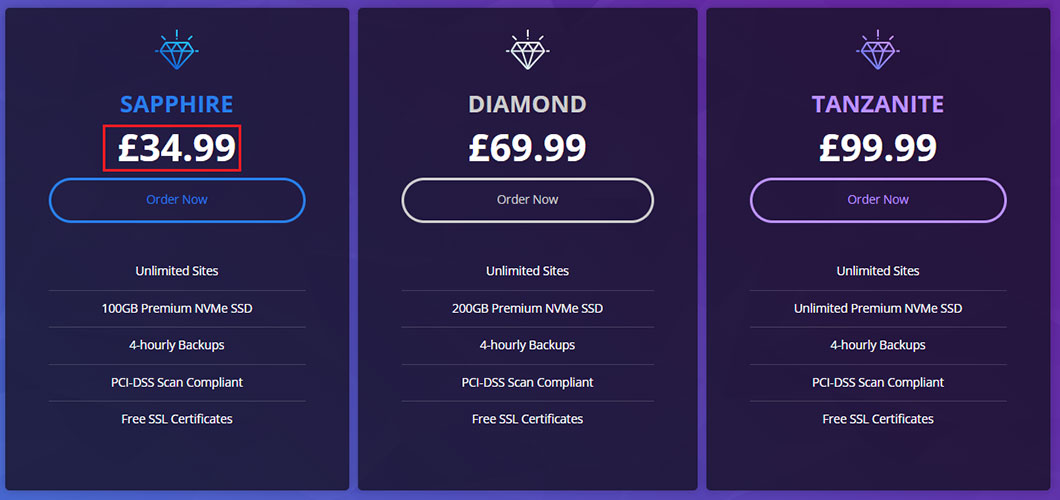 The price starts from £4.99 per month for the basic plan. 60-days money back guarantee is offered.
Visit Krystal

4. Kamatera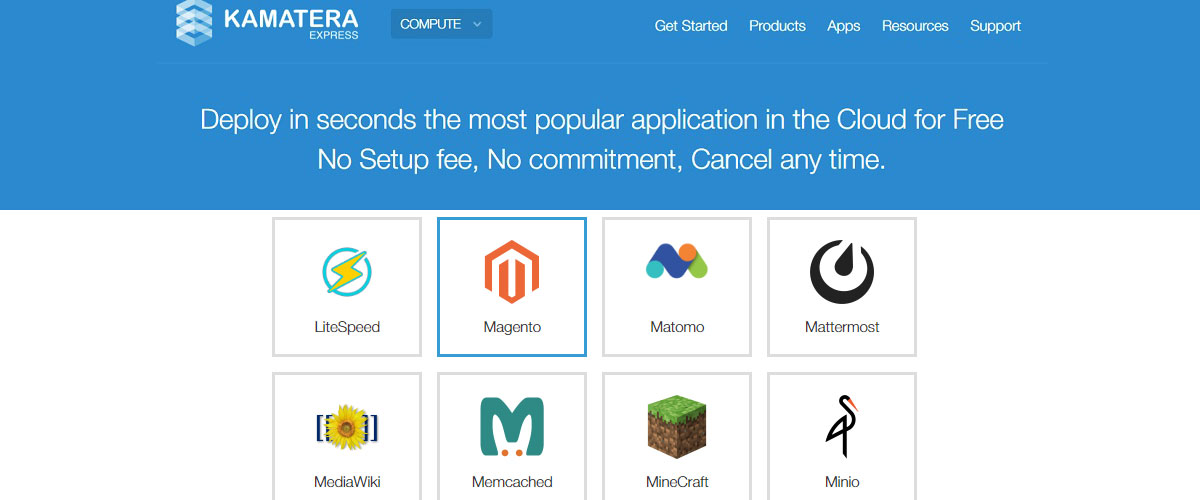 Kamatera is a managed Magento VPS provider, including cloud servers, load balancers, firewalls, and other technical features that ensure excellent website performance, speed, and security.
With Kamatera, Magento can be deployed within a few seconds.
Free 1-click installer
SSD storage
User-friendly cloud management console
Up to 256 GB RAM & 64 vCPUs per server
40 Gbit private and public networking
No setup fee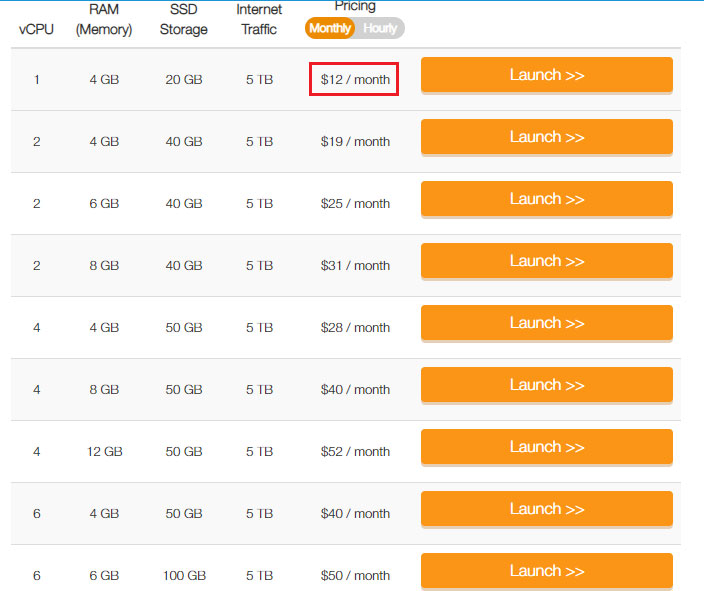 The price starts from $12/month. Kamatera offers a 30-days free trial instead of a money-back guarantee.
Try Kamatera for 30-Days

5. Scala Hosting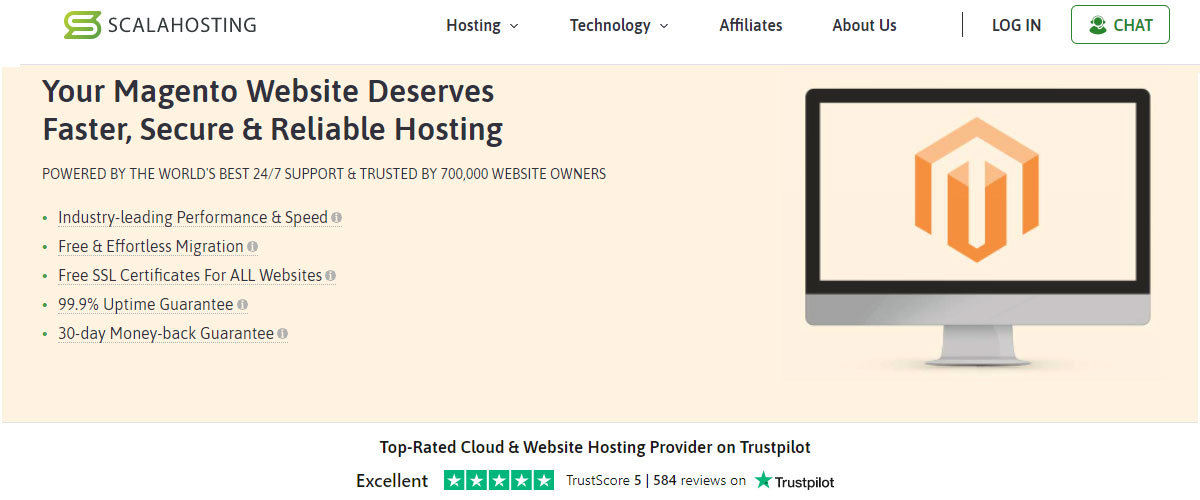 A powerful managed VPS hosting, Scala Hosting ensures faster loading times, reliable performance, and security. Stay updated with the latest releases by opting for auto-updates, while firewall security safeguards your server.
Magento-optimized hosting
Dedicated firewall and web attacks blocker
Automatic updates
7 daily backups
Malware scan & removal
SpeedBoost caching plugin
99.95 uptime
Free SSL certificates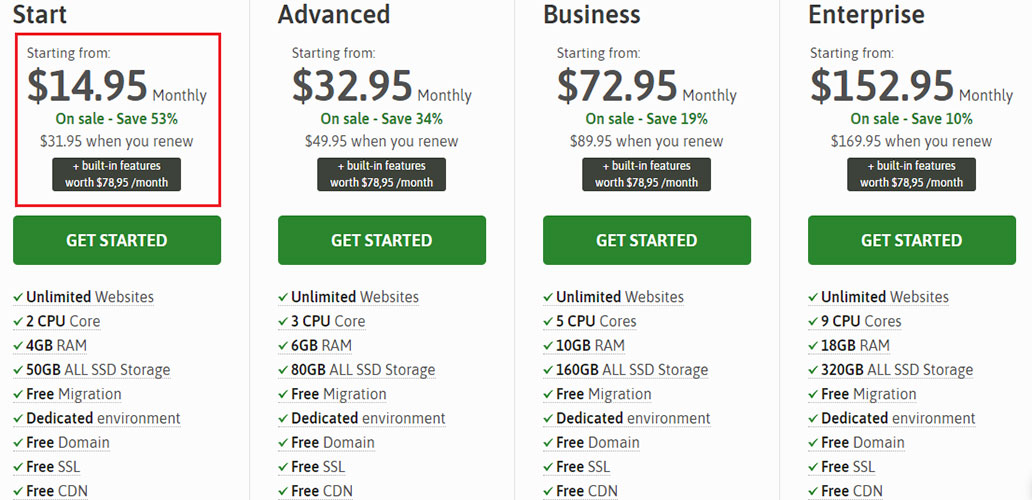 The price starts from $14.95/month. A 30-day unconditional money-back guarantee is offered which means that you will get a refund when you ask for it.
Visit Scala Hosting

6. Hostwinds

Hostwinds fully-managed VPS hosting provides complete control and access to dedicated resources, with the cloud server up & running in minutes. From instant scalability to server monitoring, nightly backups, and redundant network – Hostwinds Magento server is one of the best Magento hosting solutions.
99.999% uptime
Host on 5 different Operating Systems
Ongoing server maintenance
Real-time server monitoring
Free website transfer
Enterprise-grade firewall
Instant scalability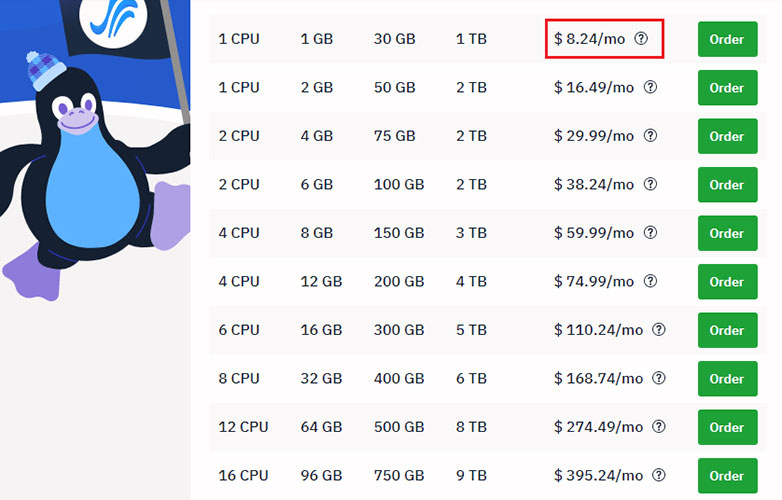 The price starts from $8.24/month. As per their cancellation policy, a customer can request a refund within 72 hours of the payment transaction time.
Visit Hostwinds

7. Hostinger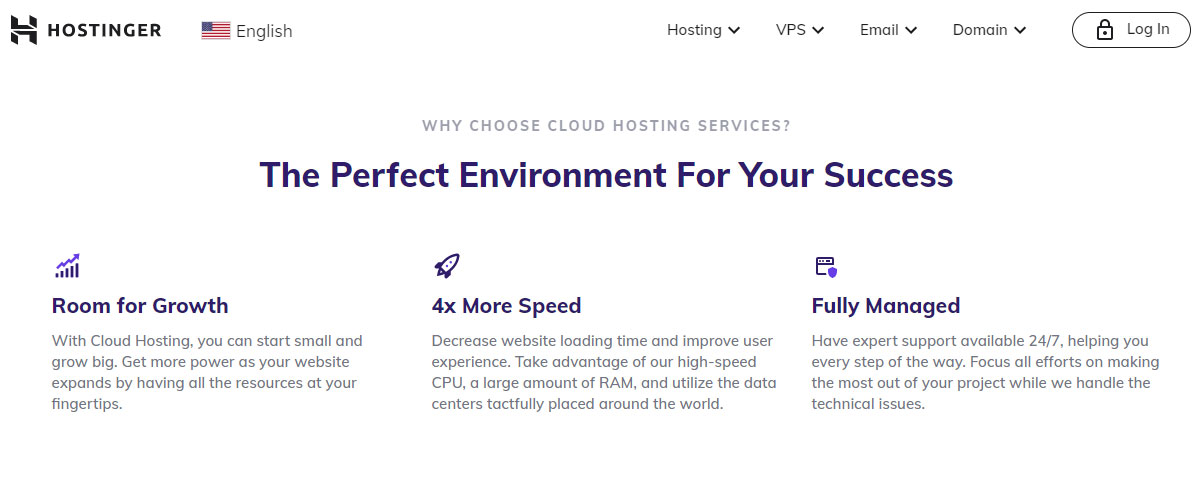 Hostinger offers the most affordable pricing plans for managed Magento services, featuring excellent customer service, faster loading times, SSD storage, and high-end security. They offer managed Magento VPS plans powered by cloud technology.
Host up to 300 websites
3 GB – 12 GB RAM offered
SSD storage up to 300 GB
Unlimited bandwidth
Isolated servers
Free domain registration
Free dedicated IP
Cloudflare integration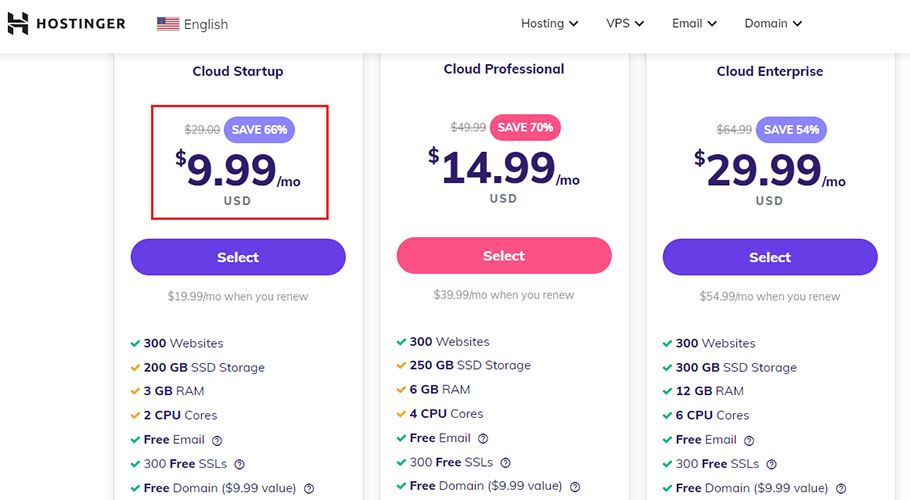 The price starts from $9.99/month. 30-days money back guarantee is offered. In case you decide to terminate the hosting service, you are eligible to get a full refund excluding the new domain registration fees within 30 days of signing up.
Visit Hostinger

8. InMotion Hosting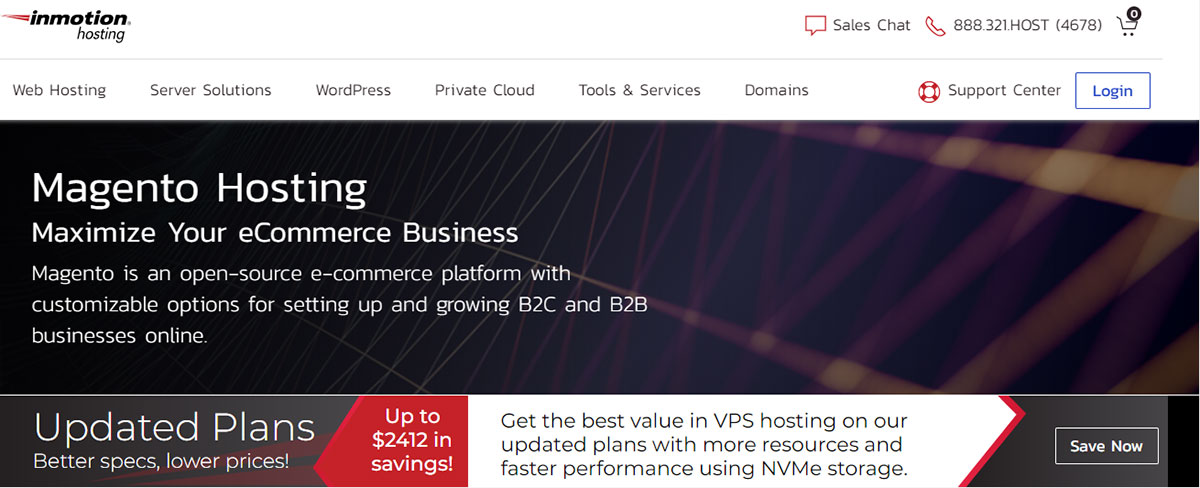 InMotion Magento e-commerce hosting provides excellent scalability and additional resources. This reduces the risk of downtimes or slower loading times as your eCommerce website grows or when you experience peak traffic.
Easy installation
Complete customer management
Easy management of orders
Comprehensive reporting
Simple updates
SEO friendly
Free SSL certificate
Free website transfer and server setup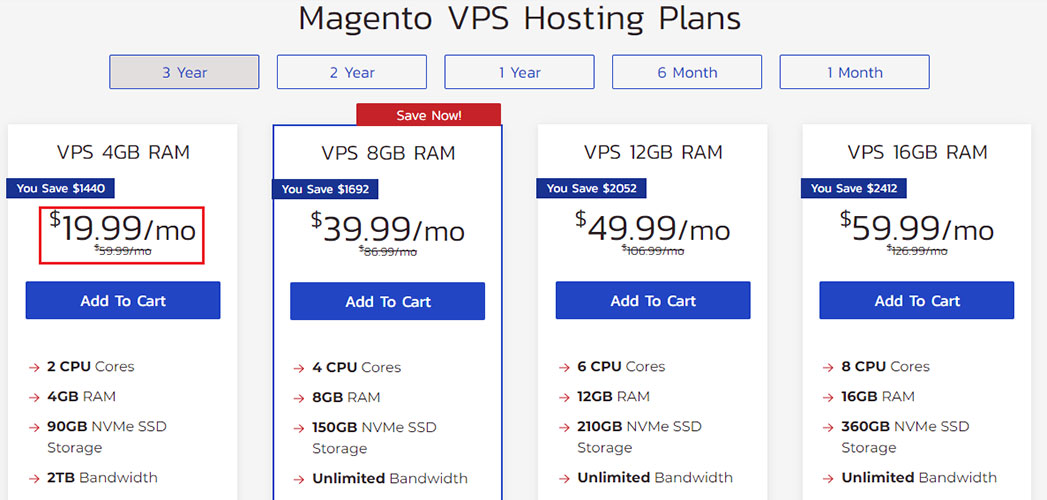 The price starts from $19.99/month when you sign up for a 3-year plan. For the 6 months or longer hosting packages for VPS hosting are entitled to the 90-day money-back guarantee.
Visit InMotion Hosting

9. A2 Hosting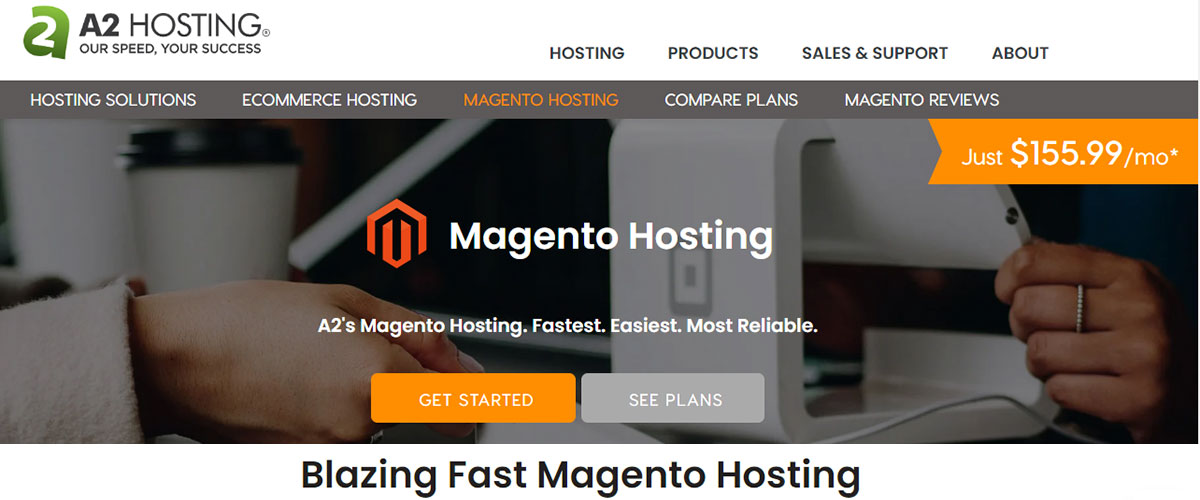 A2 Hosting is a widely-used hosting provider, specializing in managed-Magento hosting. It is known for its lightning-fast loading speed, 20x more efficient website performance, and affordable pricing plans.
A2Hosting is compatible with popular platforms like Joomla, Magento, WordPress, OpenCart, and Drupal. It is the go-to hosting provider for start-ups and small businesses.
Up to 20x fast turbo speed
Friendly support staff
Free account migration
99.9% uptime
Free SSL certificate
Developer friendly hosting
 Free HackScan protection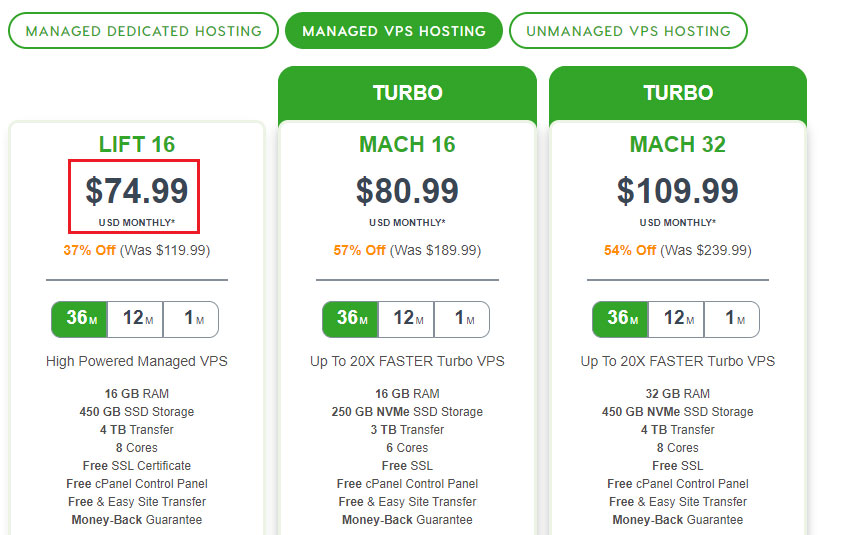 The price starts from $74.99 per month. They offer a 30-day money-back guarantee with a full refund.
Visit A2 Hosting

10. EuroVPS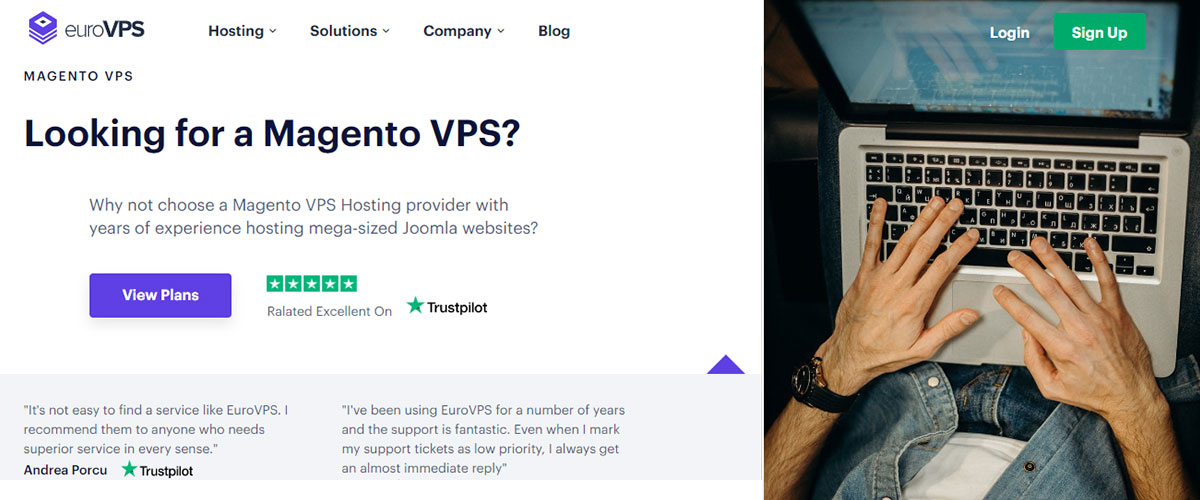 EuroVPS is one of the best-managed Magento providers that provides three unique on-demand fully-managed support packs that can help build and run a high-performance, scalable, and fast-loading ecommerce website.
100% uptime SLA
Full root access
Enterprise SSD storage
Magento optimized
10 GBps network uplinks
Servers based in Europe
Easy user interface
Europe based servers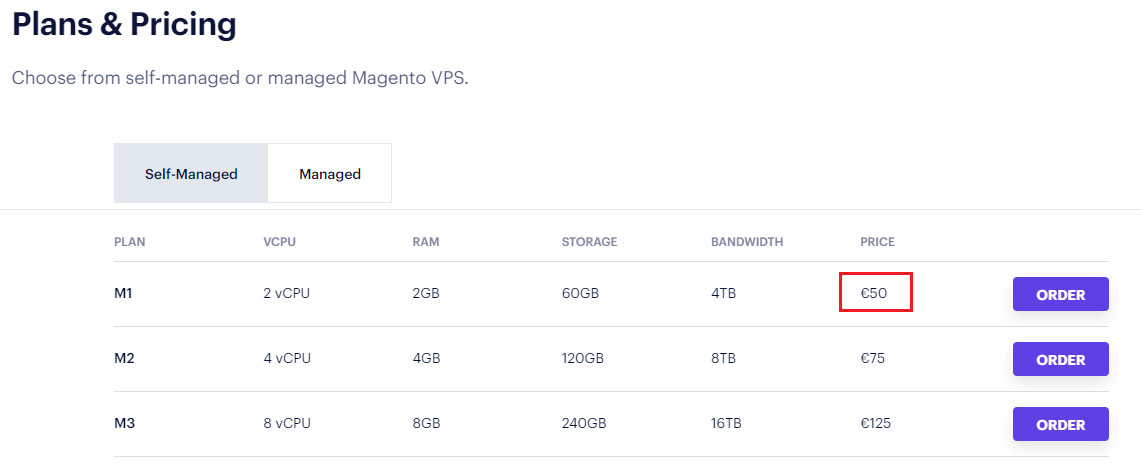 The price starts from €50/month. EuroVPS only offers a 7-day money-back guarantee on the shared hosting, reseller hosting, and cloud servers, no money-back guarantee is offered for VPS hosting.
Visit EuroVPS

Magento VPS Requirements
Choosing the right Magento VPS host can be challenging – given there are numerous options to choose from. We have compiled a list of the top 10 fully-managed Magento VPS hosting providers to help you decide:
Server Compatibility
To host your Magento ecommerce store or application on a managed VPS server, ensure the host is compatible with basic server requirements that include:
Web server: Nginx 1.x or Apache 2.x.
Database: MySQL 5.6+, Percona 5.7, MariaDB 10.0, 10.1, 10.2, MySQL NDB Cluster 7.4.
Operating Systems: It must be a Linux distribution. For example, Debian, Ubuntu, or CentOS. Mac OS and Windows do not support Magento.
PHP version: Minimum 7.1.3+ or 7.2.x.
CPU and RAM
The CPU and RAM requirements vary depending on the number of products and visits per day.
For an ecommerce store that has approximately 30,000 unique products and gets 500-1000 visits per day, the standard CPU and RAM recommendations would be 4vCPU/4GB RAM compute engine and 2vCPU,7.5GB RAM cloud MySQL.
Scalability
Scalability is an important factor to consider when choosing a managed VPS for Magento. This is because the traffic to your ecommerce store continues to grow along with the number of products or content added to the website.
As the ecommerce website gets more traffic or experiences peak traffic times, it will need to consume more resources.
Unless the VPS hosting is scalable, the website will run the risks of more downtimes, reduced security, and slower loading times during peak traffic. Therefore, choose a hosting that allows you to scale as your website grows or you see more traffic.
1-Click App Installation
When you choose a VPS hosting provider, ease of use should be one of the most important factors to consider. And ensuring that the VPS provides 1-click installation is a feature you should not overlook. I-click installation is a crucial feature that is offered with most of the managed Magento hosting.
NOTE: It is important to check for this feature because otherwise, you will need to manually upload the Magento zip file and then conduct the extraction process which can be time-consuming. Therefore, consider VPS hosting that provides 1-click app installation.
Server Management
Understanding how your Magento VPS hosting works can be challenging, especially if you do not have the technical knowledge. In such cases, self-managed VPS hosting can be hard to handle. Therefore, consider a VPS hosting that is fully managed.
A fully-managed VPS Magento hosting is constantly handled and maintained by the host – saving you time and effort in understanding the technical aspects. This way you get more time to focus on your core business and grow your ecommerce store.
Additionally, a managed VPS hosting also ensures your security features and server configurations are always up to date.
Server Location
In many cases, the website owner does not know their server location. Choosing the wrong server location can significantly affect the website loading speed – resulting in more downtimes and customer dissatisfaction. Choose a server location that is near to the location of your ecommerce store target market.
For instance, if you are targeting customers in the U.S, pick a server location that is near to the U.S. or in the U.S. this will help ensure faster loading times and higher uptime. Check the server locations of the hosting provider before you sign up for a hosting plan.
Conclusion
Choosing the right Magento VPS hosting is challenging. Depending on the size of your ecommerce website, average monthly visits, number of products, and hosting requirements – you can select a suitable VPS provider.
If you are just getting started with Magento VPS for your ecommerce store, we recommend beginning with a 2vCPU/2GB RAM web server first. Ideally, it is suitable for start-ups or small ecommerce websites.
This will also help keep your costs down. And when your store starts getting more traffic or you add more products and content, you can gradually scale up until you achieve optimum performance.
Best Price: Hostinger – They offer the most affordable price and feature-rich Magento hosting plans.
Best Specifications: A2 Hosting, Nexcess – They offer the best standard and security features.
Overall Best Hosting: Cloudways is a comprehensive managed Magento VPS server that leads in terms of pricing and features.
Choosing the right VPS hosting is a challenging task but it plays a key role in achieving success.
You can't possibly go wrong by choosing any of the web hosts mentioned above. The best part is that most of them offer a money-back guarantee, so there is nothing to lose.
You can mention your experience with the web hosts mentioned above or if you want to add your suggestions about the best managed Magento VPS hosting, then you can mention it in the comments section.
We are sorry that this post was not useful for you!
Let us improve this post!
Tell us how we can improve this post?