High-performing, secure and reliable web hosting is an integral aspect of a successful website. These factors tend to be overlooked, the speed, ease of use, and performance of your website or online storefront might be significantly affecting your business image. Therefore, the choice of your hosting provider plays a crucial role in ensuring the success of your website.
With numerous choices available, it is easy to pick the cheapest hosting plan. However, choosing affordability over performance can be disastrous for your website and for your business too. For a fast and reliable managed hosting with excellent uptime, high-end security, and great customer support, you can choose the Kinsta Starter plan.
Are you searching for a fast and specialized managed WordPress hosting platform?
Are you someone who doesn't want to deal with the server problems?
Then you must consider the Kinsta managed WordPress Starter plan.
With this plan, you can have a high-performance website with minimal downtime and improved speed. Most importantly, you will have an expert support team to manage your WordPress website and ensure security. This enables you to focus on something that's more important to you – your business. With the Starter plan, you have got a high-end hosting solution… though at a premium price.
Here is a comprehensive review for you to know more about the Kinsta Starter hosting plan that will help you determine whether this hosting solution is right for you.
Kinsta Starter Plan Review – (2021)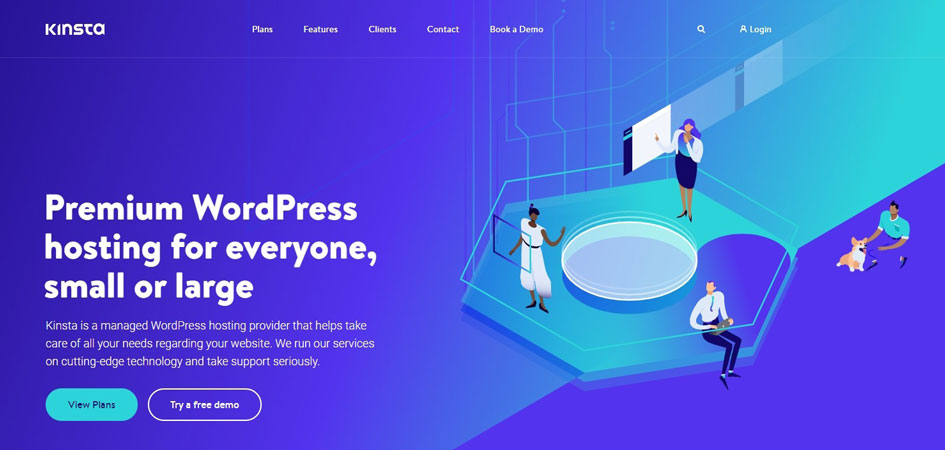 Kinsta, established in 2013, is a managed WordPress hosting provider with optimization features and powerful servers that are second to none. It serves all types of websites, large or small, through cutting-edge technology and excellent customer support. Most importantly, Kinsta does not only manage your WordPress website, but also hosts it in a robust environment that is optimized for WordPress.
The managed WordPress hosting solution takes off the burden of backing up, caching, or securing your site. This helps save time, while you can also minimize the potential risk of preventing things from going wrong if you have no knowledge of WordPress. Compared to the generic web hosting solutions in the market today, Kinsta managed WordPress plan delivers faster loading times, fewer performance issues, and reduced downtime.
The entry-level hosting plan of Kinsta – the Starter plan – is priced at $30 per month. Although it is not an extremely affordable hosting solution, it offers a host of managed WordPress hosting features and benefits that will ensure the optimum success of your website. The plan includes free migration from any other hosting platform, and a hack-fix guarantee. Besides, you can enjoy a broad spectrum of features as discussed in the following sections of this review.
Key Features
WordPress Install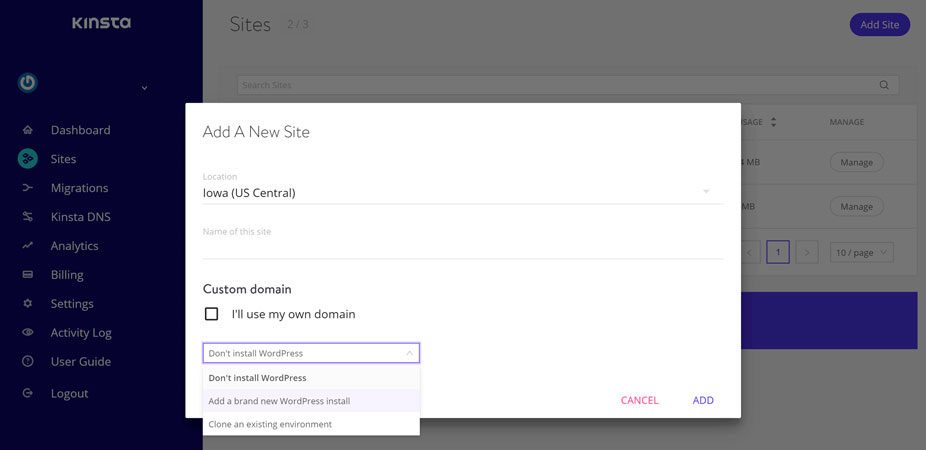 With the Starter plan, you get one WordPress installation. The install includes a free staging environment for WordPress updates, themes, and testing plugins.
Monthly Visits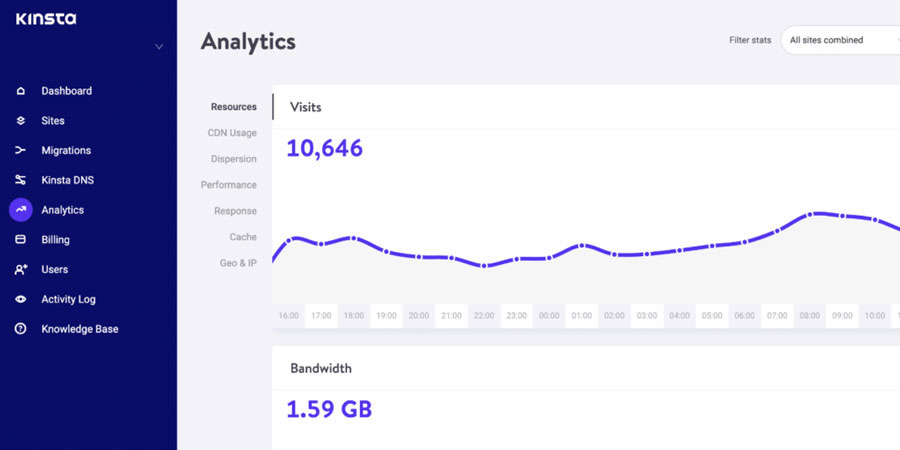 Kinsta Starter plan is suitable for WordPress websites that have approximately 25,000 monthly visits. The visits are calculated based on the total unique monthly traffic that your site gets on the server. The data is used to measure your resource usage.
SSD Storage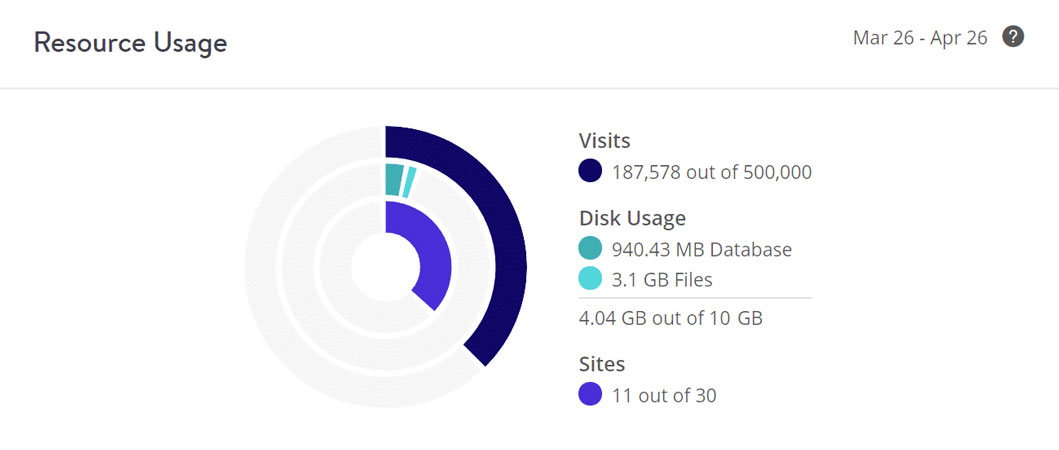 You can enjoy up to 10 GB SSD storage with the Starter plan. The servers are lightning-fast and you get robust SSD storage on Google Cloud, with in-built redundancy that ensures data integrity. One good thing about the plan is that staging environments and backups are not included in calculating the total disk space.
High-Speed Architecture
Kinsta Starter is powered by cutting-edge technology like PHP 8.0, Nginx, MariaDB, compute-optimized VMs and LXD software containers. These ensure that the website loads at a lightning-fast speed. Additionally, you can also enjoy features like high availability, automatic scalability, and resource isolation. This helps deliver an improved website experience, and high levels of customer satisfaction.
Google Cloud Platform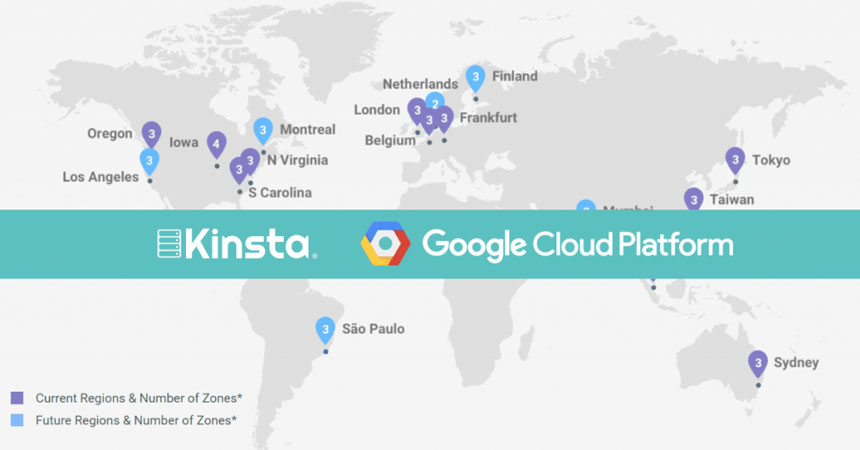 Kinsta managed WordPress hosting solution is powered by 24 global data centers and Google Cloud Platform. All components of web hosting are interconnected through their tier network, which is intelligently designed to reduce hops and distance. The result is – secure, and fast data transportation.
High-Security Network
To ensure high levels of network security, the Kinsta Starter hosting plan comes with a free SSL certificate. You will get one-click SSL for free with their Let's Encrypt integration. Additionally, you do not need to renew your costly SSL certificates. Already have an SSL certificate? It can be seamlessly imported within your MyKinsta dashboard, ensuring you can instantly enable HTTPS on your website.
Hack & Malware Removal
If your WordPress website faces security issues while hosted at Kinsta, you can approach the customer care and they will fix it for free. If you migrate an infected website to Kinsta, they will clean it up for you and charge a one-time fee of $100. When it comes to security, Kinsta takes definitive measures to prevent malicious attacks. At the same time, they provide continuous monitoring for guaranteed 99.9% uptime, software-based restrictions, DDoS attack detection, hardware firewalls and SSL support.
Free Website Migration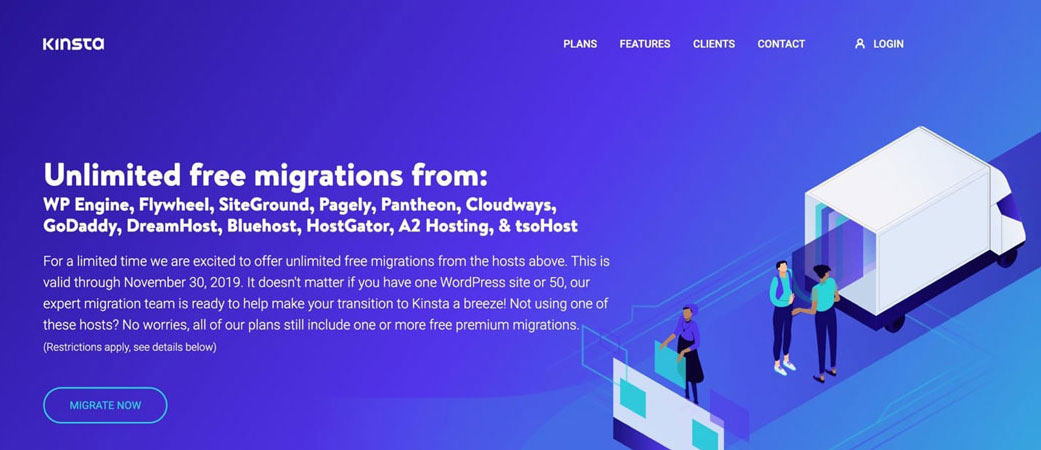 If you wish to migrate your websites to Kinsta, it is absolutely free. More importantly, they will have a team of experts who will take care of all aspects of migration for you. A temporary domain will be assigned to the migrated website so that every component can be thoroughly checked before it goes live with Kinsta.
Powerful Infrastructure
Another vital feature of Kinsta is its next-generation infrastructure. They boast one of the best server hardware and software and the latest framework versions. This ensures your website is up to date, and running optimally, regardless of the development stack you use.
Self-Healing Technology
This is an interesting feature you enjoy when you sign up for Kinsta Starter plan. They will regularly check the status of your PHP service, ensuring it is functioning efficiently. If the PHP goes down at any point in time, their robust platform will try to get it started automatically.
Backups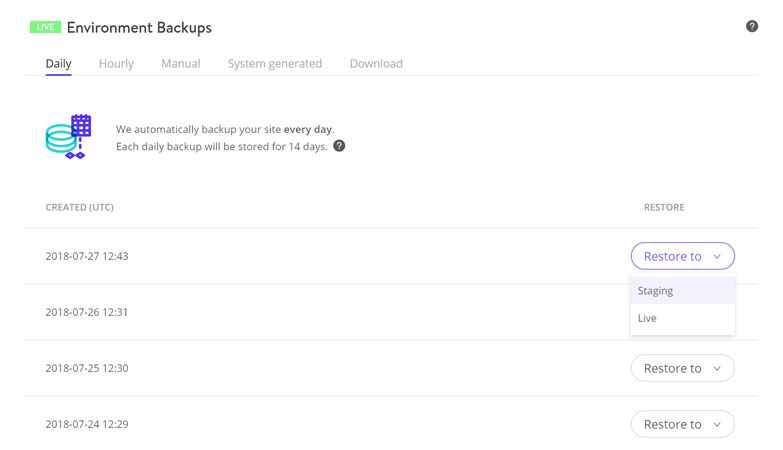 To deliver high-end security and ensure your data is well-protected, Kinsta performs system generated and automatic daily backups for all websites hosted on the platform. You also have the option to choose an hourly backup frequency. Moreover, you can easily restore all settings with a single click.
A manual backup feature is also available with Kinsta plans. This is particularly helpful if you want to install a plugin update or new theme. Creating a manual backup point can help you easily undo the changes you make. The entry-level hosting plan supports backups going back to a maximum period of 14 days. This is true for system-generated, manual and automatic backups.
Multi-user Environment
This feature allows you to create and manage your users, allowing or disallowing them access to your websites, a subset of your sites, or billing details.
Regular Uptime Checks
This is a unique feature that you can enjoy with the Starter hosting plan and all its other managed WordPress hosting plans. The platform will check the status of your websites every 2 minutes. So, you can be assured of having 720 checks for every website per day; at least, that's what they promise. Regular uptime checks enable Kinsta to address issues as identified and before they affect your visitors.
Automatic Scaling
Kinsta's infrastructure is built on the Google Cloud Platform. This brings the power of Google's robust hardware to you. Thus, you can easily scale up your website as you need. This feature is most important because your website is always ready to face unexpected surges in traffic. The server is built to withstand sudden spikes in traffic, without affecting your website's uptime.
Expert WordPress Support
Kinsta has always been at the forefront for its excellent support. And even with their Starter plan, you can expect a team of WordPress experts working on your issues, ensuring quick feedback and resolution. They have experience in server maintenance, plugin, and theme building & maintenance, troubleshooting and more.
Performance-Monitoring Tool
They have free Application Performance Monitoring tools that enable you to seamlessly track the performance of your WordPress website. Using this tool, you can gain actionable insights into slow database queries, PHP performance, and much more without having to subscribe to any third-party services.
Staging Areas

With all Kinsta managed WordPress hosting plans, including Starter, you get staging areas for development, tuning, testing, or tweaking your site. And all these can be done in a single click.
So, you can see that there are plentiful features you get by signing up with the Starter hosting plan. Most importantly, these features do work towards delivering an improved web hosting experience.
Pros Of Kinsta Starter Plan
Now that we know the key features of the Starter plan, let's have a glimpse of some of its advantages.
Lightning-fast servers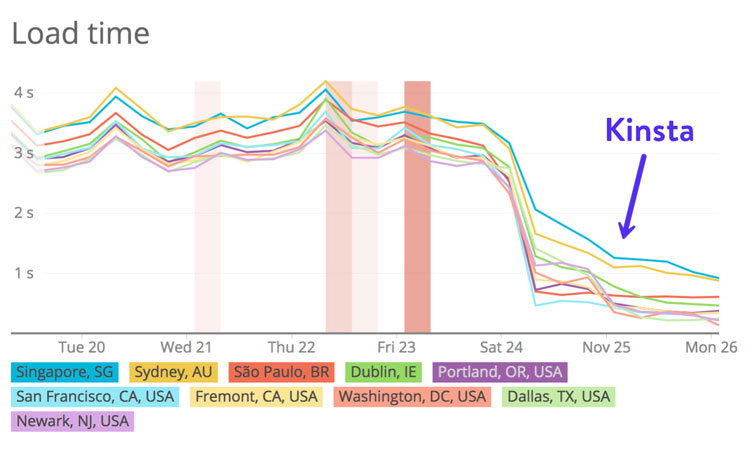 Kinsta servers are powered by the Google Cloud Platform, with key elements like MariaDB and PHP 8.0 to ensure fast website loading times.
Optimized for high-traffic websites
With the Starter plan, be assured that your website will run optimally even with 25,000 monthly visitors.
Migrating from your existing web hosting to the Kinsta Starter plan is free and completely managed.
Free SSL certificate and SSH access
You do not need to pay an additional amount to have your SSL certificate or SSH access; it is free with the Starter plan.
Free CDN
Kinsta has partnered with KeyCDN to speed up the process of delivering your assets like CSS, JS, and images across the globe.
Free daily backups and restoration with 14 days retention period
As we discussed earlier, you can enjoy free daily backup – manual, automatic, or system-generated – even with the basic Starter plan. All backups are available for up to 14 days.
24 data center locations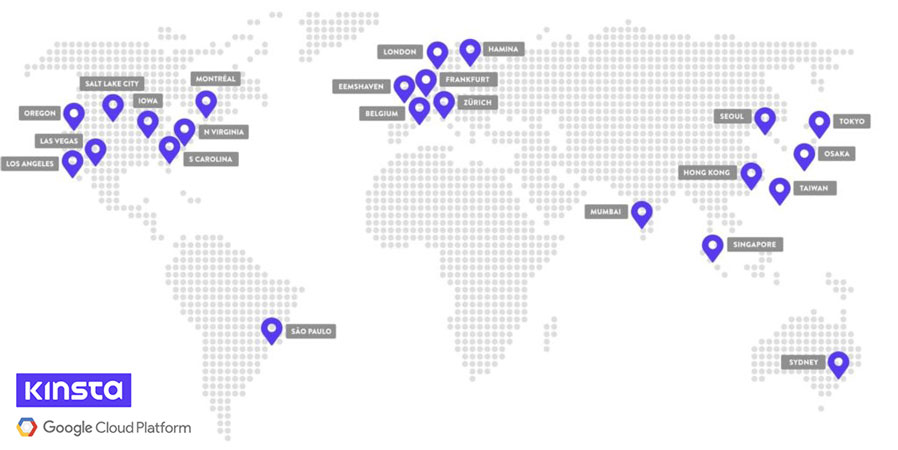 Get support from 24 data center locations and servers globally across 4 continents like Asia, America, Australia and Europe.
Top-notch support with a quick response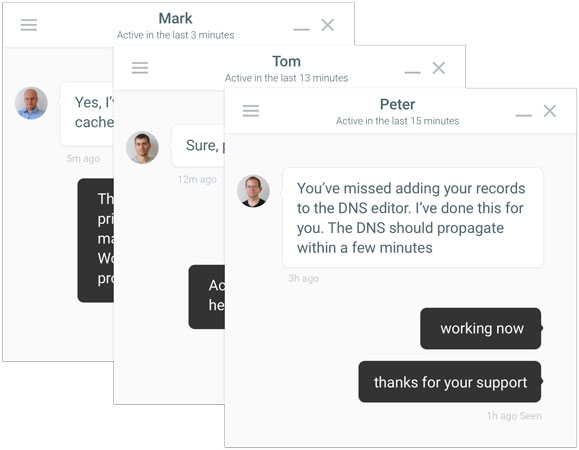 Kinsta prioritizes customer support, providing 24/7 support from WordPress experts.
30-day money-back guarantee
The guarantee includes the cost of pre-built hosting plans or addons that you have opted for within the first 30 days of signing up with the Starter plan.
Cons of Kinsta Starter Plan
To help you make an informed decision, here is an unbiased review of the limitations of this plan:
Only 1 WordPress install allowed:
With the Starter plan, you can have only one website in this plan – suitable only for small websites, startups, and stores with moderate traffic.
No unlimited storage:
You get a storage capacity of up to 10 GB. That is not enough for bigger websites or storefronts with a bulk database. If you go beyond 10 GB SSD storage, you will be charged additionally.
No email accounts:
Similar to the other web-hosting providers, Kinsta does not offer any email accounts.
More expensive:
The Starter plan is priced at $30 per month, which is costlier as compared to the other hosting providers like Bluehost or HostGator. However, they have a whole lot of features for a basic plan and therefore, the pricing is worth it.
Kinsta Starter Plan Pricing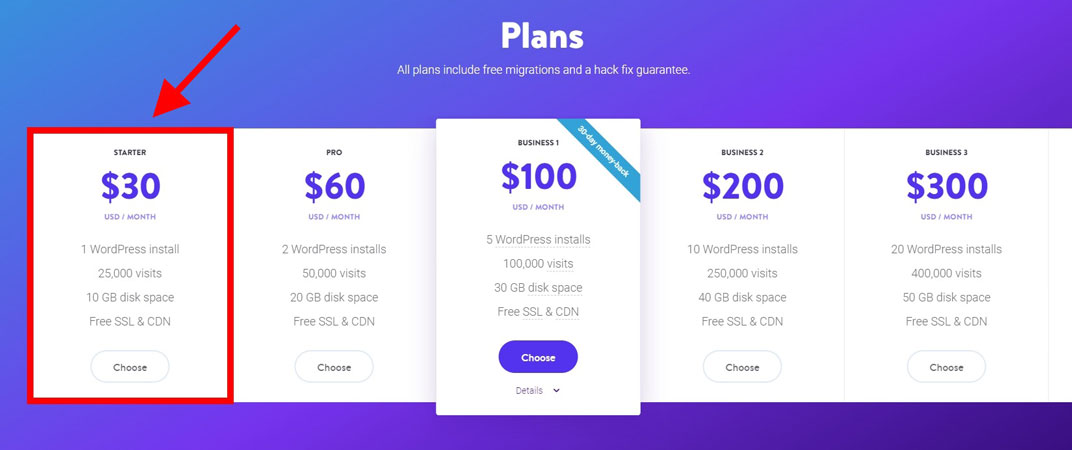 Kinsta Starter Managed WordPress hosting plan is priced at $30/month. Initially, it is considered to be more expensive on a monthly or yearly basis. However, it is a managed hosting and provides top-notch security, regular backups, great uptime, high website loading time, and superior performance.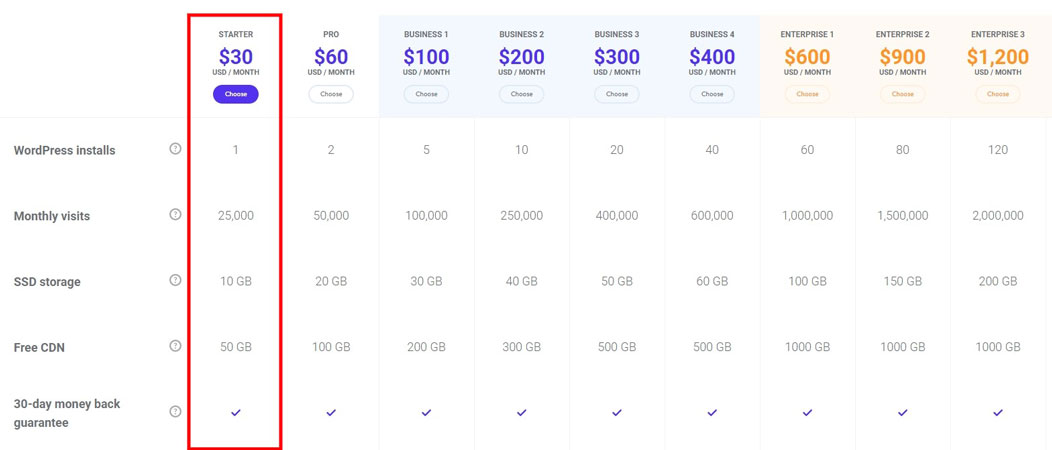 Additionally, when you subscribe for the yearly package, you get a 2-months discount.
Can I Upgrade and downgrade My Kinsta Hosting Plan?
Yes, you can upgrade or downgrade from your current Kinsta managed hosting plan at any time.
From your Kinsta hosting dashboard, you can easily upgrade to a premium hosting plan or downgrade seamlessly. All you have to do is select the plan and follow the instructions.
If you do not want to upgrade to a premium hosting plan but want more resources, Kinsta offers numerous paid addons that you can opt for a monthly charge.
If your website has specific resources, the platform will continuously scale the resources upwards in situations where your website sees a spike in traffic. These additional resources will be charged at the end of the month. This is an advantage because your website does not get suspended for over-utilizing the resources.
Conclusion: Is Kinsta Starter Plan Right for You?
My verdict is: Yes. The Kinsta Starter plan is most suitable for websites that demand high speed or witness high traffic; where security matters most and you need best-in-class support. It is a managed WordPress hosting solution and worth its price so even if you have a website and you are anticipating a growth in traffic in the near future, this is the most ideal hosting solution for you. But if you want only standard hosting performance at affordable pricing, Bluehost might be a better option for you.
If you want to know anything more about the Kinsta Starter plan or if you would like to post your experiences, you can post them in the comments below.
We are sorry that this post was not useful for you!
Let us improve this post!
Tell us how we can improve this post?