Committing for a year without knowing about the hosting service can be difficult for some people. It's now been an increasingly popular trend to try out plans for shorter periods before making any large-scale decisions.
In the case of most other hosts, there is some difference in the available features between monthly and yearly plans. However, the Dreamhost monthly plan has essentially the same functionality as the annual one.
There are, of course, some minor variations between the two, and we will cover that in the article ahead.
But first, let's start with the overview.
DreamHost Monthly Plan
DreamHost's monthly plan is a flexible one where you only pay for a month. You can go with monthly billing terms for shared hosting and managed WordPress hosting packages.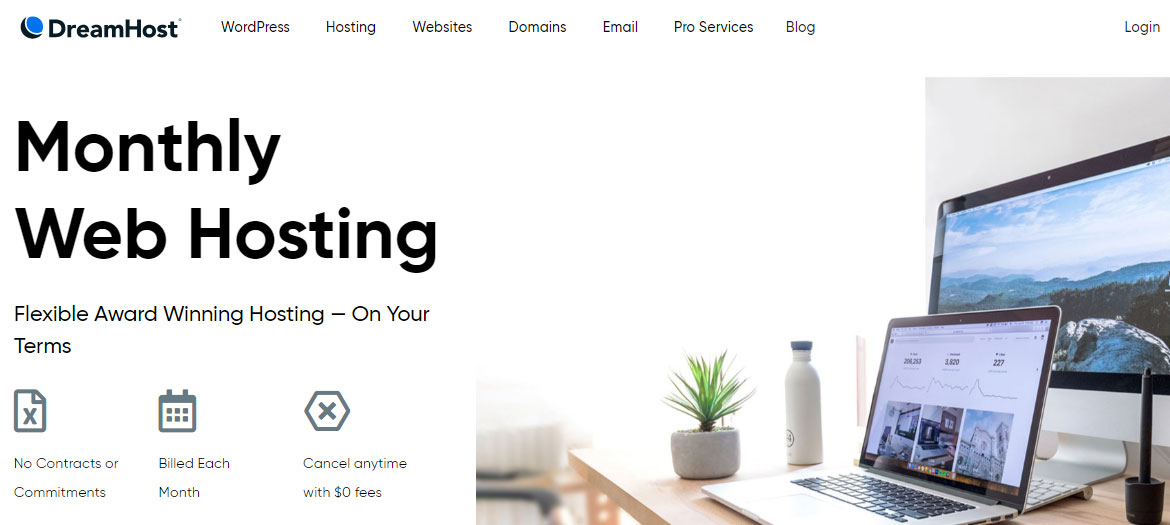 There are many benefits to going with a monthly plan, including:
There are no contracts or commitments.
You have more cash in hand as it's billed each month.
You can cancel anytime with no extra fees.
At DreamHost, you get the same features as annual plans.
The cost starts at $4.95/mo for the first three months.
How much is DreamHost a month? (Pricing)
The DreamHost price for monthly plans depends on the plans you choose. We have listed a few of the most popular plans Dreamhost offers.
Shared Starter: $4.95/month
Shared Unlimited: $8.95/month
DreamPress: $19.95/month
DreamPress Plus: $29.95/month
DreamPress Pro: $79.95/month
VPS Basic: $15/month
VPS Business: $30/month
VPS Professional: $60/month
VPS Enterprise: $120/month
Dedicated Server: $169/month
These given prices are valid as of September 2023. After that, the price may change. It's still recommended to check the website for the exact pricing.
Dreamhost has a very open promotional pricing policy. Most discounted prices on their comparison pages are valid for the first three months after purchase.
After this period, you might see changes in the pricing.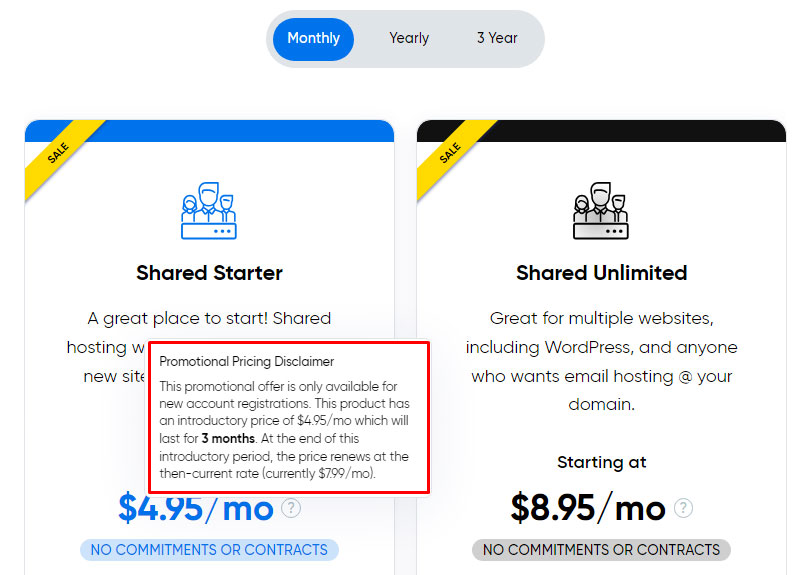 However, unlike on other websites, you won't see fake calls for urgency such as "limited price offer" or "price increases in 24 hours".
Can DreamHost switch from yearly to monthly billing?
Yes, you can change your billing term from yearly to monthly on DreamHost. You can also go back to the yearly plan from the monthly plan.
To make any changes to your subscription settings, you must first log in to your account and head over to "Billing & Account." You can then select "Manage account" followed by "Billing" to view your current billing plan.
Here, you will also get the option to change your plan billing terms from yearly to monthly or vice versa.
However, keep in mind that you will end up paying more if you go with the monthly plan, as the monthly plan costs you more than the yearly plan.
It is also important to note that if you switch from a yearly plan to a monthly plan, you won't get a direct refund for the remainder of the period. Instead, you will get the credits in your DreamHost account.
Do Monthly Hosting Plans remove features or functionality?
The DreamHost monthly plan offers the same core features and functionality as their annual plan. However, there are some small differences in the number of peripheral features between the two.
With an annual plan or a 3-year plan, for instance, you will get a free domain name. The same does not apply to the monthly plan.
Ironically, the monthly plan will also comparatively cost you more—if you end up using it for the full year.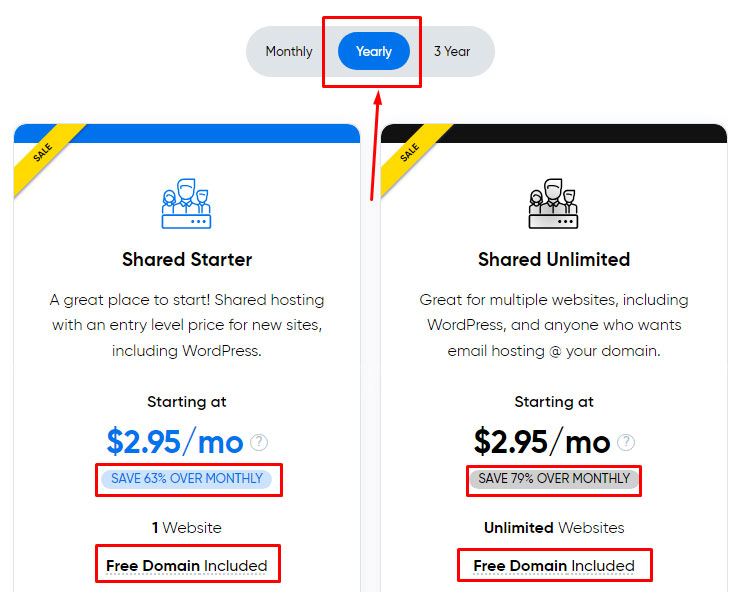 If you are unaware, DreamHost offers a 97-day money-back guarantee on their shared hosting plans.
However, this does not apply to a monthly plan. Here, you will end up paying a whole month's price even if you don't like it. But if you go with the yearly plan, you can request a refund in 97 days if the service is not as advertised.
So, if you plan to go with DreamHost's shared hosting, we recommend going directly with an annual plan. You can opt for a monthly plan for other packages and then shift to yearly billing.
Conclusion
Starting at $4.95, the DreamHost monthly plans are already quite a good deal with the features they offer for anyone looking for a flexible billing cycle.
With the monthly plan, you'll have to pay slightly more, you won't get a free domain and are not applicable for money back guarantee.
Aside from these dissimilarities, it really isn't that different from their yearly plan.
If you've been considering DreamHost's shared hosting plans, their monthly plans are definitely a safe option.
However, if you're considering them just because you don't want to make a larger commitment, we recommend going with the yearly plan and requesting a refund if the service is not as advertised.
DreamHost users usually have a positive experience. So much so that a monthly payment option is only worth considering if you want more cash in hand.
FAQ (Frequently Asked Questions)
Is DreamHost expensive?
No, Dreamhost is one of the more affordable hosting services, offering excellent performance.
Does Dreamhost accept Crypto?
No, Dreamhost doesn't accept crypto payments.
We are sorry that this post was not useful for you!
Let us improve this post!
Tell us how we can improve this post?