Home » Guides Webhosting » What are the Advantages of cPanel
You might be wondering why is cPanel very popular? What are the Advantages of cPanel? What's so special about cPanel?
Well, One of the very first things that makes cPanel favored over other control panels, is it's simplicity and easy of use. No one can deny that fact, if you are using cPanel for the very first time, you'll find everything you need or might need in the future right in front of you, it displays all its functions/features in the form of well-represented icons with titles next to them, all on the same page.
That is one of the many reasons why it's widely popular and the most used control panel across almost every web hosting provider. One of the main functions it offers are FTP accounts, emails, statistics. A special feature that you would appreciate especially for beginners is the 1-Click function, basically what it does is it allows you to install modules or apps with just one click without needing to have any advanced technical knowledge, for instance that can be used to install blogs, CMS, and many more.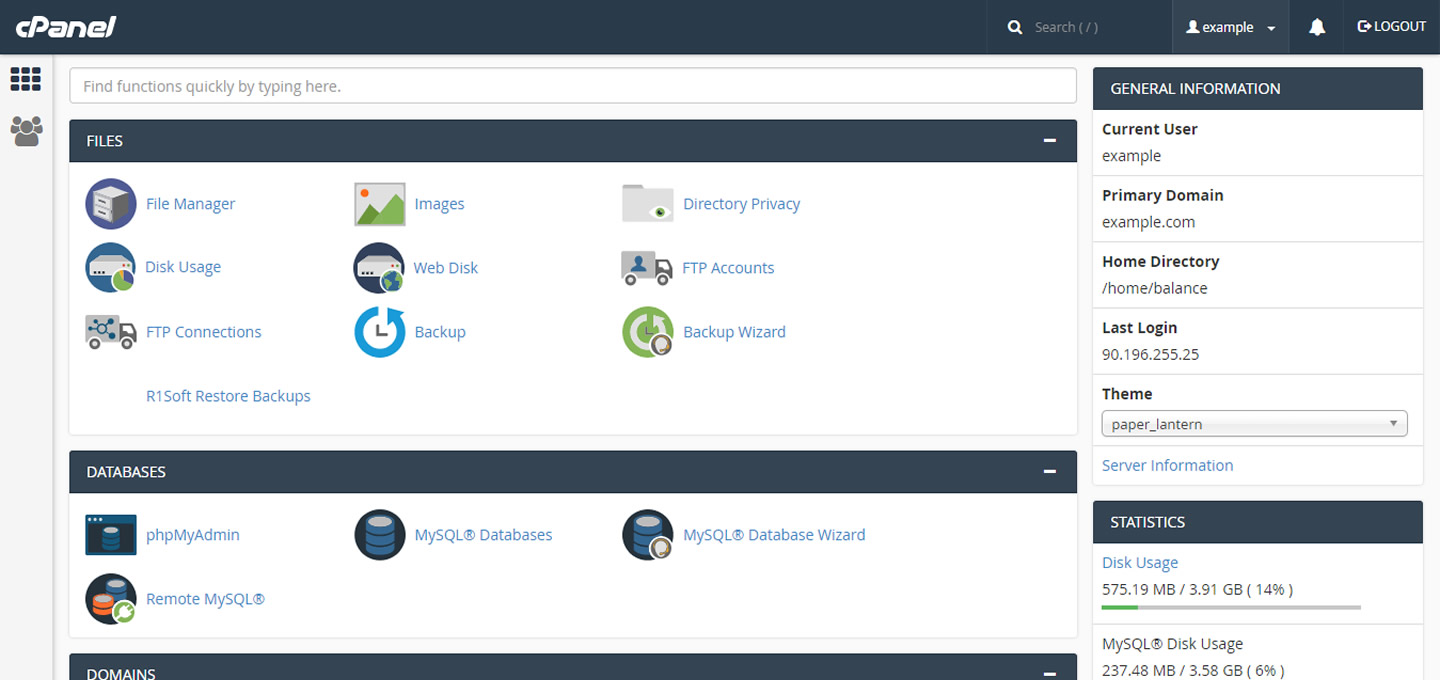 Video tutorials and wizards
In order to be sure that the user finds everything and is 100% satisfied with the cPanel interface, the user has full access to control panel preferences as well as tutorials. Video tutorials and learning assistants, editable styles, languages, profiles exist to give the user total control.
Manage email accounts
Users can not only create email accounts, they can manage them and avoid junk emails with Spam Assassin, access emails using webmail and many other features allowing extensive use of email messaging.
FTP access with the FTP web client
For the well being and security of your data, you will have access to a backup system that helps you in the safest way to save a copy of your files in case they were to get lost. On top of that, you have the ability to easily create secured FTP account that you can use to connect and access your files quickly at any given time so you can download, manage or upload your files directly to your hosting
Statistics
With more than 8 statistical applications such as Webalizer, Bandwidth Management, Last Visitors, Analog Statistics and Error Logs, the user can manage all aspects of the site. Graphical statistics are reports based on simple data such as the number of visitors per month, files, and number of goals satisfying the common user. CPanel's statistical reporting section is thus slightly limited in terms of collecting information on the website.
Why do people love to use cPanel
The cPanel user can choose from a variety of security methods. Offer secure online file transfer, remote login with SSH, password protection, private key message encryption and decryption with GnuPG.
Management, addition and redirection of domain names
You can redirect, park, add and even create domains and subdomains with a simple process. For newbies, you will find tutorials for almost each one of these functions to show you the way.
MySQL and PHPMyAdmin Databases
The user can access, add, delete and manage MySQL databases either directly from cPanel or remotely using MySQL functions. phpMyAdmin is also available.
Easy installation of Blog and CMS
One of the most important functions is located in the Software / Services section, the add-ons offer preinstalled scripts allowing users to have counters, clock, countdown, forms to search engines and banners. The most probably known service is Fantastico available to help users install blogs (WordPress, Nucleus, b2evolution), CMS (Joomla, PHP-Nuke, Drupal etc.), forums, e-commerce, image galleries and more. other scripts. PHP configuration is also available.
Wait, That's not all!
In addition the user can choose to configure his website via the control panel. Custom error pages can be created, image display can be managed, and functions and scripts can be turned on or off at predefined times.