Are you searching for super-fast reseller hosting plans? Do you want to offer a better experience to your hosting customers?
If yes, your search ends here since you will soon find out some of the best NVMe reseller hosting providers in the next few minutes.
Let's get started!

3 Best NVMe reseller hosting
So, let's get straight into the list of the best NVMe reseller hosting providers.
We compared about a dozen of NVMe hosts to present you with the ones that offer excellent value for your money:
1. A2 Hosting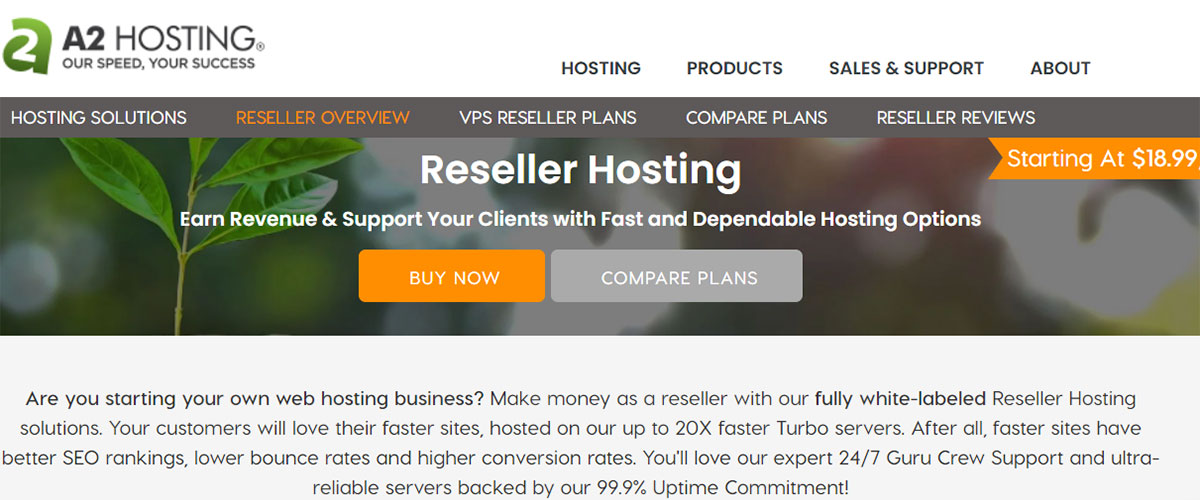 With an experience of over two decades, A2 Hosting has become a reliable name in the hosting world. A2 Hosting also offers four NVMe SSD reseller hosting plans with different server resources.
All the NVMe reseller plans of A2 Hosting come with WHM control panel and cPanel Licenses.
The host also provides you with a free WHMCS or Blesta billing solution for automating your billing process. The entry-level plan offers free Blesta billing software only but allows you to purchase WHMCS at an additional cost of $10 per month. All other plans, however, offer both these billing systems for free, so you can choose the one you are comfortable working with.
A2 Hosting has its data centers located in the US, Europe, and Asian continents. The host has two locations in the USA, one in Arizona and the other in Michigan. The other data centers are located in Amsterdam and Singapore in Europe and Asia respectively.
Storage capacity
A2 Hosting offers NVMe storage of 60 GB with its Turbo Kickstart plan which is the entry-level NVMe reseller hosting plan provided by the host. All the NVMe plan names have the word Turbo in them since they provide you up to 20 times faster performance than the other reseller plans offered by the host.
Accounts supported
The startup NVMe reseller plan supports up to 40 cPanel accounts. The largest plan will allow the hosting of up to 150 client accounts.
Starting Price
A2 Hosting offers its entry-level NVMe plan at $24.99 per month when you pay for a 3-year term in advance. It is the initial promotional price and saves you 50% of the usual cost.
The renewal price of this Turbo Kickstart plan is $49.99 per month which must be taken into account for future budgeting of your reseller business.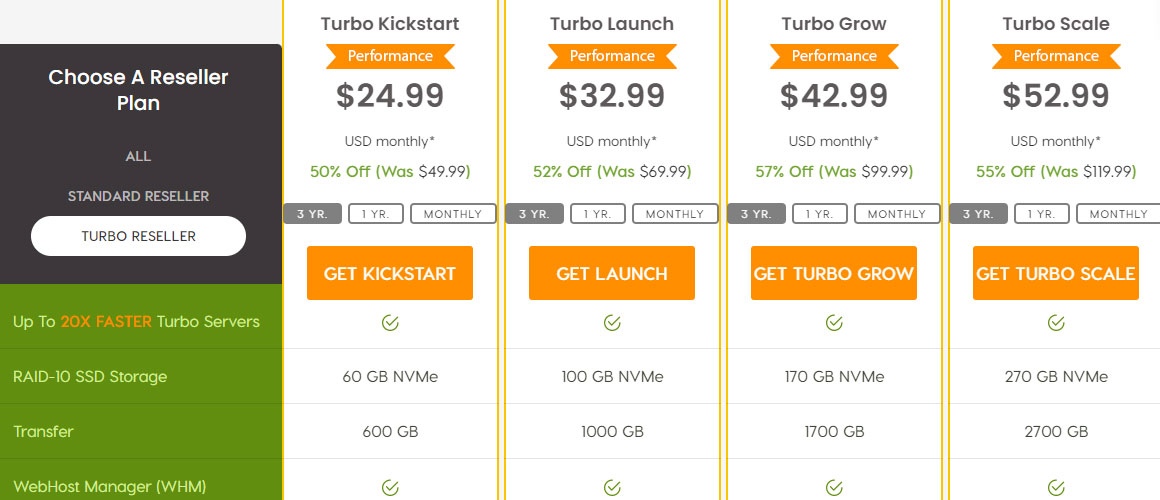 The screenshot of the A2 Hosting Checkout page below shows you the prices for other term lengths for the Turbo Kickstart plan which is the entry-level NVMe plan from the host: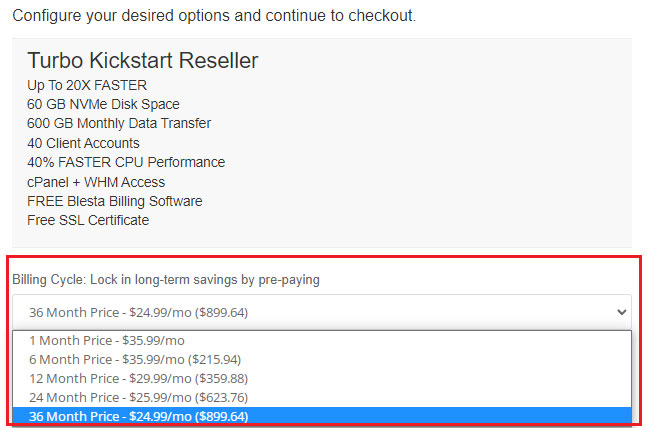 NOTE: Their renewal prices are very expensive. So, be aware.
Visit A2Hosting

2. NameHero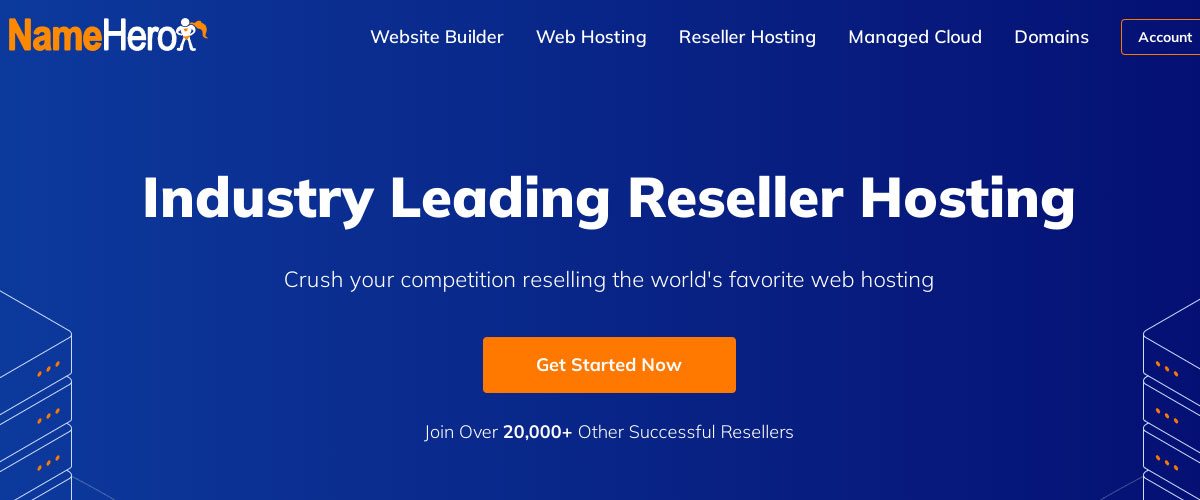 Established in 2015, NameHero offers a variety of reseller hosting plans built on its proprietary technology to provide you with superior-performing websites.
The host offers a free (WHM) control panel to let you set up and manage different accounts, install apps in a single click, and provide your hosting customers with unique login credentials. You can even brand this panel with your business logo.
NameHero also provides you with a free billing system for automating the billing process of your hosting business with its NVMe hosting plans. The host allows you to choose between Blesta and (WHMCS) for billing automation.
NameHero has its data centers spread across two continents, the US and Europe, with thousands of servers present at these locations. NVMe reseller hosting plans are, however, available only at the US data center location.
Storage capacity of NameHero
The host offers two NVMe reseller hosting plans called Platinum and Diamond. They come with a storage capacity of 150 GB and 200 GB respectively.
Accounts supported by NameHero
The Platinum reseller hosting plan allows you to manage up to 80 cPanels while the Diamond reseller hosting plan can support up to 100 cPanels.
Starting Price of NameHero
The starting price for NVMe reseller hosting with NameHero is $20.98 per month when you book it for 3 years upfront. This is the initial promotional price that lets you save a whopping 50%!
The renewal price of the lowest NVMe reseller plan is $41.95 per month which you must consider before signing up with the host.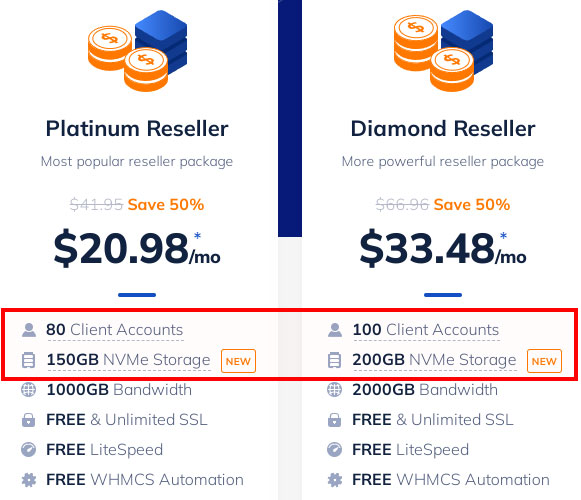 The screenshot of the NameHero Checkout page below shows you the prices for other term lengths for the Platinum Reseller plan which is the entry-level NVMe plan from the host: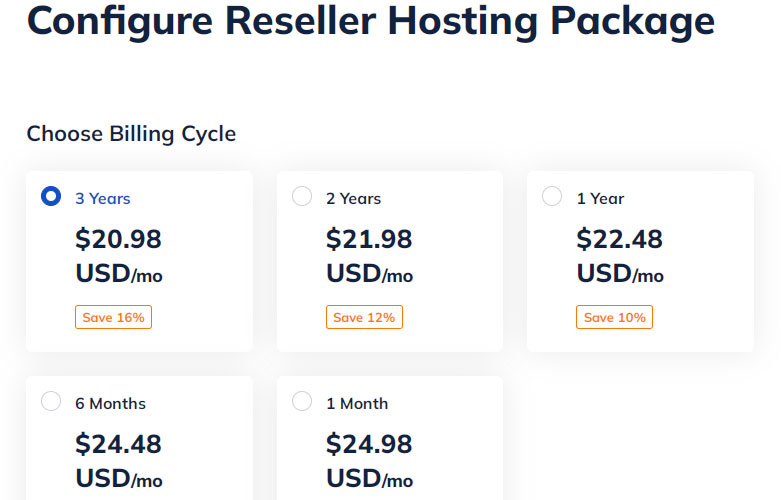 NOTE: One of the reasons why Namehero have their prices low, it's because they own their data centers.
Visit NameHero

3. Contabo
Established in 2003, Contabo is a German web hosting provider known for its affordable pricing structure and excellent customer support. The Virtual Private Servers (VPS) and Virtual Dedicated Servers (VDS) offered by the host provide you with the NVMe storage.

The VDS plans combine the power of dedicated servers and VPS to offer you the best of both these server types.
TIP: Plesk has an integration with billing software such as WHMCS, HostBill, and Blesta
Consider signing up with a Contabo VPS or VDS hosting plan and buy a Plesk Web Pro license with Linux. You will be given an option to purchase it at the Contabo checkout page.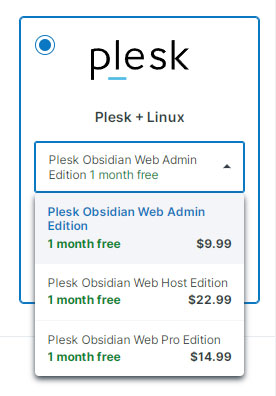 This way, you can benefit from the reseller account management feature on Plesk.
Contabo allows you to purchase cPanel or Plesk control panels at an additional cost.
The host has its data centers located on three continents – the US, Europe, and Asia. You can choose a location in the US East, US West, US Central, Germany, or Singapore.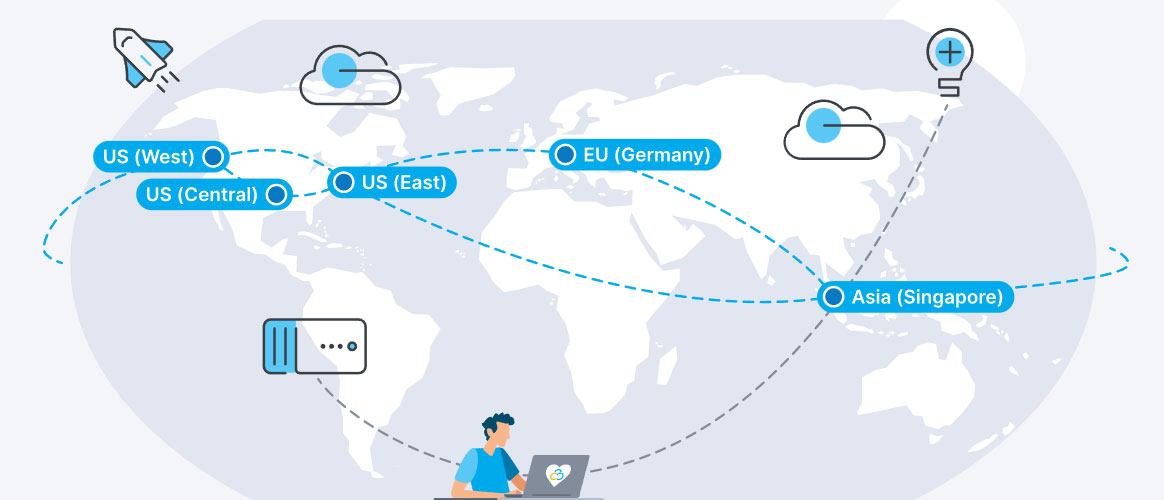 Storage capacity
Contabo reseller hosting offers a wide variety of VPS and VDS hosting plans with NVMe storage. The range of NVMe storage space you receive with the VPS plans is 50 GB to 400 GB. The VDS plans offer you a storage of 180 GB NVMe to 720 GB NVMe.
Accounts supported
If you buy cPanels on the Contabo Checkout page, you can choose the number of accounts you require. A minimum of 5 and a maximum of 1000 cPanel accounts can be purchased with the host.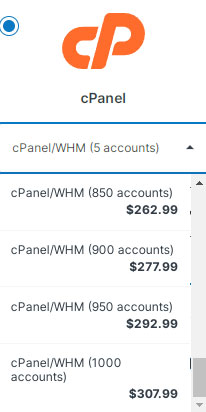 Starting Price
The entry-level Contabo VPS hosting plan with NVMe storage comes at $8.49 per month and goes up to $34.99 per month.

On the other hand, the NVMe VDS plans from Contabo start at $44.99 per month and can cost $168.99 per month if you choose the largest VDS plan.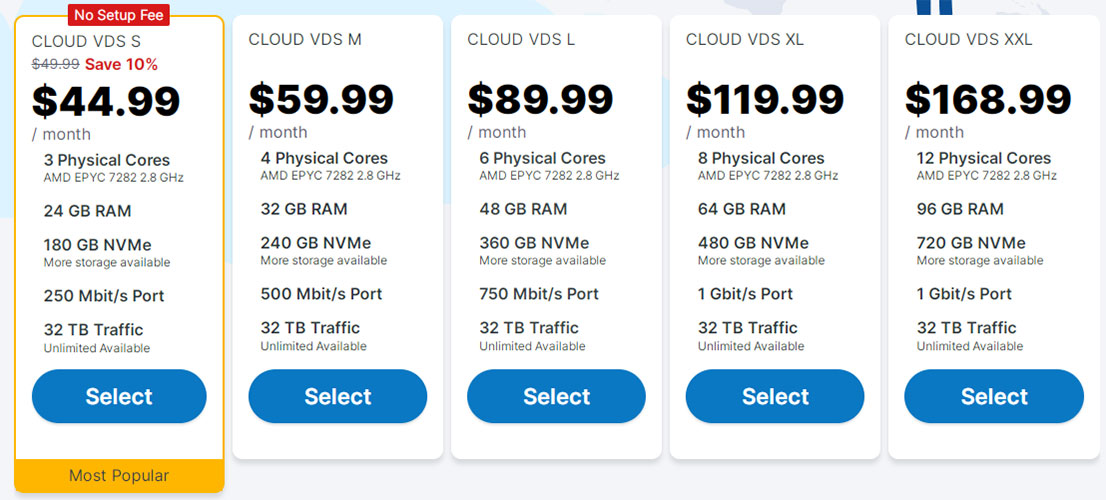 Contabo charges a first-time setup fee of $6.99 with all its NVMe VPS hosting plans and $24.99 with its NVMe VDS hosting plans, except for the entry-level VDS plan. It is not an ongoing expense but only a one-time fee charged for setting up your virtual server.
Visit Contabo

Buying Guide for Reseller hosting
The sole purpose of sharing these cheap NVMe resellers hosting providers with you is to help you make the right decision. That is why I'm preparing a buying guide for reseller hosting so that you can choose the best host for your business.
The requirements of selecting a hosting reseller will vary according to your purpose of using these services. So before going through this buying guide for reseller hosting, you must ask yourself some important questions related to your purpose for using the reseller hosting plan:
Will you be using it for hosting your websites only?
Do you want to start a reseller company of your own?
Will you use the service only for fun or testing purposes?
If you want to learn programming with it or just build your and your friends' websites on the reseller plan, making a choice becomes much easier.
When you intend to conduct serious business through your reseller hosting plan, here are the requirements to look for:
Control Panel

In regular hosting plans, having a single control panel to manage multiple websites is a benefit and convenience that we all look for. But when you are planning to sell the hosting space to several unknown individuals, you cannot provide them with the same management dashboard.
Therefore, it becomes essential to look for isolated control panels when purchasing a reseller plan. Whether it is cPanel WHM or Plesk, isolation of all the control panel installs of your hosting clients is important to provide them with complete control, privacy, and safety of their accounts.
Billing system
Managing the billing aspect of your reseller hosting business can become a huge task if you do it manually. You must look for a corporate billing solution like Blesta or WebHost Manager Complete Solution (WHMCS) in your reseller hosting plan for automating the billing process.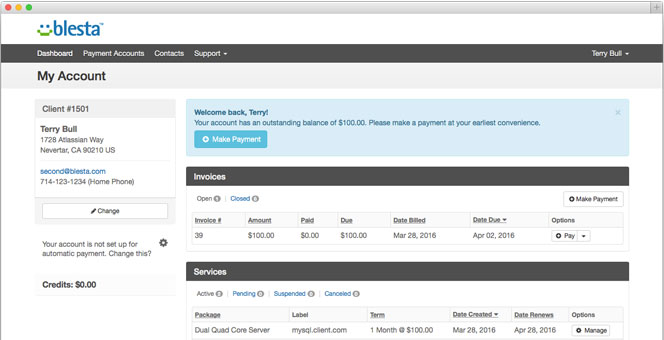 It will save a lot of your time and allow you to focus on other important business aspects. You can also utilize this saved energy and time in expanding your business and bringing in more clients, thereby making more money!
Support
A reseller business without adequate customer support can get you in trouble. You are answerable to your clients if and when a technical issue arises with your hosting services.
So it is extremely important to look for a reliable reseller hosting provider offering 24/7 technical support to keep you covered at all times.

Essential features
Always look for the availability of all the essential features when purchasing a reseller hosting plan. You must ensure that your hosting clients receive free SSLs, unlimited MySQL databases, free email accounts, and FTP accounts.
Useful Tip: The data center location plays the most important role in the speed of your clients' websites. Favouring the data center location over storage will help you provide the best speed with reduced latency to your reseller business clients.
So if the NVMe reseller hosting provider does not have a data center near your prospective clients, it is better to go for a reseller with regular SSD storage instead, who provides you with a datacenter closer to the area your business will be serving.
Conclusion
The above list of the best NVMe resellers providers will help you choose the host that suits your current hosting requirements.
But if you are unsure about the reseller hosting you finally choose, you can always go for a short-term plan of a single month instead of paying for a full year or 3 years upfront.
Alternatively, you can also consider claiming the money-back guarantee to receive a refund of your payment when you are unsatisfied with the reseller hosting services.
Here's a quick analysis of the above list in terms of the top NVMe reseller host in different aspects:
When you are looking for a budget-friendly reseller host, go for Contabo as it is best in terms of price.
If you want the best storage capacity for your reseller hosting business, NameHero would be the most appropriate choice.
When you are looking for the widest variety of server locations worldwide, choose Contabo over others in the list above.
Hope the above list of the best NVMe reseller hosting providers along with the buying guide for reseller hosting will show you the right direction in making the best choice for your business.
Do you know any other reseller hosting providers offering NVMe storage? Feel free to share them and your experience with such reseller hosts.
We are sorry that this post was not useful for you!
Let us improve this post!
Tell us how we can improve this post?